Best Raw Mango Recipes- Raw mango is the star fruit of spring. Its tangy flavour compliments the weather beautifully. Once you taste it, you won't be able to stop eating it and soon you'll be adding it to everything! This aromatic fruit is a greener version of the ripe and juicy mangoes. You'll find them abundant in markets just before the mango season is about to arrive. Raw mangoes are soury and green in colour.
Raw Versus Ripe | Difference Between Raw Mango and Ripe Mangoes
Raw mangoes are firm and not as juicy as the ripe ones. But this Kachi Kairi or also known as Amba, is more a versatile fruit when it comes to cooking mangoes. Unlike the sweet fragrance of the ripe fruit, raw mangoes have a pungent smell. They can be grated and pickled, added to curries (especially from the Malabar belt) or simply made into a chutney. In its powdered form called Amchoor it is sprinkled on fruits and used in regional Indian dishes to lend a summery sour flavour.

Raw mangoes popularly used in Thai cuisine to make lovely salads. According to Ayurveda, it is known for its cooling properties and is often used to make a refreshing drink called Aam Panna which is a great home remedy for heat strokes. Raw mangoes contain more Vitamin C than the sweet ripe mangoes and work wonders for all your tummy troubles. The extra dose of Vitamin C helps in the absorption of iron and therefore, raw mangoes are often recommended to those suffering from anemia. Raw mangoes also contain pectin, found in other fruits like berries and apples, which makes it good for your heart. Both raw and ripe mangoes are rich in Vitamin A.

How to Use Raw Mangoes
There's no reason why you should be shying away from bringing them into your kitchen while their short season lasts and before the mighty mangoes take over. While buying them make sure that they are not soggy around the stem and give off their distinct tart smell. They can be stored in a cool place and will stay fresh for three to four days.
If you already have a stock, here are our 11 best raw mango recipes to try while you eagerly wait for the king of all fruits. These recipes will make you fall in love with raw mangoes:
This lovely salad is a great meal filler. With sweet corn, juicy tomatoes, pineapple and tangy raw mango chunks, it offers a burst of flavours.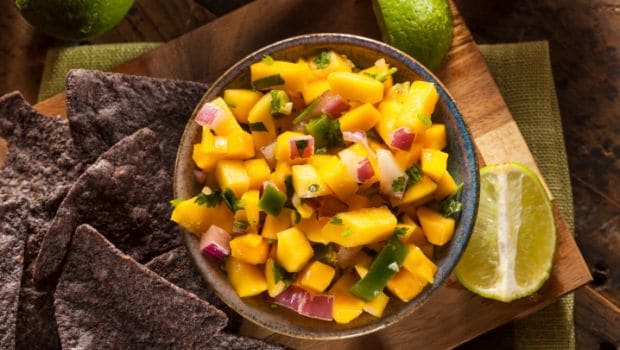 Raw Mango Recipes: Corn tossed with veggies and herbs along with raw mango make a crunchy and refreshing salad.
The tanginess of raw mangoes pairs really well with the sweetness of tomatoes and the pungent flavour of ginger. The bright flavours will make everyone happy.

(Also read: All About South India's Favourite Comfort Food​)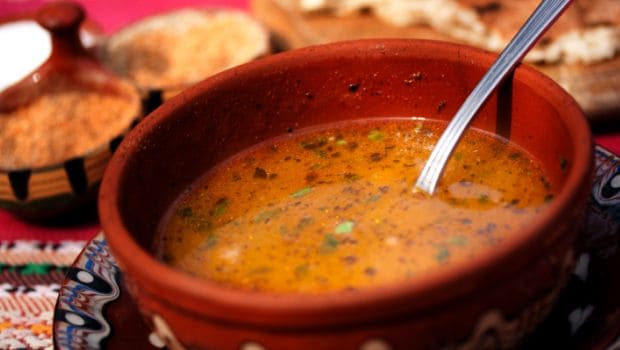 Raw mango recipes: This southern dish is originally known as mangaai rasam and makes for a great dish for lunch or dinner.
This recipe pairs the tartness of raw mango with the wholesomeness of rice. Perfect for a light lunch, rice is cooked with raw mangoes, curry leaves, peanuts and roasted lentils. It takes barely any time to prepare this rice recipe and makes for a great comfort food.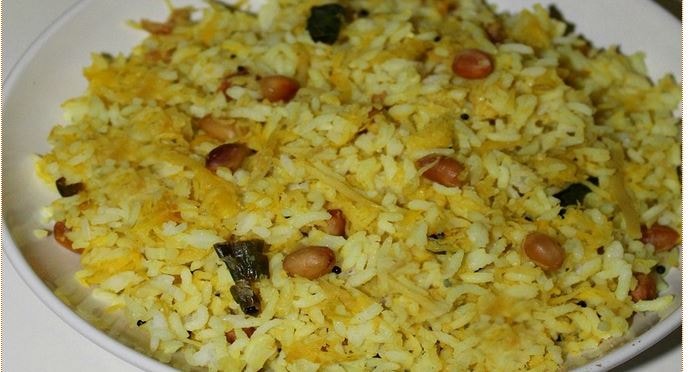 Raw Mango recipes: Perfect for a light lunch, this mango rice is an ideal comfort food.
A soothing summer drink that cools your body from within. Fragrant and flavourful, Aam Panna is a healthy and fresh alternative to your fizzy drinks or packaged juices. It is a desi hit which is not only refreshing but also energizing.

(Also read: 10 Home Remedies to Treat a Heat Stroke)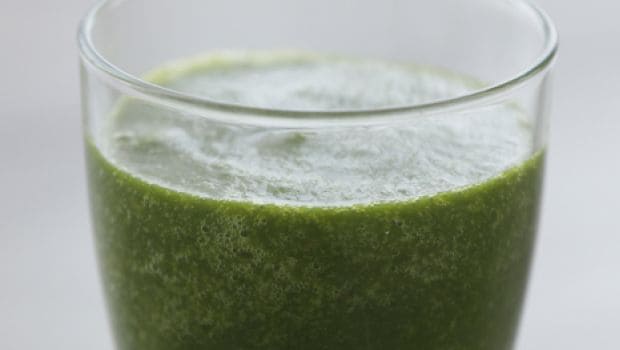 Raw mango recipes: A soothing summer drink, Aam panna is a favourite drink to beat the scorching heat.
Pachadi is a popular South Indian side dish similar to Raita. It is usually made with yogurt, chillies and coconut. This one blends in the additional vibrant flavour of raw mangoes.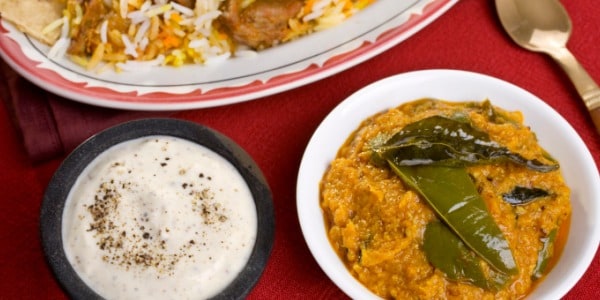 Raw mango recipes: Tempered with red chillies and mustard seeds, pachadi is a popular South Indian side dish to relish.
A famous dish from Uttar Pradesh, toor dal is made with chunks of spices raw mangoes and finished with a crackling curry leaf tempering. Perfect lunch recipe, this chatpati dal can be relished with a chapati or rice.

(Also read: What to Do With Leftover Dal)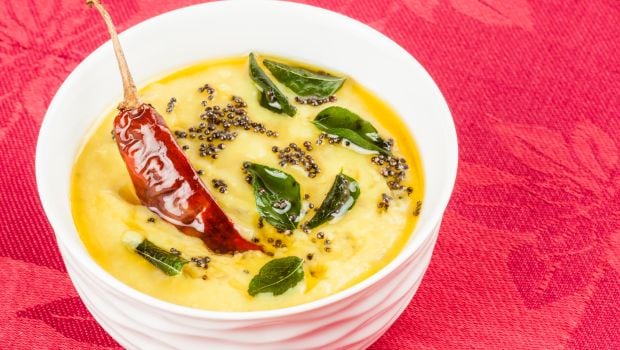 Raw Mango recipes: A famous dish from Uttar Pradesh, raw mango dal is a comfort food for lunch.
This tongue-tingling curry is sweet and sour in one bite. This big hearty curry from Rajasthan served with the traditional bread is great to feed a crowd. Paired with Khoba Roti, this is delicious pick for lunch or dinner.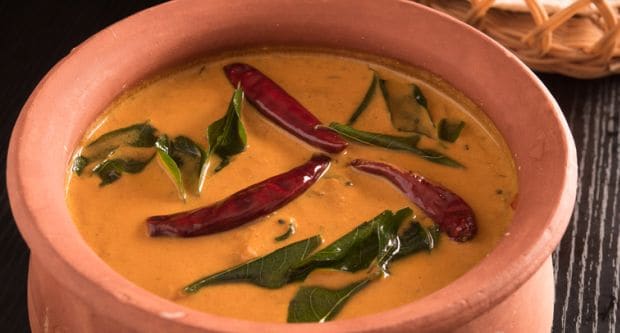 Raw mango recipes: This tongue-tingling curry from Rajasthan is exactly what you need when craving anything sweet and sour.

The perfect accompaniment for your summer meals, this quick chutney brings together the best ingredients of the season. Tangy and spicy, this chutney is prepared from raw or unripe mango and is typically eaten as a side dish.
(Also read: 10 Best Chutney Recipes)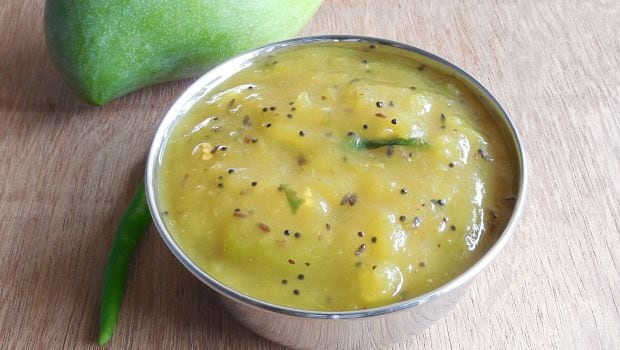 Raw mango recipes: This chutney is also known as mango sauce or pickle and has a very good shelf life.​
Make the most of the mango season with this delicious curry where the focus is the fresh flavour of the fruit. Quick, easy and tangy, Aamras ki Kadhi is a delicious blend of raw mango puree, buttermik and besan along with a host of other spices and chillies.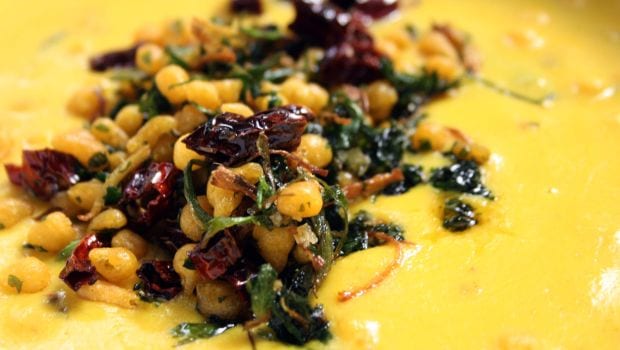 Raw mango recipes: Aamras Kadhi
is a great option to cook for a hearty Sunday lunch, served with hot chapatis or rice.
Raw mangoes and fish go so well together. The tanginess of the fruit adds excitement to the subtle flavour of the fish in this Kerala-style stew. It is a traditional fish curry that is light and aromatic stewed in raw mangoes and infused with coconut milk. Serve with brown rice for a complete meal.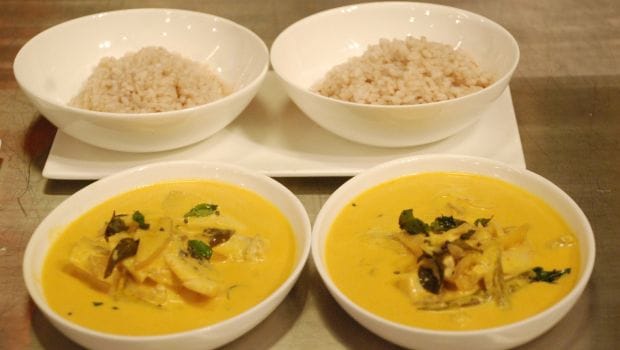 Raw mango recipes: Prepare this traditional fish curry for a dinner party and serve with cooked brown rice.
If you love mangoes then you're going to love this Yum Mamuang, also known as a Raw Mango Salad. All you need is raw mango, onions, chilli, mint, lettuce and sugar make a perfect combination of sweet, spice and sour.
Raw mango recipes: A healthy raw mango recipe, packed with wholesome nutrition.
This raw mango popsicle has a lot of benefits and is also a refreshing summer treat. It is very easy to prepare and all you need is just a few simple ingredients like raw mangoes and mint leaves.
A delectable platter of hot and spicy chicken tikka with the everlasting taste of summer favourite mangoes is the dish you don't wanna miss this season!