That slightly ignored distant relative of the
potato
is finally coming into its own – as that snack alternative you may have been ignoring all along. Known as
shakarkandi
in Hindi, the humble sweet potato has been a common street-side snack for generations of nostalgias, perfect for warming cold hands during northern winters. It's filling and always hits the spot. No wonder, as it's packed with nutrients that only make it more worthy of its place as a
snack option
.
Here are some sweet potato benefits -1. High Source of Vitamins
Higher in fiber, Vitamins A and C, and calcium, the
sweet potato
is lower in calories and carbohydrate content than the more commonly consumed potato. While the protein levels are slightly lower than those found in the regular potato, the sweet potato leverages its nutritional value with higher Vitamin A for eye health,
Vitamin C
for immune health, and just a dash of Vitamin B6, which helps the body maintain a healthy metabolism and nervous system. Moreover, fiber is great for digestive health.
2. High Source of Potassium, Calcium and Other Minerals
It is high in potassium (important for the nervous system to function smoothly) and magnesium, and also contains manganese, great for helping wounds to heal, and
calcium
, making it good for those who aren't fans of dairy for healthy bone health.
3. Builds Immunity
Sweet potatoes are also a source of
Vitamin D
, which plays an important role in carrying out many vital functions of the body. And it has iron, which helps build immunity and keeps stress at bay.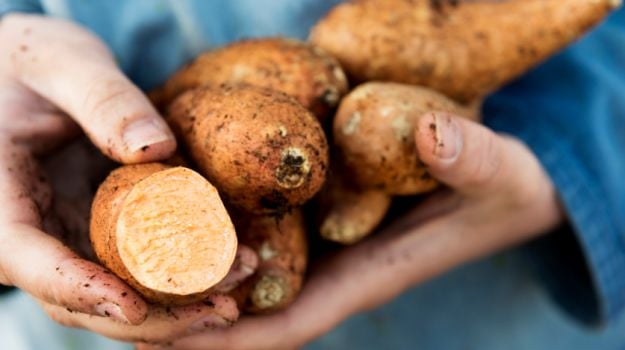 4. High Source of Antioxidants
One of the major benefits of sweet potato is that it is high in carotenoids, which are
antioxidants
that help promote anti-aging and prevent the onset of various ailments. Those who absorb plenty of carotenoids are making sure that they keep their skin wrinkle-free, and feel that little bit more youthful inside and out.
5. Source of Good Sugar
Although higher in sugar content than the potato, the sweet potato contains
good natural sugar
, which is imperative for energy. But doctors advise those suffering from sugar-related diseases such as diabetes and heart disease not to consume it in large quantities.
Snacking with Sweet Potatoes
There are plenty of recipes online for using grilled
sweet potato chunks
in salads or pureeing it for soups, or even mashing it in place of regular potato as a meal accompaniment. Sweet potato pairs well with flavours varying from cinnamon,
ginger
, and even apples for a slightly unusual dessert. For the more innovative bakers out there, sweet potatoes have also been making an appearance in cake recipes, adding 'something different'.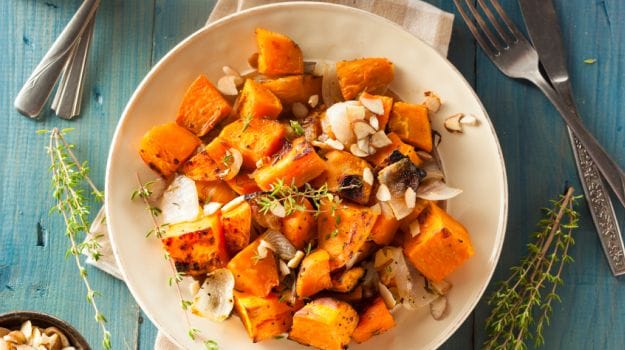 It's almost impossible to cross a grocery store or urban restaurant in the U.S. which doesn't serve up a sweet potato snack. The favourite however, is using sweet potatoes in place of unhealthy fried, flavoured, and bagged potato
chips
.Here's our recipe – something easy to try at home:
Healthy Baked Sweet Potato Chips
(Serves 4)2 large sweet potatoes
2 tbsp olive oil or coconut oil
1/2 tsp sea salt
Method:
1. Preheat oven to 375 degrees Fahrenheit
2. Wash the sweet potatoes well – you can choose to keep the skin on or off. It's best to cut them with a mandolin, but if you don't have one, just try to keep the sliced rounds of sweet potatoes even – and not too thick (or they won't crisp up well in the oven).
3. Spread the sweet potatoes across a baking sheet, and drizzle the oil over them. Make sure none are touching each other, so they can all bake well.
4. Bake in the oven for 10 minutes, then turn them over and bake for another 10 minutes – until they are crisp. Keep an eye on the oven during the last 10 minutes to make sure you can pull off any that are starting to brown.
5. Toss with sea salt, and serve.
Disclaimer:
The opinions expressed within this article are the personal opinions of the author. NDTV is not responsible for the accuracy, completeness, suitability, or validity of any information on this article. All information is provided on an as-is basis. The information, facts or opinions appearing in the article do not reflect the views of NDTV and NDTV does not assume any responsibility or liability for the same.