Photo Credit: istock
The monsoon brings with it an array of cravings. Some fried, some deep fried and certain other crunchy, sweet or salty cravings. We seek comfort in food that is enticing and appetizing. The best way to enjoy the weather is with a plate full of deep fried
pakoras
. While pakoras are wrapped in besan or gram flour, its close cousin, tempura is a more anglicized version of the crispy snack where seafood and other vegetables are coated in a light batter and fried golden.
Where does tempura originate from?
Contrary to popular belief,
tempura
is a Portuguese dish that has been adopted and popularized by the Japanese. 'Tempura' originates from the Latin word "tempora" which means 'The Ember Days' when the catholics refrained from consuming meat.The Japanese have been well-known for their precision while cooking. They are perfectionists and like their food to incorporate all minor details to create nothing less than a piece of art. Tempura or batter frying must result in vegetables or seafood being crisp and the taste must be consistent each time. Tempura demands that the vegetable must be cut evenly and to a uniform size. This ensures that while frying, the vegetable is evenly cooked and not overcooked or partially cooked. Variations in size and thickness can hinder the preparation of a perfect tempura.The most commonly eaten seafood tempura is shrimp tempura. Other seafood that is used ranges from fish to prawn and squid. Bell peppers, broccoli, carrot and mushrooms are some of the vegetables used to create a crispy vegetarian tempura. Vegetable tempura is commonly referred to as Yasai tempura.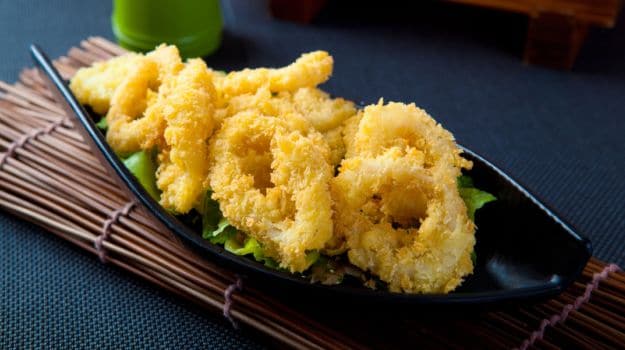 Photo Credit: istock
What is the batter made of?
Ideally, we must refer to the process of making
tempura
batter as a science. This is not to say that the batter is impossible to make or difficult. It implies that with the perfect quantity of ingredients, you'd get just that amount of crispiness or crunch that you desire. As simple as it looks, the batter is made of three main ingredients; flour, eggs and chilled water. The science is involved in the fact that while the ingredients may be few, the process is intricate and precise. The perfect tempura demands immersions in oil for shorter spans of time. Thus, the oil must be either olive oil or peanut oil, this allows the tempura to be made in short spans of time with frequent immersions. The temperature of the oil is a crucial factor.But how do we ensure that the batter is thin and light, so that it is well suited to the vegetables? By adding very cold water. The low temperature of the water allows the batter to remain thin and is largely responsible for creating the perfect coating. However, we must keep certain things in mind. When the water is added to flour, it can make the mixture very thick and gluey. Some people prefer to counter this by adding a little bit of
vodka
. Vodka prevents the mixture from becoming too thick and ensures a successful tempura.
Japan takes credit
Tempura is something that the
Japanese
can yet again take credit for. It is synonymous with Japanese food even though it didn't originate in Japan. It was initially the popular food during the time of Lent. It was made of minced meat balls but was transformed by the Japanese. Today, the tempura has undergone many variations and modifications. It is a much-loved snack on a Japanese menu and s
ushi
lovers crave for tempura fried sushi! Well, now you know, the secret to scrumptious tempura is a thin golden exterior with a tenderly cooked interior and it'll leave you salivating.