The first, and one of the very few times, I found
karela
, bitter gourd, one of the most reviled vegetable in the subcontinent, but my absolute summer favourite, on a restaurant menu was at the turn of the millennium. Food impresarios Jiggs Kalra and Marut Sikka were still working together and had consulted on a new project at a restaurant at the then Park Royal hotel (now The Eros Nehru Place, Delhi). The restaurant was called Singh Sahib. It served up food from the undivided Punjab. And
karela
, stuffed with a tangy onion
masala
, was part of the menu. As I bit into it happily enough on the night of the restaurant launch, a proud Jiggs Kalra beamed: "Can you imagine anyone, any restaurant putting this on their menu?"Many years later, not much seems to have changed. At least as far as the
karela
goes. Even within homes, the vegetable, once quite a staple in these summer months, along with the other gourds –
tinda
and
lauki
– is disappearing from even our domestic kitchens: faced with the twin challenge of 24x7 availability of all kinds of other popular veggies — cauliflower, mushrooms et al, as well as a lack of its own popularity. If that is the scenario at home, it is quite understandable that it takes a very brave or a very inventive restaurant to put it on the menu — sparingly at least.Also Read:
5 Easy Tips To Remove Bitterness From Karela
)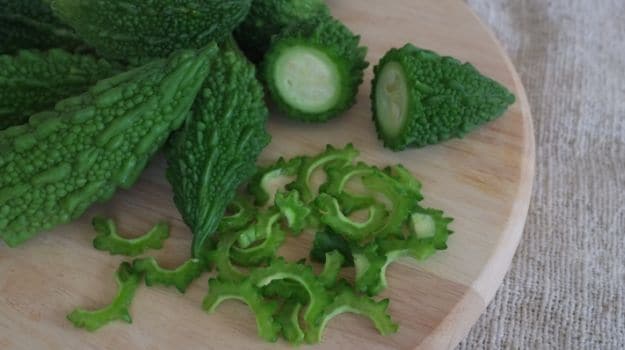 The Bitter Profile of Bitter Gourd Ironically enough, the karela has been on a fashionable menu, nevertheless, recently. At Farzi Café, the Gurgaon restaurant owned by Jiggs Kalra's s son Zorawar, the veggie is contemporarised as a crispy mock-squid of sorts.At the restaurant, where much is supposed to be "illusory" thanks to kitchen chemistry and its molecular gastronomy led menu, the karela has changed shape, taste and texture: batter-fried crispy rings come tossed in a sweet-sour sauce.But you don't really need to do that to make the veggie palatable.The beauty of bitter gourd remains in its, well, bitterness, at least a tinge of it. Of course, it must be toned down. The skin scraped off, the veggie salted and washed to drain that excessive alkaline taste along with perhaps some of the polyphenols. But once that is done, the karela is fit to be eaten.My favourite recipe is Bharwan Karele: small, green, oval bitter gourd is carefully selected, scraped, salted and then stuffed with a masala of browned onions. It is then fried till it becomes crisp. The onion stuffing is typically seasoned with a souring agent like amchoor, mango powder, in the Indo-Gangetic plain. It is a delicious interplay of flavours: the caramalised onions matching the slight bitterness of the vegetable, but also providing a mild sweetness, amchoor cutting the bitter with its sourness and the oil toning down the alkaline. If much of Indian food is about creating juxtapositions and yet finding a sense of balance within the flavour profile, the Bharwan Karela exemplifies it to the fullest.
The Bitter RouteWhat the stuffed bitter gourd also does is mimic the Mediterranean dolma — leaves and veggies are stuffed with mince (or spiced rice) in this Arabic/Med cold appetiser. Perhaps that is indeed the genesis of stuffed bitter gourd; originally stuffed with minced meat in Medieval India. Could the dolma have travelled to India in this manner? It is a likely conjecture at any rate.Keema-stuffed karela is still quite a popular dish in Muslim homes of Uttar Pradesh as well as Pakistan; the continuance of that tradition of Mughlai-based food, where native-to-India vegetables combined with meats, were cooked using methods that came into the region via the great Persian civilisation or the hardier food cultures of Central Asia. Karele, in this case, are often cooked on dum, once they have been stuffed with cooked spicy mince and tied up with strings.One of the reasons why the karela seems to be recently back in fashion is also because of the focus on healthier diets. The vegetable, after all, is a known (folk) medicine for diabetes, since it contains a hypoglycaemic or insulin-like substance, found to be beneficial in lowering the blood and urine sugar levels. Bitter gourd also is a rich source of phosphorus, is low in calories, and thus effectively used by everyone from expecting mothers to those expecting to lose weight. Plus its many therapeutic uses include those against piles, blood disorders (and fungal diseases), respiratory disorders, cholera and even alcoholism (its juice can supposedly help cure that too).(Try These Recipes: Stuffed Karela with Cheese, Karele ka Achaar)Explore the IngredientA shot of its juice in the morning may perhaps help in case you are looking at food primarily as medicine. But if you want to rev up the plate, simpler recipes could include stir-frying (with summer spices like fennel and amchoor) or even using bitter gourd in a salad.Frying bitter gourd not only takes away its bitterness but also gives it a crispy texture that is invaluable in a snack or a salad. You could cut the small oval karela into rounds, salt these and fry till crispy. Toss these with fresh onions, tomatoes, limes and green chillies. In Sri Lanka, they add seafood and shrimps to the salad. But it is a choice that depends on your preferences. Or, you can add bits of bitter gourd, cut into strips and sautéed to add another flavour to a salad of minced pork, spiked with light soy, and such — as they do in many regions of the Far East.In Kerala, on the other hand, pavakka, or bitter gourd, is part of the Onam Sadya. Regardless of the festival, it is a delicious way to eat this summer veggie. Fry strips of bitter gourd in oil. In the same oil, fry curry leaves, mustard seeds, green chillies and sliced onion. Add all these to the fried veggie. Add fresh coconut paste to these and put in beaten yoghurt. Temper the yoghurt with curry leaves, mustard and red chilli. It is a beautiful summer side, which you cannot ignore!
Disclaimer:The opinions expressed within this article are the personal opinions of the author. NDTV is not responsible for the accuracy, completeness, suitability, or validity of any information on this article. All information is provided on an as-is basis. The information, facts or opinions appearing in the article do not reflect the views of NDTV and NDTV does not assume any responsibility or liability for the same.