The end of summer means no more long evenings outdoors, but at least we can cheer ourselves up by cooking up a storm with sweetcorn and blackberries

I expect I am not alone in finding the end of summer a wrench, tainted with nostalgia for long evenings and outdoor meals. But early autumn cushions this annual disappointment with surprising exuberance. Ingredients galore appear in bushes, hedgerows and trees; blackberries abound. The corn harvest is at full pelt, too, the plants standing proud and tall, as befits the world's most successful crop - it's also a bargain right now. This weekend, I'll be making the best of both, with the corn featuring in the main course and the berries starring in a delicious, September-flavoured cake.
Smoky lamb chops with sweetcorn and black bean salad
Chipotles are smoked dried jalapeño chillies, and lend a deliciously heady finish to a dish, making them a perfect partner for grilled meat. The sweet, vibrant salad is a lovely match with its bundles of fresh mint and coriander. Serves four.
4 or so dried chipotle chillies (you need 25g worth)
3 garlic cloves
Salt and black pepper
75ml olive oil
8 lamb chops
For the salad
4 tbsp olive oil
1 clove garlic, peeled and finely chopped
400g carton (or tin) cooked black beans, rinsed
2 corn on the cobs, kernels sliced off
Juice of 1-2 limes
2 handfuls fresh coriander leaves
2 handfuls fresh mint leaves
½ red onion, peeled and finely chopped
200g cherry tomatoes, quartered
1 tsp cumin seeds, toasted and ground
1 fresh red chilli, preferably with some spice, deseeded and finely chopped
Put the chipotles in a pan of boiling water, turn down the heat and leave to simmer for 30 minutes, until soft. Drain, reserving a few tablespoons of the cooking liquid, then remove and discard the stems and seeds from the chipotles, and put the chilli flesh in a food processor or blender. Add the garlic, reserved cooking liquid and a pinch of salt, and whizz to a paste. With the motor still running, pour in the oil in a steady stream until everything is well incorporated, then transfer to a bowl. Add the lamb chops to the bowl, and rub them all over with the marinade, then cover the bowl with clingfilm and refrigerate for at least a few hours, or overnight.
For the salad, heat three tablespoons of the oil in a small pan over a low heat. Gently fry the chopped garlic until a few bits start to colour, then throw in the black beans and a good pinch of salt. Stir, give the beans a moment or so to absorb the garlicky oil, then add the sweetcorn and a splash of water. Turn the heat up to medium and cook for two minutes, until the sweetcorn is just done. Take the pan off the heat, season to taste, squeeze in the juice of half a lime and set aside to cool.
Add all the other ingredients to the salad and dress with the remaining oil and lime juice. Mix well, adjust the seasoning to taste and add some more lime, if you feel it needs it. Put to one side.
Heat a griddle pan or barbecue (or oven grill) until nice and hot. Lightly season the chops with salt, then grill them for two to three minutes on each side (I like them pink and juicy in the middle, but cook until you're happy). Keep warm and leave to rest for 10 minutes, then serve alongside the salad.
Basque blackberry cake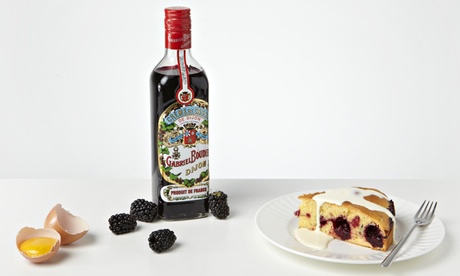 Basque food is neither French nor Spanish, but shares characteristics of both. This cake is typical: no-nonsense, but seriously good. You can almost just throw it together and bake it. Serves six to eight.
2 tbsp cassis (or other liqueur - Cointreau would be good)
250g blackberries
300g plain flour
150g soft butter, cut into cubes
250g caster sugar
Zest of 1 orange
2 free-range eggs plus 4 yolks
Heat the oven to 170C/335F/gas mark 3. Line the base and sides of a 24cm loose-bottomed cake tin with greaseproof paper. Pour the cassis over the blackberries and leave to macerate while you get on with the cake mix.
Put the flour, butter, sugar, orange zest, eggs and a pinch of salt into a large bowl and squidge together with your hands until evenly incorporated - it will be quite sticky, but don't be alarmed. Push half the mixture into the cake tin, cover with the blackberries and top with the remaining cake mixture. Spread out the top evenly with a wet palate knife.
Bake for 45-55 minutes, until the cake is golden and a skewer comes out clean. Remove, leave to cool in the tin for five minutes, then turn out on to a plate. Serve warm with lots of thick double cream. It also keeps well to be brought out at tea-time.
And for the rest of the week...
Warm any spare blackberries in a pan with a little sugar and a drop of vanilla extract, and eat with Greek yoghurt and muesli for a glamorous, healthy breakfast. Make double the garlicky chipotle oil and keep the leftovers in the fridge, for tossing with prawns, chicken thighs, cauliflower florets or leftover cooked potatoes sauteed in a hot pan; or stir into mayonnaise for late-night sandwiches (and for dipping raw veg into). The corn salad makes a great packed lunch and lasts for several days in the fridge, so double that, too; I also like it jammed into a jacket potato with butter and feta, with a green salad on the side.
• Thomasina Miers is co-owner of the Wahaca group of Mexican restaurants.
Follow Thomasina on Twitter

Thomasina Miers' smoky lamb chops with sweetcorn and black bean salad: 'A deliciously smoky finish.' Photograph: Johanna Parkin for the Guardian. Food styling: Jack Sergeson