You have had a tiring day and now all you want to have is some delicious chicken. But you also don't want to make your tastebuds wait for too long. And this is a time when a, one-pot chicken recipe will always come in handy. Whether you are tired or just a little lazy, a one-pot meal is the best and simplest cooking method to gratify your tastebuds and chicken cravings. And while we are at it, let's underline that a one-pot meal has tons of advantages. These recipes might help you to lessen your cooking time and you won't even have any extra dishes to wash! So, without waiting any further, let's dive right into these delicious one pot chicken recipes.


(Also Read: Indian Cooking Tips: How To Make Kadhai Chicken At Home)
Here are 7 one-pot chicken recipes that you can prepare with ease at home:
A traditional Moroccan dish, Chicken Tagine is cooked with chicken and vegetables mixed with spices and served with rice, preserved lemon, and green olives. Key ingredients include saffron threads, ground ginger, ground cumin and turmeric, sweet paprika, extra virgin olive oil, thinly sliced onions, chicken (8 to 10 pieces), cinnamon stick, kalamata olives, pitted and halved, preserved lemons, chicken stock, lemon juice, chopped flat-leaf parsley, salt and freshly ground black pepper.
Make this dish in 30-40 minutes
This is something we are sure you have tried in the past. The easiest of them all, it hardly takes 30-40 minutes, and has a lip-smacking taste. Ingredients for cooker chicken curry recipe are chicken, potato, onion, ginger, garlic cloves, sliced green chilli, chopped tomatoes, turmeric powder, cinnamon, cloves, cardamom, bay leaf, black pepper (whole), cumin-coriander seeds, red chilli (whole), salt and sugar, lemon juice, and oil.
This is a yummy dish to have
The next on our list of one-pot chicken recipes is Chicken Paella, which you can opt for when you are really too tired to cook something that takes time and effort. To prepare this dish, you need chicken, onions, bell peppers, rice, some vegetables, saffron, salt, green peas, olives, and parsley.
Paella is a traditional Spanish dish
Prepared in just under an hour, this conventional American chicken curry entails parboiling chicken chunks with potato cubes or other vegetables until they turn tender. Key ingredients are chicken, white vinegar, potato (cubed), onion, garlic, ginger, green chillies, green cardamoms, cloves, cinnamon, coconut milk, curry leaves, oil, salt.
Prepared in just under an hour
While curd forms an essential ingredient of almost every chicken dish, here is something special. Cooked in curd, chicken and spices, this is one of the easiest curries you can cook at home after a tiring day. And while you prepare it in your kitchen, you can order some garlic naans, for they go well with the creamy and flavorful gravy. The main ingredients are chicken, curd, cumin powder, garlic paste, garam masala, turmeric powder, red chilli powder, salt, oil, green chilli, chopped onions, and tomato.


(Also Read: Quick Chicken Recipes: How To Make KFC-Style Fried Chicken At Home)
Here's another special dish that takes just about half an hour. One of the most popular dishes from Hyderabad, Methi Chicken is a combination of chicken with fresh fenugreek leaves. Not only does methi give a unique taste and but also enhances the flavour of the chicken. And looking at ingredients, it may look like a lot of work, but believe us, it's not.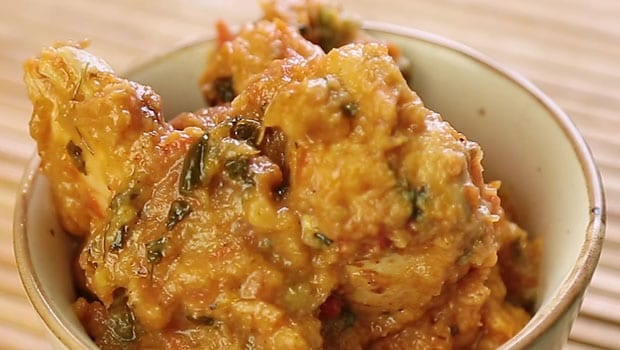 This dish is popular in Hyderabad
Last but not the least on the list is this American dish that has large and tender chicken pieces marinated well and cooked with spices. You need chicken breasts (boneless) eggs, ginger paste, garlic paste, finely chopped onion, chopped coriander leaves, chopped green chillies, black pepper powder flour, vinegar, salt and oil to make this dish.
This is an American dish


Which of these chicken dishes did you try after a hard and tiring day? Let us know in the comments below.