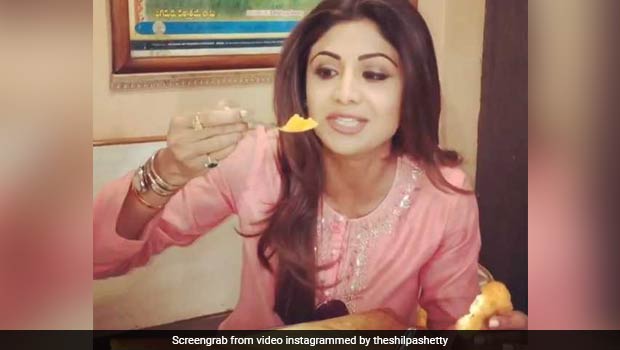 Shilpa Shetty had made a case against refined sugar, urging her fans to either limit its usage or give it up completely.

This past Sunday, Shetty made her annual trip to the pilgrim town of Shirdi, where she hogged on some delectable South Indian food. The Mangalorean actor binged on everything from crispy soft medu vadas with piping hot sambar, paper-thin dosas with fresh coconut chutney, fluffy idlis, sweet sheera and filter coffee at a restaurant that she said she has been eating at for the past 30 years! Have a look at Shilpa Shetty's latest Sunday binge video:
Shilpa Shetty's go-to restaurant in Shirdi in Maharashtra is the Swami Madras Hotel, which is pretty famous in the town for its authentic and delicious South Indian fare. Shilpa gave a special shout-out to the sheera served in the restaurant, which she said was made in ghee and its taste was 'to die for'. She even introduced the owner of the restaurant in her video, all the while piling heaps of praises on the food. For those of you, who are not familiar with the Indian dessert sheera, it's a sweet dish made from suji or semolina that is cooked in ghee and milk.

Also Read: Shilpa Shetty's Gudi Padwa Sunday Binge Was As Healthy As It Was Delicious!



The sweet dish is popular in many parts of the country and has a number of names, from sooji ka halwa in the North to sajjige in the South. The Indian dessert is served as prasad during a number of Hindu ritual prayers, and is occasionally flavoured with fruits like banana and pineapple. So the next time you're in Shirdi and feel like eating something sweet, you know where and what to eat. After all, it's recommended by the binge queen, Shilpa Shetty herself!




Shilpa Shetty Kundra, a.k.a Bollywood's binge queen is a proponent of clean eating most of the time. However, the diva reserves Sundays to indulge in fatty and sinful foods which she otherwise avoids. Shetty, who has two healthy recipe cookbooks to her credit, is a fitness and health influencer and also frequently advises her fans and followers on tips for healthy eating. Recently, on the occasion of World Health Day,