Recently, Chef and TV star Gordan Ramsay made a rather rude comment about our very own Medu-Vada on Twitter. Now, this isn't new. For a while now, followers of Chef Ramsay regularly tweet pictures of dishes they prepare, and ask for his comments on the picture. Chef Ramsay then responds with the sort of comments you have now come to expect from him. Insulting, discouraging, taunting and full of sarcasm. His comments this time too came as no surprise. What was surprising though, was how many people responded to this exchange. Indians clearly didn't approve of it and went ahead with their own set of comments, bashing the ace chef instead.
I didn't know you can tweet from prison https://t.co/rxrPPBonff

— Gordon Ramsay (@GordonRamsay) April 6, 2017

This controversy aside, we all know that our love for South Indian dishes can never be tested or rated on social media. Other than Idlis and Dosas, medu-vada is perhaps the most sought-after dish for lovers of South Indian food.
So what is Medu-Vada and what is it that makes it so special for all of us?
Medu Vada is an traditional South Indian delicacy commonly prepared at homes making it an indispensable part of daily life. It is sometimes also referred to as an Indian doughnut. It is prepared using black lentils or urad dal batter and deep fried in oil. This soul satisfying crispy vada dipped in piping hot sambhar with coconut chutney makes it all the more irresistible.
Origin of Medu Vada
Medu is a Kannada word that translates to 'soft' and Vada to 'fritter', which means a soft fritter commonly popular as 'vada' in most menus across restaurants. It has different names according to different regions including ulundu vadai (Tamil terminology), uzhunnu vada (Malayalam terminology), garelu (Telugu terminology), urad vada and medhu vadai.
The origin of medu vada is not certain, however, it is said that it was first prepared in the Maddur town in Karnataka. This dish became popular in Maharashtra as introduced by quite a few Udupi restaurateurs. Eventually, vadas became popular all over India and many variations were introduced according to the different palates.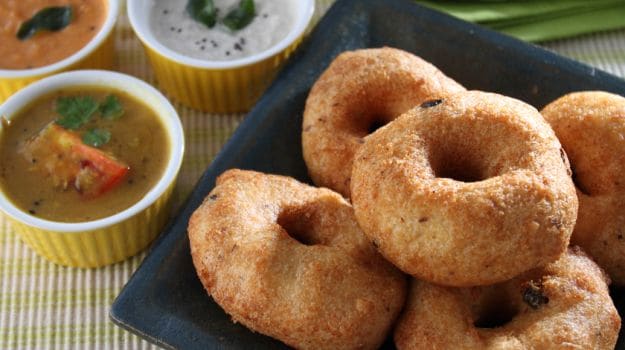 Medu Vadas - A treat for palates
While most people choose to have medu vadas in the morning, many love to binge on it as snacks in the evening. You can also create your own variations and combinations to accompany the vada. Traditionally, it is teamed up with sambhar and coconut chutney; however, you can also choose to savor it with a dash of slightly sweet, whipped curd. To keep light, you may want to cut out on the sambhar and eat it with the white coconut chutney instead. It is known to be eaten with chicken curry in Andhra Pradesh and is termed Minappa Garelu.
Medu Vada - The perfect start to a healthy day
According to Dietitian Sheela Seharawat, one of the best Indian snacks or breakfast options is medu vada. It consists of black lentils, which are the richest source of protein and vitamin B. It is full of iron, folic acid, calcium, magnesium and potassium. It makes the best substitute for vegetarians who don't eat meat and fish. She says, "It is the best way to keep your digestion in order. It also helps to keep your hair and skin healthy."
Interestingly, there are other forms of vadas and they are all as delicious. Here are some more types of Vadas you must try:
1. Masala Vada (Paruppu Vadai) - Paruppu vadai is a popular snack down south, made of Bengal gram dal (chana dal ) and various spices. It is a common street food in Tamil Nadu and is available mostly everywhere. They are way crispier than medu vadas and have a stronger taste than them.
2. Medu Vada or Mosari vade (soaked) - Popular as Mosari Vade in Karnataka and Sambhar Vadai or Rasa Vadai in Tamil Nadu, these are curd soaked medu vadas. Medu vadas are basically soaked into hung curd with mustard seeds and garnished with coriander. A version of this is also popularly known as dahi vada in North India.
3. Maddur Vada - The name maddur vada is derived from the district Maddur that comes between the drive from Bengaluru to Mysuru. It is prepared by blending rava, rice and maida flour with finely chopped onions, grated coconut and curry leaves. These golden brown crispy delights are deep fried and are generally eaten without any substitute.
4. Thavala Vada - If you want to choose a super healthy option, then you may choose thalava vada that is a blend of rice (parboiled), four varieties of dal (Tur, chana, urad and moong) and coconut. Popular in many parts in Tamil Nadu including Chettinad, this vada is a perfect mix of health and taste.
5. Pepper Vada - Popularly served as Prasad at many temples in South India, pepper vada is prepared with urad dal and pepper. It can be savored with chutneys of your choice.
Recipe to the perfect Medu Vadas!
It is easy to prepare the best medu vadas and have a healthy meal at home without having to do much. Here is a recipe to make golden brown and crispy vadas by Chef Ankit Mangla, Plaza Premium Lounge:
Servings- Approximately 30 medium-sized vadas
Preparation time- 45 minutes
Cooking time- 5-8 minutes each vada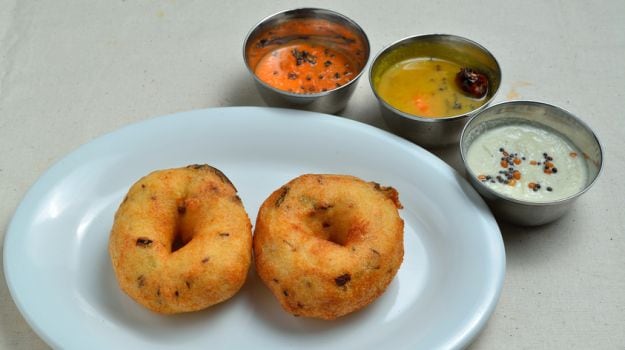 Ingredients:
Urad Dal (soaked overnight) - 500 gm
Finely chopped green chilli- 2-3
Finely chopped ginger- 20 gm
Grated coconut- 100 gm
Curry leaves- 1 spring
Finely chopped coriander leaves- 50 gm
Whole black pepper- 10 gm
Cumin seeds- 10 gm
Refined oil- half litre
Salt to taste
Preparation:
1. Soak Urad dal in water for 45 minutes.
2. Strain excess water and grind to make a fine paste and keep it aside for 30 minutes.
3. Add salt, chopped green chilli, ginger, curry leaves, black pepper and grated coconut in the dal adding some water.
4. Blend it in the grinder again to make a smooth fluffy batter.
5. Now, heat oil in a pan.
6. Moist your palm, take a blob of the batter in your hand and make a hole using your thumb.
7. Upturn your hand and drop the batter in the oil carefully.
8. Deep fry the vadas at moderate temperature till they turn golden brown in colour.
9. Serve hot with sambhar and coconut chutney.