A hefty burger looks pretty and tastes delicious because of layers of foods that come together to make it a fetching meal. Lettuce is an intrinsic part of a quintessential burger, which not only adds a bright green colour to the burger but also ups its nutritional quotient. In fact, not just burger, lettuce is also used in many other healthy meals like salads, sandwiches and tacos. Lettuce is one of the healthiest vegetables available but sadly, its popularity hasn't really taken off in Indian cuisine. Barring a few meals, lettuce is hardly used as a regular ingredient in our meals. Lettuce deserves far better with its weight-loss-friendly properties and should be included in the diet of those who want to shed kilos in a healthy way.
Lettuce Health Benefits -
A per the United States Department of Agriculture data, a 100 gm portion of lettuce contains only 15 calories. Its water content is as high as that of a cucumber. Lettuce contains zero cholesterol and fats (saturated and unsaturated). With all these qualities, the low-cal, zero-cholesterol lettuce leaves should be included in our weight loss diet.


An interesting way to consume lettuce is by making a snack meal out of 'lettuce cups'. For this, iceberg lettuce is used that looks like our desi cabbage. This also has layers of lettuce leaves enclosed and grouped in a ball formation. Each leaf can be used as a cup and topped with a mixture of your choice. Minced chicken can be combined with onions, carrots and other herbs and spices. For a vegetarian option, cottage cheese with capsicum, onions and tomatoes can be used as a topping. The options are endless. Due to lettuce's neutral taste, it can go with a number of other foods, herbs and spices.
(Also Read: 11 Best Lettuce Recipes)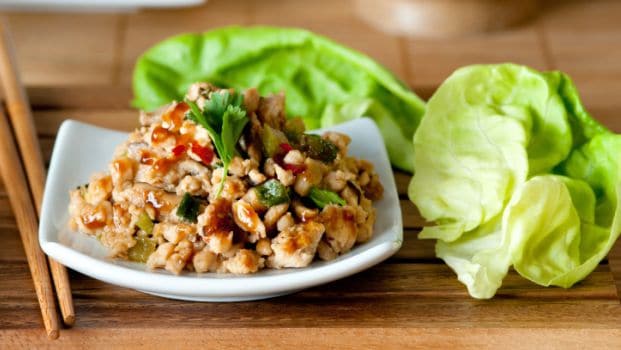 How To Make Lettuce Cups
Step 1 - Cut off the bottom part of the stem of the iceberg lettuce.


Step 2 - Strike the knife inside the centre of the iceberg lettuce and remove the whole stem.


Step 3 - Remove the topmost layer of the iceberg lettuce and soak the ball of leaves in a pan full of water, and gently remove and separate the leaves. If you try to pull away leaves off a dry iceberg, they might just tear apart.


Step 5 - Keep the leaves on a bed of absorbent tissues and let them dry.


Step 6 - Once dry, freeze the leaves till they are crispy and sturdy enough to hold the topping.


Step 7 - Scoop the filling into each cup, dress it with coriander or thyme leaves, and serve.


(Also Read: Hazelnut Asian Lettuce Cup Recipe)



The lettuce cups can replace unhealthy tacos, tortillas, bread or pizza base and make for a super healthy base for your snacks. Also, the bite-sized meals look so pretty that you and your guests will be tempted to lift and gobble them instantly.

About Neha GroverLove for reading roused her writing instincts. Neha is guilty of having a deep-set fixation with anything caffeinated. When she is not pouring out her nest of thoughts onto the screen, you can see her reading while sipping on coffee.