Kofta is essentially a pakoda that is suffused with minced meat or muddled vegetables which is then fried to make it crispy and crunchy. Kofta can be doused in rich gravies to make some indulgent curries or can be teamed with a sauce or chutney for a fulfilling evening snack. We are smack-dab into the luscious koftas that can be customised to suit our preferences. For a milky flavour, you can stuff in malai and cashews; for a veggie treat, there is a slew of vegetables like cabbage, and so on. And, if you just want to pick it and pop it in the mouth to savour this delicacy, just smear it with a sauce and wallow it down.


While kofta is prized for its uber-rich taste, it can wreak havoc on your fitness goals. Since it is deeply fried, kofta is not particularly a preferred food for the ones vying for weight loss. Excessive oil in any meal can lead to accumulation of fat in the body that is difficult to digest. Unfortunately, weight loss seekers may have to slide away from the bowl of kofta from their plate. Imagine a diet bereft of this decadent delicacy!


(Also Read: Here's how you can make delicious Paneer Kofta at home)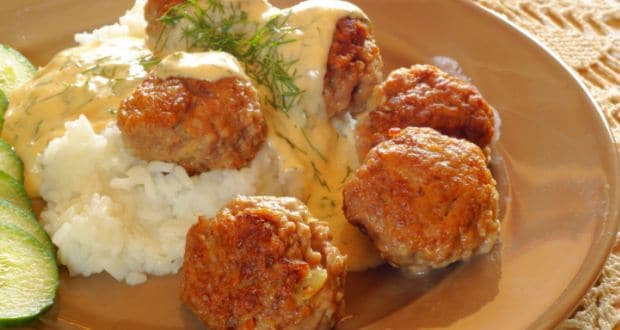 Delicious baked kofta balls served with rice
​
Here's a great tip for fitness freaks to relish their favourite kofta without worrying about gaining weight:
1. Instead of frying the kofta, simply bake it! You must be wondering how the kofta will hold its shape without frying.


2. The trick to follow here is – when you mould the balls as you do before frying, just refrigerate them for some time till they stiffen and are sturdy enough to not crumble down while baking.


3. Now, to retain the same crunchiness you get in the fried kofta, smear the pakodas with some flour and dried bread crumbs, which will form a crispy outer enclosing the meatball when baked. For a healthier covering, opt for semolina or other healthy flour instead of refined flour, and use brown bread for crumbs instead of white bread.


You can make any variety of kofta with the filling of your choice. To get you afoot, here's a recipe of Baked Almond Kofta, which evidently contains the goodness of almonds.


The stuffing is made with mashed potatoes and crushed almonds rolled into a milky ball, covered with a thick layer of egg, flour and bread crumbs. This dish can be served as a healthy snack or can be immersed in gravy to be paired with rice, pulao, roti or naan. Whichever way you choose to consume it, you will love the idea of eating the 'earlier-defamed' kofta in its all-new healthy avatar.


About Neha GroverLove for reading roused her writing instincts. Neha is guilty of having a deep-set fixation with anything caffeinated. When she is not pouring out her nest of thoughts onto the screen, you can see her reading while sipping on coffee.