Somehow when it comes to
evening snacks
, most of us are bound to think of something decadent and greasy. Be it
samosa, pakodas,
chips,
bondas;
our tea time companions are usually a little high on the calorie side, wouldn't you agree? But to generalise so, would be a blunder. For there is one popular snack from the western part of the country, that we all love to relish and yet it happens to have escaped the reputation of being unhealthy, cholesterol raising or calorie-laden. We are talking about the much loved
dhokla.
Feather-light and fluffy
dhoklas
are a Gujarati marvel we can never get enough of. Made with a fermented batter of gram flour (
besan
) and mild spices,
dhoklas
are great any time of the day. For us, they make a great tea-time snack. One of the most fascinating features about
dhokla
is how versatile you can get with its base ingredients. If you are not a
besan
fan, then you can use rice flour,
chana dal
or semolina. Some people also add sugar or sugar syrup to their
dhokla,
while some choose not to. What makes
dhokla
rank so high on health charts is its mode of preparation, ingredients used and its fermented nature. Steaming helps save many calories, and also makes the snack light and delicious. (Also Read:
6 Best Dhokla Recipes
)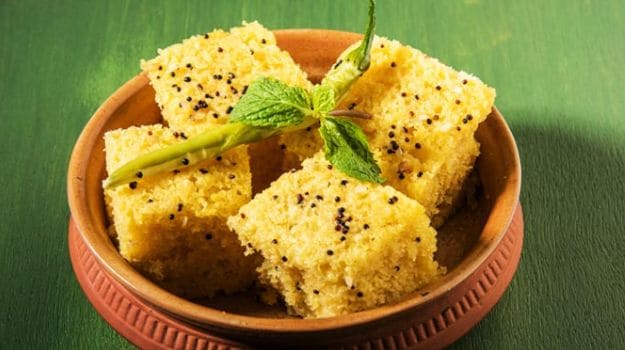 As far as the ingredients are concerned, they make for a good source of protein.
Besan
is a good vegetarian source of protein. According to Macrobiotic Nutritionist and Health Practitioner Shilpa Arora, fermented foods increase the bioavailability of nutrients like folic acid, riboflavin, niacin, thiamine, biotin and Vitamin K. Since dhokla is steamed and not fried, it is also a hit with people looking to lose weight. Fermented foods are easier to digest. The micro-organisms break down complex protein, carbohydrates and fats into more easily assimilated molecules. This helps enable a healthy gut flora. An improved digestion, improves bowel movement, increases energy levels, and aids in loss of excess weight.So what are you waiting for? Here's a delicious recipe of
low-fat microwave dhokla
by Chef Niru Gupta. Easy-to-prepare and delicious, this dhokla is a quick solution to your sudden cravings.
About Sushmita SenguptaSharing a strong penchant for food, Sushmita loves all things good, cheesy and greasy. Her other favourite pastime activities other than discussing food includes, reading, watching movies and binge-watching TV shows.