I was at Soam, Pinky Chandan Dixit's 11 year old
Gujarati
restaurant which is located opposite the 250 year old Babulnath Temple in South
Mumbai
, a few Sundays back.Soam is an a-la-carte place, unlike most other Gujarati restaurants in Mumbai (barring Swati Snacks) which are thali joints. The high points of my meal were the cheese and Palak Pakora, a baked rice and lentil dish called Handvo and a Rajasthani dish called gatte ke sabzi (chickpea dumplings in a seductive yogurt based sauce) and satpadi/ a 7 layered roti. Add sugarcane juice at the start and fresh strawberry hand churned ice cream at the end to that list. My wife was there with me along her mother's side of the family. While my wife is a Mumbai
Parsi
girl, her mother and uncle and aunt are Parsis born in Surat in Gujarat. They found a lot of old connects in the food at Soam and interestingly loved the vegetarian
Dhansak
, a Parsi dish traditionally cooked with
mutton
or goat meat.
On the way out I noticed that the folks at Soam had plated a farsan (snacks) platter at the counter to send to a guest. I was intrigued by a white squarish item on the plate which looked similar to what is served at the start of the meal in Gujarati thali joints. I went up to the counter and asked the staff what this was. "Dhokla," was the answer.
I was confused. Let me take you back in time to explain why.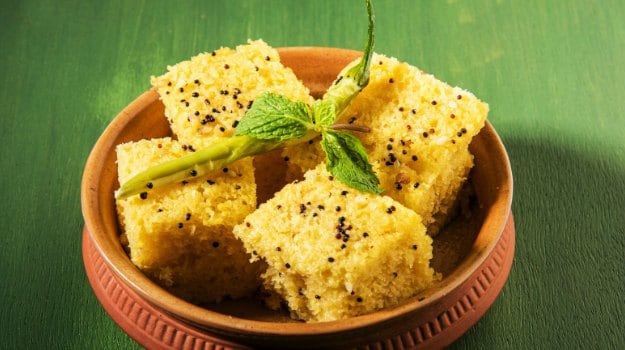 Sometime in the early 1990s in Kolkata, my mom came back home from work and opened a paper box and took out a few yellow spongy cube like things covered with roasted mustard seeds, coconut shavings and fried green chillies. "These are dhoklas," she explained. "There is a new shop called Haldirams at Rabindra Sadan near the Metro. I saw these earlier when we used to live in England. I have got some for you." My younger brother and I took to the sweet and tangy taste and the juicy spongy texture of dhoklas like a fish does to water.
I would often stop at the Haldiram's at Rabindra Sadan while returning from school and college, enjoy the air-conditioning in the shop and the dhoklas too. There was the basic one and then the more expensive one with tamarind chutney, green chilli paste and paneer filings. On a recent trip back to Kolkata I saw that there are some gigantic, multi-storeyed Haldiram outlets there now. However, the one at Rabindra Sadan would always remain special for me.
I saw dhoklas everywhere after I moved into Mumbai in the late 1990s. Possibly because of the high Gujarati population here. From grocery stores to road-corner panwallahs, everyone would stock these spongy yellow cubes in transparent white plastic bags with some green chutney in a sachet. Unlike mutton rolls and mishti in Kolkata, they would serve chutney sandwich, chips and the yellow cubes (there is a reason why I am not saying 'dhoklas') in market research focus groups that I would conduct with housewives in apartments in Vile Parle in Mumbai. Men in focus groups would be hosted in hotels such as the Taj and the Oberoi in those days and get a buffet.
The thing is, as Gujarati dhokla evangelists like Anaggh Desai will tell you on Twitter, dhoklas are not yellow!
Dhoklas, or khatta (khaa- ta) dhoklas are what Gujaratis call dhoklas, are white in colour. Yes you read that right. The yellow ones are 'khaman' and have gramflour in them. Anaggh's grouse of non-Gujaratis calling khaman dhoklas is a sentiment I have seen other Gujaratis harbor too. The 'dhokla is white' information seems to be a closely guarded Gujarati secret though, if you ask me.
I asked my Odiya colleague, Prasunika who earlier worked in Delhi, whether you get dhoklas in Delhi. She tells me they are prevalent there even in local cholle bhature and mithai places like Evergreen Sweet Shop. "What colour?" I asked her. "Yellow," she answered. Another market research colleague of mine, Radhika, tells me that you get dhoklas in Chennai too. In the Marwari run restaurants there. Colour? Yellow. Food blogger and YouTuber and nutritionist, Nandita Iyer, tells me that you get dhoklas in Bangalore. In Marwari and Gujarati shops and areas with North Indian trader settlements. Colour? Yellow! Are you seeing a pattern here?
So I asked Anaggh his opinion on why the yellow khaman is known as dhokla outside of the Gujarati sphere of influence.
Anaggh feels that khaman (the yellow one) lasts longer and doesn't break as easily as dhokla (the white one). This made it easier to stock and retail khaman in comparison to dhokla. Initially khaman were sold as 'khaman dhokla' but somewhere down the line, 'khaman' was dropped from the name by non Gujaratis. As a Bengali who didn't have a context on dhoklas, I found the yellow ones more attractive that the white ones and possibly this has worked for other non-Gujaratis to an extent too.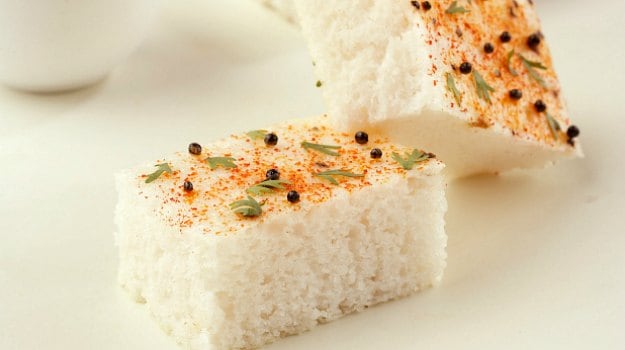 The dhokla has a slightly tangy taste as the batter is fermented before it is steamed. The khaman version has gramflour/ chckpea paste too which gives it a yellow colour unlike the rice (occasionally semolina too as there are many variations) based dhokla. The former is more spongy and the commercial versions might have a higher proportion of baking soda too. Rupa Balachander, who loves researching about the origins of food and has hosted a food show on the Eenadu web channel, points out that the dhokla is a dish which has evolved over time. The first mentions of it are in early Jain texts which refer to something called Dukkia. She doubts if the dukkia was fermented given the Jain religion didn't approve of fermentation. However the dish came into its own in 1800s (AD) when it took its modern fermented shape and a tempering of green chillies, hing (asafetida) and mustard were added to it. The khaman, she points out, has come from Kathiawad in Gujarat.Chef Ashish Bhasin of the Trident BKC at Mumbai feels that the besan based khaman was invented after the white khatta dhokla. Well, the fact is that the khaman is the version that has travelled across the world and has become the arguably the biggest symbol of Gujarati food.
Just don't call it a dhokla, if there is a Gujarati around.
About the author
:
Kalyan loves to eat and he loves to talk about all that he eats. His wife urged him to start writing about it, otherwise she would have to hear it all. He blogs as 'finelychopped' and is the editor at large for the India Food Network. According to a 2016 report published by Indian Cuisine RR, Kalyan has also been rated as 'top Indian food influencer on Twitter'.
Disclaimer
:The opinions expressed within this article are the personal opinions of the author. NDTV is not responsible for the accuracy, completeness, suitability, or validity of any information on this article. All information is provided on an as-is basis. The information, facts or opinions appearing in the article do not reflect the views of NDTV and NDTV does not assume any responsibility or liability for the same.