Spices are so integral to Indian cuisine and are quite commonly used. We are known to abundantly use spices in our cooking, and sometimes, our cuisine gets a reputation for being too spicy too. Other than the taste, spices actually serve a greater purpose in our diet. The humble spices offer a host of benefits for our health including facilitating weight loss, boosting immunity and protecting the body from damage from free radicals. While we all are still aware of the common health-boosting properties, there are some that are still less known to us. There are some extremely interesting and surprising benefits that most of us are unaware of. We have collated some of the most surprising health benefits of common Indian spices that you didn't know about.


Also Read: 11 Uncommon Spices From Different Regions Of India To Spice Up Your Food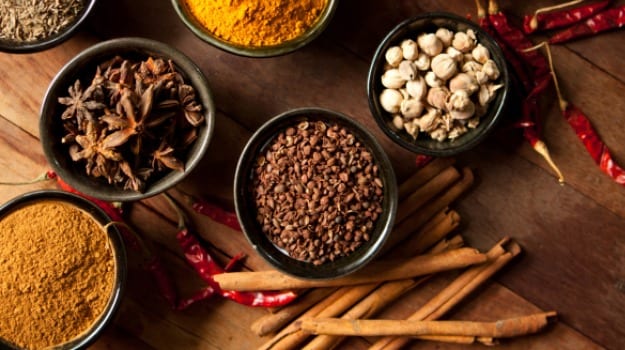 Here Are 7 Surprising Health Benefits Of Common Indian Spices That You Didn't Know:
1. Promotes Heart Health - Cardamom (Elaichi):
Cardamom or Elaichi is intrinsically linked with heart health and there are multiple reasons why. Firstly, cardamom has antioxidants and plenty of fibre that promote heart health. It can also help lower cholesterol levels. It also helps regulate blood pressure thanks to its diuretic properties.
2. Boosts Metabolism - Cinnamon (Dalchini):
Studies have linked the humble cinnamon (dalchini) has an essential oil called cinnamaldehyde that can promote thermogenesis or the process of burning fat cells. The oil was shown to increase the activity of several enzymes that can boost metabolism and promote weight loss.
3. Rich Source of Iron - Cumin (Jeera):
Ever wondered why cumin seeds are added to practically every Indian dish? One of the many reasons is that cumin is an excellent source of iron. Believe it or not, a 100-gram serving of jeera contains up to 66.4 mg of iron, which may fulfil up to 368% of your daily requirement as per USDA data.
4. Relieves Chest Congestion - Asafoetida (Hing):
Not many people are aware that asafoetida or hing can provide relief from respiratory diseases too. It has anti-inflammatory, anti-viral and antibiotic effects and also relieves chest congestion and releases phlegm. You can consume hing mixed with honey in water for the best results.


Also Read: Garam Masala Benefits: 5 Reasons The Indian Spice Mix Is Healthy For You
5. For Oral Health - Ajwain (Carom Seeds):
Did you know that Ajwain could be a miraculous cure for tooth pain? It contains a compound called thymol that is critical for good oral hygiene and provides relief against toothache, tooth pain, swollen gums and mouth ulcers. Ajwain can also be an effective remedy for those with bad breath.
6. For Good Sleep - Clove (Laung):
Clove (or laung) contains a compound called eugenol that can help relax your body and mind, while simultaneously alleviating stress at night. You can apply clove oil or eat 2 cloves in warm water before bedtime for a restful night's sleep.
7. Relieves Throat Pain - Black Pepper (Kali Mirch):
Black pepper is an excellent antibiotic and antibacterial, thanks to its high Vitamin C content. Thus, it could help cure cough and cold, and provide relief against throat pain as well. Drink up a mixture of black pepper, lemon juice and salt and feel your throat relax instantly.


So, sprinkle away these spices on your salads, cook vegetables with them or make detox waters with them. You will never look at our humble Indian spices the same way again!


About Aditi AhujaAditi loves talking to and meeting like-minded foodies (especially the kind who like veg momos). Plus points if you get her bad jokes and sitcom references, or if you recommend a new place to eat at.