In a world of
food controversies
and alluring fads, little remain that are worthy of our faith and trust. Hyperbolic claims made by the 'health industry' often channel their way to those with little or improper knowledge. The outcome is usually standard: some of the most significant bits slip through the cracks and are forgotten forever. We live in a time where a year-end is celebrated not just by making resolutions but also by looking out for something new and intriguing. This insatiable need for the exciting and the unknown has led to a flurry of experimentation that invade all aspects of our life. The food and
fitness
space has been bustling with unbridled experimentation. From novel fitness regimes to foods that attain 'superfood' status by the day, such unrest and chaos leaves most of us in a state of bewilderment, unable to choose right over the utterly wrong.
One of the raging food trends of 2016 was activated charcoal. This addition of an agent that was commonly associated with making fire or barbeques was discomforting to some and exciting for most. From a cautious sprinkling atop cocktails to its regular consumption as a dietary supplement, charcoal seems to have found a way into our lives in multitudes of ways, but the question remains: Are we ready to embrace it? And should we really do so?
Charcoal finds a mentioning in ancient Chinese medicine. Its purifying properties make it an instant hit with beauty and health experts. Charcoal has the ability to stick to any form of impurity, therefore when added to food, it cleanses your system and flushes unwanted matter out of the body. It doesn't have the tendency to get reabsorbed and comes studded with antiviral, antibacterial and anti-fungal properties - another brownie point!
"Charcoal has beneficial properties, there is no second opinion about it, but you need to be cautious with the amount you are adding to your diet. When consumed in moderation, it works wonders for cleansing intestines and pushes
undigested food
out of the system," shared Shilpa Arora ND, a renowned health practitioner, nutritionist and certified macrobiotic health coach.
Charcoal's ability to stick to impurities and drive them away is remarkable to an extent that it has now been used in a range of products from toothpastes, face washes and beauty products to detergents and much more. There have been a series of videos doing the rounds on social media showing people using activated carbon masks to get rid of stubborn blackheads.
"Charcoal or activated carbon doesn't have any direct relation with any of the Ayurvedic preparations, however, certain items, like amla or coconut shells, are often charred black and used as medicinal remedies to resolve a host of health issues. Amla powder is charred and used in preparing a remedy to curb vomiting," shared Dr. Ashutosh Gautam, Clinical Operations and Coordination Manager at Baidyanath.
"Activated charcoal is used in the emergency treatment of certain kinds of poisoning. It helps prevent the poison from being absorbed from the stomach into the body," as stated in a study by the US National Library of Medicine.
While charcoal happens to bask in the glory, the world of health and fitness stands divided on its apparent wonder. On one hand it is touted as a detox and purifying agent, while on the other hand its ability to obstruct the absorption of essential nutrients in the body shouldn't be brushed under the carpet. Those with a history of mal-absorption gut issues like Irritable Bowel Syndrome should steer clear of it. "Charcoal can lead to gastric issues and in some people can even cause bowel disturbances," warned Shilpa.
In her article for The Telegraph, Olivia Williamson talked about activated charcoal at a time when it hadn't attained the present-day limelight. "Charcoal is 'activated' when manufacturers heat common charcoal with a gas, which increases its surface area and cause it to develop 'pores'. When ingested, these pores mean that the charcoal is able to absorb toxins and other bad substances to its surface area, and remove them from the body. This, along with charcoal's supposed de-bloating and teeth whitening abilities, is why the substance became the superfood on everybody's wish list," wrote Williamson. The piece also pinpoints the fact that activated charcoal's interaction with any ongoing medication can hamper the body's ability to absorb the medicine. Also, if you happen to add a sprinkling of the black powder in your detox juice, chances are that you might not even get all the nutrients of your power-packed drink!
"I am a huge fan of science but I think it's about time that our age-old home remedies took charge. What can be better than Vitamin C or ascorbic acid for cleansing pores? Why charcoal? How will a common man device a way to measure the exact quantity of it to be added to the diet or in the beauty regime? High concentration of charcoal if applied on acne or bruises can easily enter the bloodstream," noted Dr. Deepali Bhardwaj, a leading Delhi-based dermatologist and beauty expert.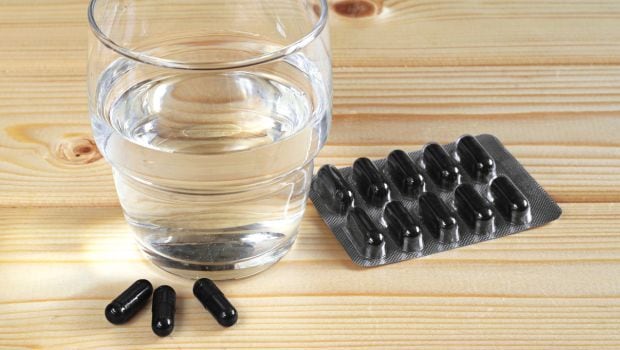 Activated carbon in our water and air purifiers sound convincing. The incidence of a leading cosmetic brand coming out with an all-black face wash with charcoal had my eyes lit up. I have tried my hands on charcoal-based beauty products before and found them pretty effective, but charcoal in my food certainly sounded a bit off-track. Why not try something that doesn't come with a warning? "Something like besan! Why not use that instead? For years the ingredient has been associated with cleansing the digestive system and beautifying the skin. It is mild, free from any side-effects and absolutely safe to use," concluded Shilpa.
Undeniably, activated charcoal has caught our fancy. Most of us are dying to give it a try. But for those who haven't, try if you must, have a chat with your doctor or wellness expert before you plan to make it a part of your diet.
I am going back to my plain ol' green juice!