Summer is in full swing, and so is the need for all things cold and delicious. The sweltering heat can literally take a toll on our bodies, as it ends up making us feel dehydrated and exhausted. To replenish our energy levels, we usually resort to refreshing summer coolers and juices. However, these drinks are mostly loaded with excess amounts of sugar, making them not suitable for everyone, especially those suffering from diabetes. It goes without saying that sugar is a big no-no for diabetics, as it can lead to rapid fluctuations in blood sugar levels. Now, this does not mean that you have to deprive yourself of summer coolers entirely. Luckily, there are certain drinks that you can enjoy to quench your thirst. Green juices, for instance, are a great way to cool yourself during the summer as they are loaded with antioxidant properties. Considering this, we have compiled a list of five green juices that you must try.
Also Read: Diabetes Diet: Best And Worst Foods For Blood Sugar Level
Here Are 5 Cooling Green Juice Recipes For Diabetics:
1. Spinach And Kale Juice (Our Recommendation)
Green leafy veggies like spinach and kale are known to be quite beneficial for people suffering from diabetes. They are both power-packed with antioxidants and quite low in calories. Several studies suggest that including spinach and kale in your diet can be particularly effective in reducing the risk of type 2 diabetes. So, make yourself a glass of spinach and kale juice now! Click here for the recipe.
2. Neem And Aloe Vera Juice
Certain herbs have diabetic-friendly properties too; take neem and aloe vera, for instance. Neem is loaded with flavonoids and has anti-inflammatory properties, which help regulate blood sugar levels. Aloe vera, on the other hand, contains a compound called glucomannan that has been effective in regulating diabetes. When combined together in this concoction, they can do wonders for your health. Click here for the neem and aloe vera juice recipe.
3. Karela (Bitter Gourd) Juice
Karela juice is probably among the most recommended juices for people suffering from diabetes. Polypeptide-p, an insulin-like compound found in karela, has been shown to treat diabetes naturally. Experts recommend having karela juice first thing in the morning on an empty stomach to manage diabetes. Click here for the karela juice recipe.
4. Amla Juice
Amla, also known as Indian gooseberry, offers several health benefits, including being beneficial for diabetes. It has a low glycaemic index and is loaded with antioxidant properties. Since amla juice has a slightly strong taste, you can dilute it in some water and even add some honey to it. Click here for the amla juice recipe.
Also Read: How Summer Impacts Diabetics And Simple Measures That Can Help
5. Cabbage Juice
Another green juice that is excellent for a diabetes diet is cabbage juice. Cabbage, too, has a low glycaemic index and does not cause a sudden spike in blood sugar levels. Additionally, it also helps slow down the absorption of glucose in the blood as it is rich in fibre. For best results, make sure to drink it first thing in the morning. Click here for the cabbage juice recipe.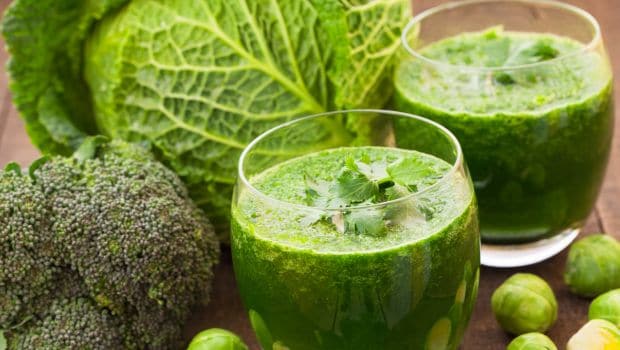 Now that you know of these green juices for diabetes, add them to your daily diet and share your experience with us in the comments below. However, it's important to consult your doctor before you make any major changes in your diet.