Every fifth Indian in the age group 20-30 is suffering from various type of spinal ailments, which until a decade ago were common among senior citizens. According to doctors, there has been a 60 per cent rise in spinalproblems among the youth.
"Prolonged sitting in the same posture can add a tremendous amount of pressure to the back muscles and spinal discs, a slouched position can over-stretch the spinal ligaments and strain the spinal discs and causemajor pain in back and neck. This is the prime reason for rise in back problems among youths." said Raju Vaishya, Sr Consultant Orthopaedic and Joint Replacement Surgeon at Indraprastha Apollo Hospital.He said similar to sitting, prolonged standing also has health implications. "Standing keeps the body in an upright position, which requires considerable muscular effort. Prolonged standing results in pooling of bloodin the legs with reduction in blood in active circulation. Insufficient blood flow further accelerates the onset of fatigue and causes pain in the musclesof the legs, back and neck," said Vaishya.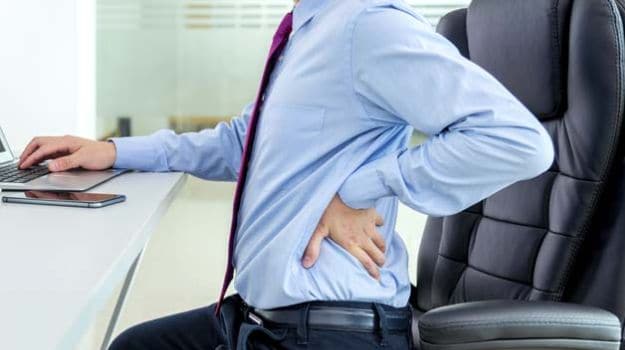 Rahul Gupta, Senior Spine and Neuro Surgeon, Fortis Hospital said: "Sitting in the same position for more than four hours a day is harmful to the spine."
"Backaches and spinal problems have never been uncommon, but when every fifth patient visiting a specialist to consult remedies for spinal issues is a young office goer in 30s then it's a matter of concern," he said.
Earlier, surveys had also found that 50 percent of Indian children and teenagers are prone to spinal problems due to the high use of mobilephones. According to doctors the problem may lead to permanent damage to their cervical spines that could lead to lifelong pain.
Agreed Sunil Mittal, a reputed psychiatrist and director of Cosmos Institute of Mental Health and Behavioural Sciences, who said: "Apart from the physical stress that hurts the spine, the mental stress and anxiety as a part of today's lifestyle further leads to increased incidence of backaches, neck aches and shoulder pains."
"Besides these, osteoporosis, malignancy, inflammatory diseases (arthritis), other metabolic bone diseases, and hematological diseases are some other issues that lead to spinal problems," said Mittal.
(This story has not been edited by NDTV staff and is auto-generated from a syndicated feed.)