Depression
has become a serious global health concern with a large number of the younger lot found to be succumbing to The most important thing we need right now is to let go of the social stigma attached to mental heal disorders and create more awareness about depression and its effects,.Experts from the Central Food Technological Research Institute are regarding chia seeds as the new
superfood
for depression. Also known as salvia hispanica, chia seeds are native to Mexico, and belong to the mint family. They are believed to have been consumed by some of the most ancient civilizations like the Mayans and the Aztecs. Chia seeds were grown primarily for their oil but gradually made way into our daily diet given their amazing health benefits. They are loaded with essential nutrients like including
iron
,
calcium
, and
magnesium
. They are also a great source of the good fats Omega-3. Just a handful of chia seeds added to your daily diet can aid digestion, protect your heart and boost immunity. Researchers have not found that it can fight depression too. According to these experts, it has been seen that Omega-3 fats can help in fighting depression and mood swings. A lot of other scientific studies have shown that low levels of
Omega-3 fatty acids
can trigger a host of mental and emotional disorders. Experts recommend that on an average, an adult should consume about 1 to 1.6 grams of omega-3 fat every day. Chia seeds are packed with Omega-3 and are very easy to use. ( Also read :
Top 5 Health Benefits Of Chia Seeds
)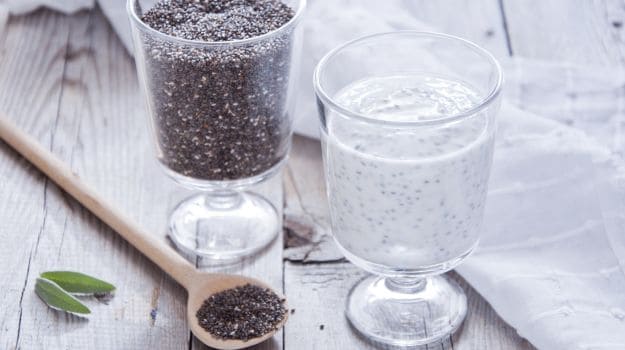 Chia seeds are packed with Omega-3 fats
According to Professor Ram Rajasekharan, Director, Central Food Technological Research Institute, you can add about 3 grams of chia seeds to a glass of water and allow it to rest for about 10 minutes. The seeds will soak up the water and become bloated and gel-like. This should be consumed daily.
3 grams would be less than a teaspoon (which is about 5 grams). So, adding a very small quantity of chia seeds in your daily diet can give you big health results. Chia seed is a very versatile ingredient that can be used in many ways.They change their texture after being soaked and become softer, silky and velvety. You can blend them with your
smoothies
, shakes or
cold coffee
. You can also sprinkle some over your breakfast cereal. They work well even in salads, dips or can be sneaked into muffins and granola bars. And if you're too lazy to do any of this, throw them in a trail mix with other nuts and seeds and enjoy as a quick snack or better still just eat them raw from your hand.