Crispy, flavourful and simply delicious, chips are something that no one can resist biting on. Be it in the evening with a cup of hot chai or at night while binge-watching your favourite show, they always come to our rescue whenever we crave something salty and crunchy. While you'll find a wide variety of chips in the market, nothing defines comfort best than gorging on some homemade desi munchies. Speaking of desi snacks, banana chips are one such snack that are quite popular in South India. This yummy snack is known for its thin and crispy texture, and makes for a delicious snack to munch on.


Also read: 5 Best Chips Recipes To Prepare At Home: Potato Chips, Banana Chips & More


These crispy delights are made from raw unripe bananas and are deep-fried until golden in colour. They can be sweet or savoury in flavour, and are often seasoned with masalas such as red chilli powder and black pepper. While most of us prefer buying this South Indian snack from the market, it's best to make fresh banana chips at home. Now you may think that making banana chips from scratch requires a lot of time and effort. But what if we tell you that you can easily make this yummy snack at home? Here we bring a simple banana chips recipe that'll ensure that they turn out to be super crispy.
Here're Some Tips To Make Crispy Banana Chips At Home:
1. Use The Right Type Of Bananas
Using the right type of bananas helps in ensuring that your banana chips turn out to be crispy. Opt for firm and unripe bananas as they have a low sugar content. If possible, try to get your hands on starchier banana varieties like the Nendran and Saba cultivars.
2. Slice Them Thinly
The next thing to keep in mind while making banana chips is to slice them thinly. Make sure that they are sliced uniformly, as this allows them to cook evenly. The thinner your banana chips are, the crisper they will be.
3. Soak Them In Salt Water
Once you've sliced the bananas, soak them in a bowl of salted water for a few minutes. This helps in removing excess starch from the bananas and prevents them from sticking together while frying.


Also read: Bored of Potato Chips? 5 Unique And Delicious Chips Recipes You Should Try At Home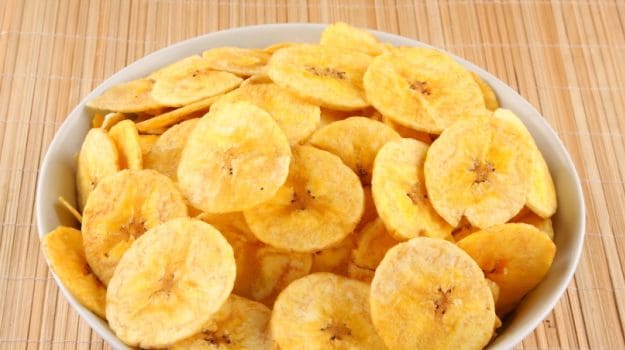 Crispy Banana Chips Recipe: How To Make Crispy Banana Chips
To begin with, add banana slices, salt and turmeric in a bowl and let it set for around 4-5 minutes. Now, give it a good mix and transfer to a colander to drain completely. Heat some coconut oil in a kadhai set on medium flame.


Add the banana slices in small batches and fry until crispy and golden in colour. Once done, transfer onto a paper napkin. Sprinkle some salt and red chilli powder on top and allow them to cool. Store in an air-tight container for up to a week. Serve and enjoy!


For the complete recipe of crispy banana chips, click here.


Try out this recipe and let us know how it worked for you in the comments section below. If you're looking for more South Indian snacks, click here for some of our best recipes.
About Vaishali KapilaVaishali finds comfort in eating parathas and rajma chawal but is equally enthusiastic about exploring different cuisines. When she's not eating or baking, you can often find her curled up on the couch watching her favourite TV show - FRIENDS.