Sweet Potato Recipes- Sweet potatoes steamed and spiked with some lime juice and chaat masala is a popular street snack in India. Their creamy texture warms you up from inside out. Packed with plenty of flavor and nutrition, this super spud can easily charm you with its simplicity. The best thing about sweet potatoes is that they don't take much to cook and are very versatile. Roast, grill, fry, bake or simply steam them. They are perfect in salads, soups and even as sides.


The cultivation of sweet potatoes dates back to 750 BC and it has been considered as one of the oldest foods known to man. It is believed that Spanish and Portuguese explorers introduced potatoes to the Asians. In some parts of the United States, it is regarded as a staple food and is known to have originated somewhere in Central America and are known as 'yams'.


Talking about the health quotient, its dark orange flesh is a valuable source of beta-carotene. Beta-carotene is an antioxidant that converts to vitamin A in our body which is known to strengthen eyesight and the immune system. They are almost fat free and low in calories, but high on sugar. They are loaded with B6 vitamins and potassium which makes them great for your heart. In fact, they are known to naturallylower high blood pressure levels and regulate your heartbeat.
You may have not known this, but sweet potatoes offer great beauty benefits. Vitamin A acts as a natural anti-inflammatory which may help in getting rid of bacteria that cause acne. Recently, it has become popular as an anti-ageing food as the Vitamin A that it contains helps to regenerate collagen in the body. Collagen is known to maintain youthful skin and prevent loss of skin elasticity. It also contains Vitamin E which promotes skin health.


While buying sweet potatoes, you should look for ones without any cracks, bruises and soft spots. A good way of storing these and keeping them fresh is to keep them loose in a brown paper bag with multiple holes in a cool, dark and away from the heat.


Our top 11 recipes will show you that there is definitely more to sweet potatoes than chaat, salads or soups. Whether you stick with the classics or like to experiment, be rest assured that you'll be pleased!
Time to deviate from the usual as here comes a dessert made with sweet potatoes, caramel and black sesame seeds. It offers a taste that lingers. (Recipe Video)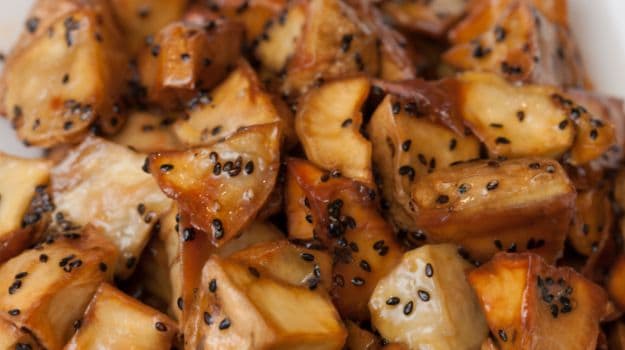 Sweet potatoes tossed with soy caramel and black sesame seeds, perfect side dish for brunch.


This exciting snack is made with baked sweet potatoes that are marinated in a date and tamarind chutney and then pan seared. Served with some spring onion cream, it's a recipe that's sure to be attacked and acknowledged. (Recipe Video)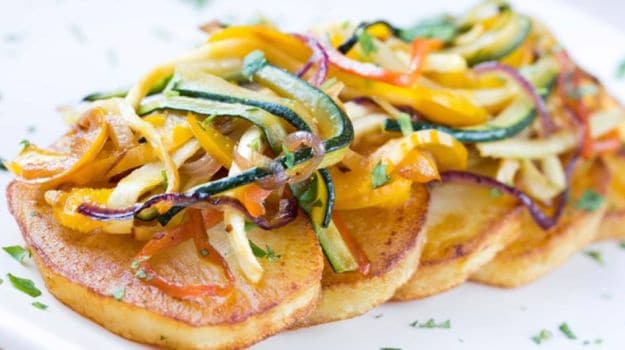 Sweet potato medallions
The good old shakarkandi ki chaat! Make it fresh at home with chaat masala, chillies and lime juice. The sweet and sour flavor will leave your taste buds wanting more.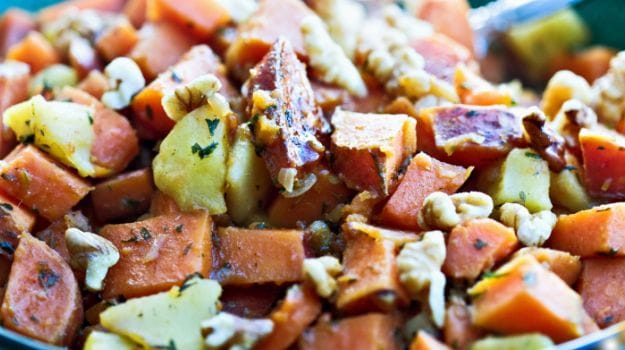 A tangy and sweet chaat made with sweet potatoes mingled in chaat masala, chillies and lime juice.


Go gourmet with this simple yet stylish dish. Creamy sweet potato mash served on strips of spiced aubergine.
This one's a perfect winter snack. Thinly sliced sweet potatoes dipped in delectable batter and fried crisp. It is served with a unique dip made with jalepenos, basil, shallots and amla. (Recipe Video)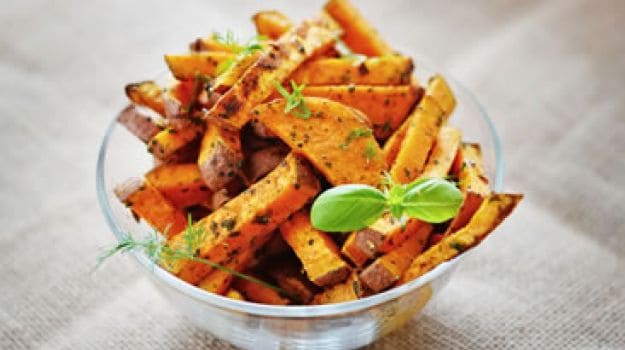 Delicious finger food to serve at a party or get-together.


Perfect with your cup of tea, these crisp tikkis are made with sweet potatoes, yam and potatoes. The subtle and soft texture will easily win you over. (Recipe Video)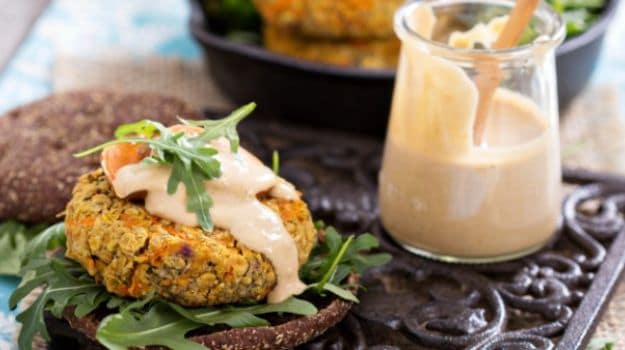 Tikkis made of baked sweet potatoes, yams and potatoes, mixed in with seasoning and fried crisp.


A crisp and easy snack to make your kids happy and sneak in some sweet potatoes in their meals.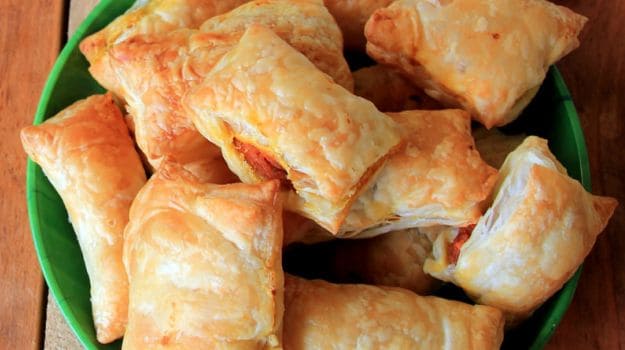 Crispy, easy and quick snack that your kids would love to binge on!


A super healthy meal loaded with fibre and protein. Sweet potato chunks, earthy quinoa and loads of veggies come together to make a wholesome meal.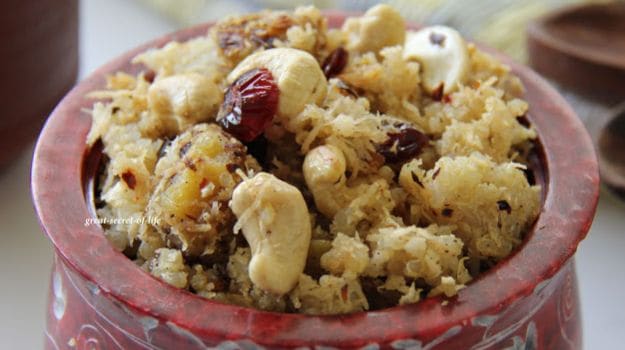 A perfect recipe for those looking out for a healthy bite without hassle.


A great recipe to pack in your or your kid's lunch box. It's an easy way add vitamin-rich sweet potatoes to your diet.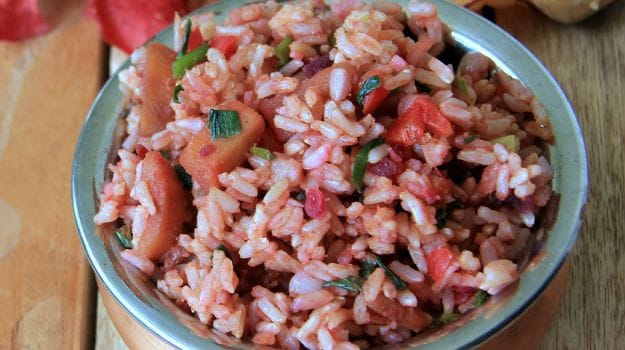 A quick lunch with rice and sweet potatoes along with a gingery kick.


A subtlety sweet soup with strong flavours of sweet potatoes, cashews and pineapple to delight your senses.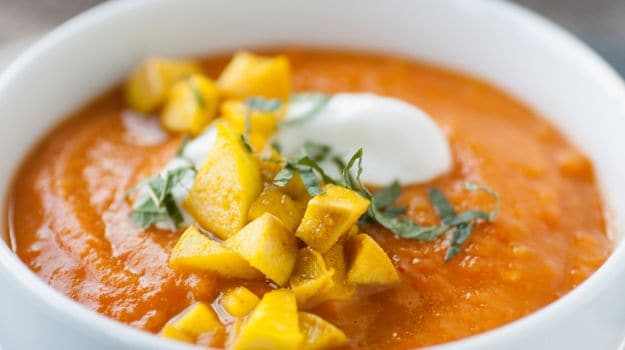 This cold soup brings together some of Goa's favourite ingredients.


A perfect snack to accompany a get-together with family and friends. Hassel back sweet potatoes are easy and can be made with simple ingredients. Prepare this sweet and salty snck to relish at a sunny Sunday brunch.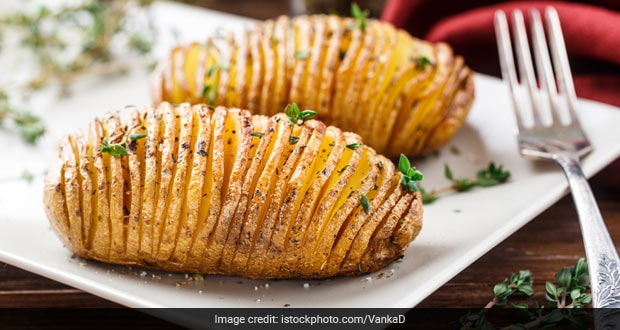 Hassel back sweet potatoes.
Try out these recipes at home and let us know which one was your favourite in the comments section below.