Story Progress
Back to home
Sweet Potato and Quinoa Bowl Recipe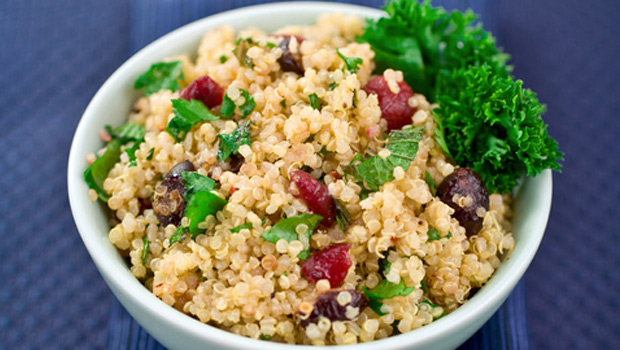 How to make Sweet potato and Quinoa
NDTV Food
Sweet Potato and Quinoa Bowl: An easy, one pot meal with sweet potato, coconut nuts and quinoa for when you are too lazy to cook. Great for those looking out for a healthy bite without hassle.

Ingredients of Sweet Potato and Quinoa Bowl
1 Cup sweet potato cubes (cooked), peeled
1 cup coconut (unsweetened), shredded
1 to taste onion, finely chopped
1 cup quinoa (cooked)
1 tbsp raisins /Cranberries
1/2 cup cashew nuts
1 tsp pepper powder
1/2 tsp cayenne
1 bay leaf
As per taste salt
1.
Heat the oil in the kadhai.
2.
Add bay leaves and onion and fry till onion is translucent.
3.
Add pepper, cayenne, cooked sweet potato and coconut.
4.
Fry well till nice aroma comes out of coconut.
5.
Add raisins/cranberries, cashew nut and fry till cashews are brown in color.
6.
Mix well and fry for another 5 minutes.
7.
Mix in cooked quinoa and mix well.
8.
Leave it on a medium flame for 3 minutes.
Recipe Notes
If you like you can add some spice to your sweet potatoes. Toss them with chili powder or a combination of cumin and coriander before you fry them.