There's something about
Valentine's Day
that makes you want to woo the one that makes your heart sing, regardless of how starry-eyed or cynical you may be. But as
romantic
as the holiday is, it can also be a tad bit predictable. We suggest you break the monotony this 14th February 2018, skip the standard
candlelight dinner
and
treat your sweetheart
to something a little different. Make your Valentine's Day special by doing something special for your partner.
Dish up
a little love for your Valentine
first thing in the morning
, complete with some much needed
caffeine
or even a mimosa! After all, nothing screams "I love you" better than
breakfast
in bed. It's the perfect way to set the wheels in motion for a great Sunday and
play Cupid
on your own turf. Whether it's a classic dish or something fancy, passionate pancakes or a flirtatious fry-up, breakfast in bed is always a fabulous idea! You could even decorate the tray, bring some flowers, top off their coffee with cacao and
cinnamon
. If you want to keep it simple yet cheesy, serve heart-shaped eggs on toast with the help of a cookie cutter or take it up a notch and
bake
a batch of apple roses.
Valentine's Day 2018: Romantic breakfast in bed ideas
Here are our 5 most romantic breakfast in bed ideas, sure to keep you in your partner's good books for the rest of the year!
1. Pancakes
It just doesn't get better than waking up to the whiff of pancakes in the morning. And Sunday mornings are made for for delicious fluffy, hot pancakes with a side of crispy bacon. Don't you agree? Try our
quick and easy pancake recipe
, and add a drizzle of maple syrup or chocolate sauce, maybe even spruce it up with blueberries or figs depending on what your sweetheart loves.1. Combine 1 egg, 1 cup flour, 1 cup milk and stir well.
2. Add a pinch of salt, 1 tbsp baking powder, 2 tbsp powdered sugar and mix everything together until smooth.
3. Heat a nonstick pan, carefully pour the batter and spread it out to cover the entire pan.
4. Flip when bubbles appear everywhere and the sides are golden. Cook for a few minutes until done and serve immediately.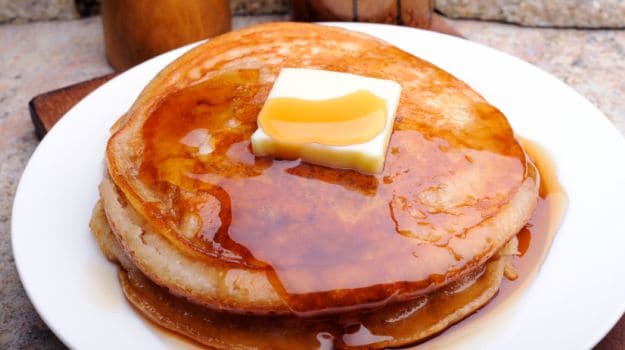 Valentine's Day 2018: Romantic breakfast in bed ideas
2. Granola Parfait
If you're special someone is trying to jump onto the
calorie conscious
bandwagon, surprise him or her with a gorgeous granola parfait in bed. All you need to do is layer a handful of blueberries and raspberries with Greek yogurt and crunchy granola in a jar or a daiquiri glass. It's like the crème de la crème or healthy breakfast and really that simple!
Valentine's Day 2018: Romantic breakfast in bed ideas
3. Baked Eggs
These creamy,
indulgent eggs
are baked in individual ramekins with mascarpone, truffle oil and prosciutto - perfect for an indulgent Sunday brunch with your Valentine. So what do you have to do? Put some slices of prosciutto at the bottom of the ramekin and crack the egg on top. Then add some mascarpone cheese and red chilli with a drizzle of truffle oil. Season with salt and pepper, pop it in the oven and voila! Serve with some crusty bread topped off with olive oil and basil to take this winner of a dish to a whole new level.
Valentine's Day 2018: Romantic breakfast in bed ideas
4. French Toast
French Toast
brings a smile to everyone's face. And everything you need for this breakfast classic is probably already in your pantry - eggs, honey, salt, bread, milk and butter. Cook till it's perfectly golden brown, top it off with a dollop of butter, icing sugar and strawberries for a bright start to this special day.
Valentine's Day 2018: Romantic breakfast in bed ideas
5. Eggs Benedict
I admit, I have a soft corner for Eggs Benedict. The eggs perfectly poached, the brioche firm and the hollandaise creamy... Surprise your Valentine with this gourmet treat, perfect for a celebratory breakfast or luxurious brunch. Check out
this recipe
which opts for brown bread instead of English muffin bread and gives you the option of ham or smoked salmon.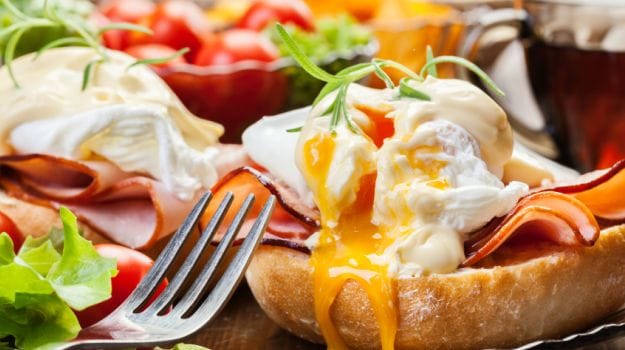 Valentine's Day 2018: Romantic breakfast in bed ideas
Happy Valentine's Day 2018!