Here's a list of the best places to eat in Calangute Beach, Goa for breakfast, lunch and dinner.
It is the time of the year that everyone wants to head to
Goa
. The unofficial
party capital
of the country, Goa can be what you want it to be. If you like to party, there are plenty of places to go shake a leg. If relaxation is on your mind, just go sunbathe on the beach sipping a
cocktail
from the shacks. And the food, what do we say about the food. It is the Mecca of good food. If you like to indulge in
seafood
or love the tangy curries of
Goan cuisine
, you're in for a treat.
Unless you're staying in one of the lovely resorts of South Goa, chances are high that you will pick Calangute Beach for your stay. This is the hub, where all the action is. It does tend to get a tad bit crowded but there's plenty to do and you don't even have to venture far. Wondering where to eat out in the vicinity? We have scouted places from Baga down the road to Candolim. This quick guide should help.Breakfast:
1. Infantaria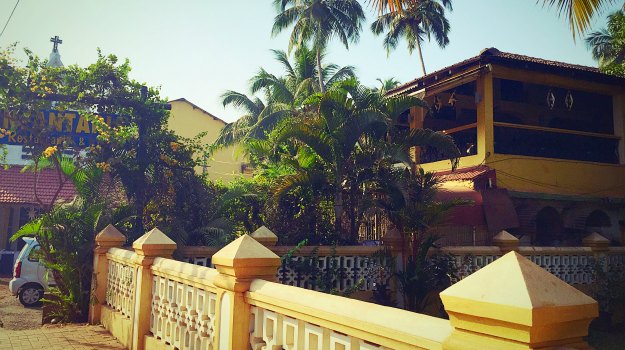 A legendary name, this one is a no-brainer as I found out when I had to wait 40 minutes for a table at 9:30am. The counter has a tempting display of freshly baked savouries like
Prawn
Patties, Beef Samosas, Quiches and more. The
eggs
section on the menu is extensive. With so many options at hand, we suggest that you pick a few things from the counter to start with. Pair these with a fresh Berry Smoothie or a Frappe and you have yourself a
delicious breakfast
.
Meal for 2: Rs.6002. Café Chocolatti - Breakfast heaven if you don't mind heading over to Candolim. This gorgeous garden café dishes out omelettes which are fantastic and coffee you'll go back for. The waffles are crispy yet fluffy and freshly baked ginger bread, worth trying. Whatever you do, do not leave without trying some of their home-made chocolate stuff.
Meal for 2: Rs.800Lunch:
3. Beach Shacks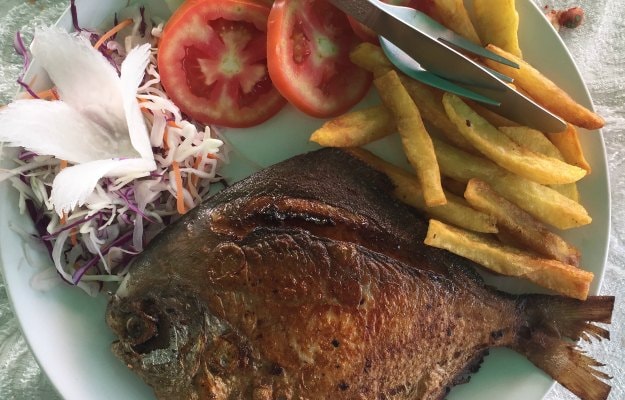 The idea behind languid vacations in Goa is that you relax on the beach and order food and drinks from a shack. There are plenty of good ones and after a few tries, you'll know which to avoid. We love the Pork Ribs at TGIFridays (the shack and not the global chain) and the Goan Fish Curry at St.Anthony's further towards Baga. Most shacks charge a fee for usage of the sunbeds. However, there are plenty where you can just relax and order from the menu without an additional charge for the sunbed. When you want a change of scene, there are plenty of water sports to choose from like Para Sailing and Jet Skis.Meal for 2: Rs. 6004. Bomra's - Not like your typical restaurant in Goa, Bomra's doesn't geographically fall within Calangute but we figured that for good food, one can stretch the boundaries a little. Located off the Fort Aguada road, Bomra's is arguably one of the best Burmese restaurants in the country. Acclaimed author Amitav Ghosh famously said about this restaurant - "If this was in New York, there would be a line along the block". We recommend the Beef Carpaccio Salad, Steamed Snapper with Lemongrass, the phenomenal Khao Suey and Coconut and Jackfruit Panna Cotta for dessert.
Meal for 2: Rs.1100Dinner:
5. Koi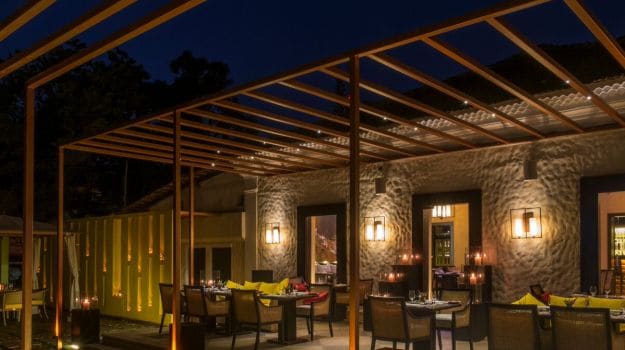 Forget Souza Lobo or any other place and head straight for Koi. Opened 11 months back, it is a new addition to the Goan culinary scene. As you step into the outdoor space, you are transported to a magical land, unbelievably right in the middle of bustling Goa. Twinkling fairy lights, white curtained cabanas and candle light, all this and more recreates the Koi experience. The food is Oriental and has a sprinkling of Japanese, Chinese, Burmese, Thai and Vietnamese dishes. There is also a live Teppanyaki counter where you can watch the chefs prepare your meal right in front. The sushi is fresh and delicious (we loved the spicy salmon roll). You could try some small plates or else opt for comfort food like a meal-in-a-bowl. The Khao Suey comes with enough accompaniments to overwhelm. The prices are slightly on the higher side but reasonable. A date night to remember.
Meal for 2: Rs.1200Others:
A non-descript restaurant in the lane marked by De Baga deck, Relish offers delicious Indian food. The menu has an interesting selection of dishes from across the country. We love the Golden Fried Prawns, Methi Mutton and Honey Glazed Ham here. Another great place for breakfasts is Lila's Café right on Baga River, down the road. If you want a nice outdoor space with live music, good food and a great vibe, do check out O'Pescador on the main road. And for the club scene, skip Tito's, Mambo and everything in that lane, hire a taxi and go a little further towards Fort Aguada to Cohiba. The music is fantastic, the crowd respectable and a massive dance floor you won't want to get off.
Still wondering? Go book your tickets. Your itinerary, after all, is now all sorted.