A simple omelette with toasted bread makes for the best breakfast, don't you agree? Omelette is a French word that came into use during the mid-16th century. Ever since, it has travelled and been adapted into various versions across the world. A French omelette is cooked briskly in an extremely hot pan, sprinkled with just salt and pepper or sometimes flavoured with tomatoes and finely chopped herbs. While the Spanish omelette is a classic dish famous with kids - stuffed with potatoes and pan-fried. In the United Kingdom, omelettes are traditionally made with cheese, milk and eggs and often cooked on one side. And in India, the famous masala omelette is made by whisking finely chopped green chillies, onions, coriander, cumin and a pinch of turmeric with the eggs before frying it on the tawa.

Making a delicious omelette is definitely a skill worth knowing. It is easy to make, but difficult to master. A perfect omelette is fluffy and golden on the outside and creamy on the inside. Here are some brilliant tips that will help you get it right, every time.

The Secret of Making a Great Omelette | Tips and Tricks To Cook A Perfect Omelette
1. Make sure the eggs are at room temperature before cooking. Cold eggs will take longer to set and this may result in overcooking.

2. To obtain a fluffy texture for an omelette often small amount of milk or cream is added.

3. Beat the eggs well until there are no more flecks of white.

4. Melt the butter before pouring in the eggs or heat the oil before you add the batter. When the butter bubbles die down, add eggs. Butter gives it a more rich texture and taste.

5. Take note that the bottom of the omelette should not be brown but a vibrant yellow colour.

6. Add the toppings once the egg has set in and scatter them before folding.

7. Use a small non-stick pan for best results. Use medium heat. Also, it is wise to match the omelette to the size of the pan. If the pan is too big, the omelette will cook too quickly and if it is too small it may cook only on the outside with a runny center.

Once you've mastered the art of making the perfect omelette you can play around with flavours, seasonings, toppings and stuffing.


Here are our 13 favourite omelette recipes from across the world that everyone will love. Head this way for inspiration.
A cosmopolitan omelette recipe with a splash of balsamic vinegar and crunchy caramelised onions. This would be a great change from the classic omelette and add a twist to your breakfast table!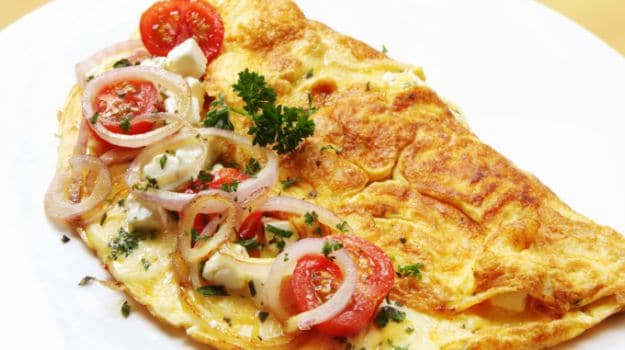 Balsamic onion omelette is something you just cannot miss!
A high protein omelette made with egg whites and a delicious stuffing of minced chicken. Served with some sautéed mushrooms. This breakfast will keep you fuelled on a busy day.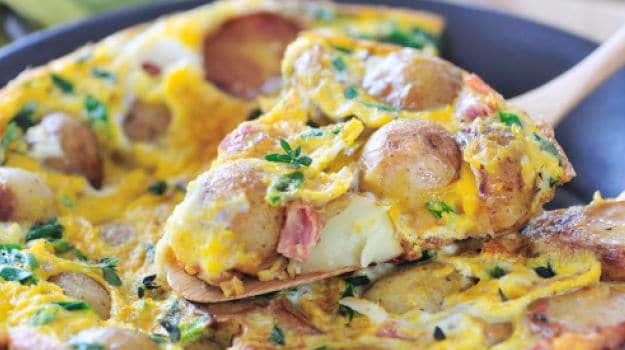 A high protein breakfast looks exactly this!
Depart from the usual and try this omelette with cashews. Add celery, capsicums and mushrooms with some seasonings for flavours.
The good old Spanish omelette, also called Tortilla de Patata, is easy to make and eat. It is a winner at the breakfast table.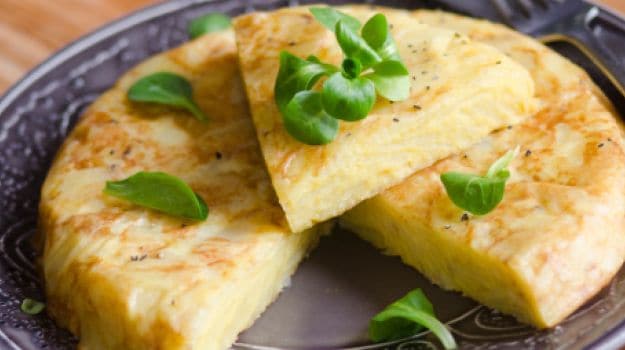 An easy and simple Spanish recipe that you can make in a jiffy.
Begin your day with a masala omelette recipe. A combination of assorted masalas, fresh coriander leaves, spring onions and grated cheese. Serve with a toasted bun.

(10 Best Egg Recipes)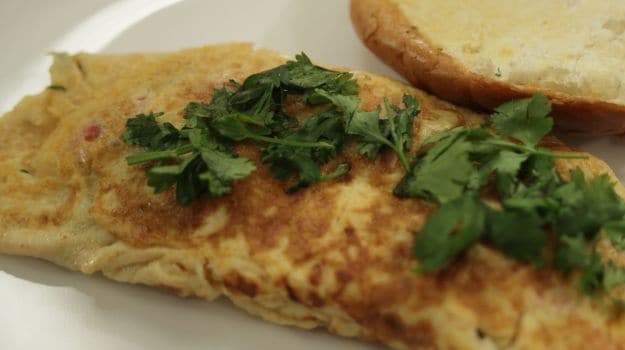 The classic omelette, a spicy combination of eggs, onions, tomatoes and flavorful spices.
This one is truly hearty. Prawns sautéed and mixed with eggs and placed between pavs and served. Feel free to add ingredients.
Indonesian-style omelettes made with eggs and tofu somewhat like pancakes and topped with a freshly made tomato sauce. A fulfilling breakfast, this omelette recipe would keep you full for long.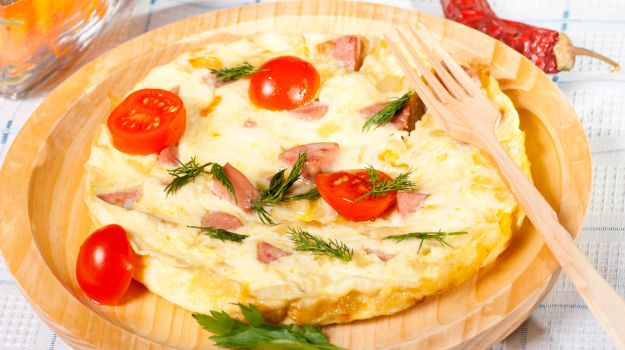 Topped with a tasty and tangy sauce, Indonesian omelette is a filling breakfast you need to start your day with.
Omelette made with goodness of spinach, onions, olives and oregano packed in a flavoursome recipe. A perfect blend of healthy and tasty, mediterranean omelette is the breakfast you wouldn't ever skip!

(How to Cook the Perfect Fried Egg)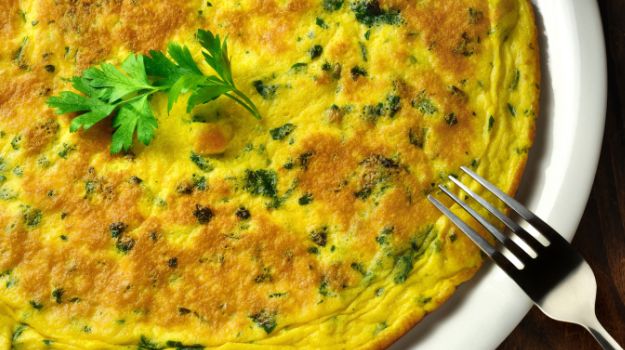 A breakfast you wouldn't like to skip!
This African omelette is a great remedy for a Saturday night hangover. A fiery one with minced mutton, red paprika, onions and red chilli paste.

This classic recipe is everyone's favourite. Gather all ingredients, whisk the eggs, pour the batter and generously top with Parmesan cheese. Simple yet delicious.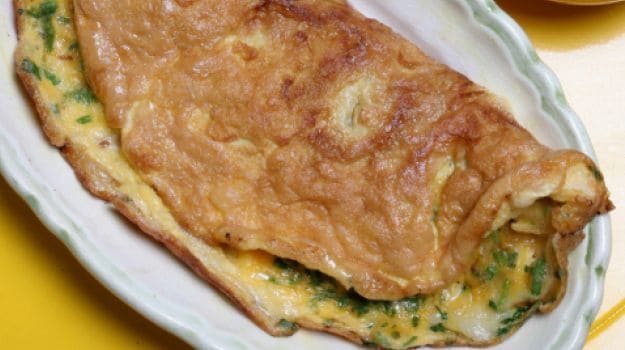 Classic omelette with whole lot of cheese, the perfect indulgence!


A legendary recipe for those crazy hectic mornings: Omelette in a Mug. Yes, we're serious! This recipe is perfect for a quick meal. It's protein-packed and versatile; works for breakfast, lunch, dinner or even a midnight snack.
An easy and fuss free omelette recipe that kids would love to indulge in!
This dish is one of those recipes to make when you are in the mood to experiment and want to surprise your family with something out of the box!
This recipe will let you make restaurant-style fluffy omelette at home! All you need to do is to prepare the stuffing of green onions and mushrooms and prepare the omelette base.


With so much of different omelettes on the table, isn't it a good idea to just cook omelettes for every meal?