A Foodie's Guide to Mussoorie: 10 Places You Must Visit
Shivangana Vasudeva , Kriti Malik and Plavaneeta Borah, NDTV | Updated: July 02, 2015 18:59 IST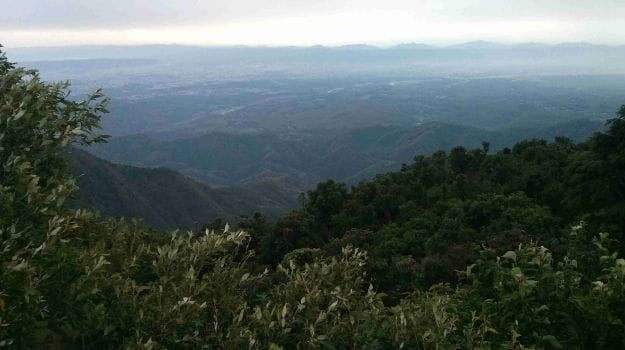 Endless mountains, fabulous falls and stupendous views - that's how we've known Mussoorie. Perched at a height of about 6,170 feet, the Queen of Hill Stations has always been one of our favourite holiday destinations. But this time around it came across as a foodie's paradise.

To start with, you should be seen nowhere except the mall. The famous mall road makes the hills come alive. Finding unworldly peace between the hustle bustle of shops, eateries and throngs of tourists is nothing like anything. There is food for every palate – from vendors that line the streets selling the quintessential golden corn to authentic Tibetan restaurants and contemporary cafes.

(The Most Interesting Food & Travel Pictures You'll See Today)

Stepping away from the crowd, trekking to the George Everest Peak was like a limitless day of adventure. Shivering slightly in the crisp monsoon air we pit stopped at small shacks to refuel. Onion pakoras simmering in hot oil, French toast, steamed momos and a soothing cup of tea gave us the much needed warmth. A true beauty of nature, we ventured through greens, woods and clouds.

The walk through Camel's back road and up to Sister's Bazaar is a quiet one. Once there, make your way to Prakash Stores and get a block of cheese back home. This store has been around forever and is known for its home-made products – from yak cheese to chutneys, pickles and fresh fruit jams. While you're at it, stroll through to reach Lal Tibba, the highest point in Mussoorie. On a bright, clear day it gives an unobstructed view of the beautiful range of snowcapped Himalayas which staggers the imagination. If you're a lover of landscapes visit the Gun Hill (the second highest peak in Mussoorie), Kempty and Bhatta Falls and the Mussoorie Lake. Head to the Tibetan Buddhist Temple in Happy Valley or St. Paul's Church in Landour for a sense of solace.

With so many places to be at, deciding how to fit it all in our quick weekend getaway was overwhelming. Lucky for you, here's a bucket list of those that you must hit first.

Kalsang Friends Corner

It's a two floor restaurant with more tables than it can take. You'll need real muscle to push your way in. But once in, Kalsang with its red printed wallpaper, Tibetan prayer flags, Chinese ceiling lamps and red-uniformed staff will make you feel warm and welcomed.

They have an exhaustive 10-page menu that has both Chinese, Tibetan and Thai specialities - from dim sums to soups to fried noodles, it's all to-die-for. The first things we grabbed was a plate of Steamed Chicken Momos, the casing, thin, light and easy to chew and the filling mildly flavoured and real juicy. The ones with oozing cheese are worth tucking in too. Then we ordered the Chicken Thukpa, Mutton Shaptak, momo soup called Mokthuk, and Lamen (fried noodles), all of which Kalsang's ambitious kitchen turned out within minutes. Kalsang is definitely one of the better Chinese restaurants in Mussoorie but it's not just because of how good or elaborate their menu is, but because it's all reasonably priced and worth every penny.

Address: Mall Road | Near State Bank Of India, Mussoorie 248179, India. If you walk from Library Chowk towards the main market you've got two roads, one goes around mall road and the other cuts across the Tibetan market and opens right at Kalsang.

(Make Momos at Home - Recipe by Chef Niru Gupta)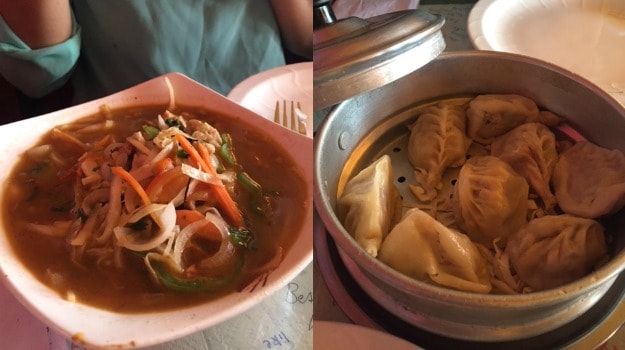 Cafe by the Way

This wasn't something that was part of our must-go-to-list and so we treat it as one of our prized discoveries. Cafe by the Way is artistic in a way that doesn't intimidate you. It's got Polaroid cameras stacked to one side of the cafe, big leather couches on the other, the back seats of scooters as resting stools and wrought iron and wooden furniture in the centre. They've got a range of coffees and shakes, most of them under Rs.100.

We tried the Oreo shake which was rich, thick and the perfect cure for the nippy weather. The Irish cold coffee and blueberry shake were equally good. The chilly cheese toast was bang on, crisp at the bottom and warm and chewy on the top. But if there's something we'll recommend you must try at Cafe by the Way are their desserts. We ordered a slice of the Nutella cake which had a biscuit-like base and a lovely gooey texture all around.

Address: The Mall Rd, The Mall Road, Mussoorie. Walk straight on the mall road from Library Chowk side till you see Baskin Robins on your left. Cafe by the Way is up the staircase, on the opposite side.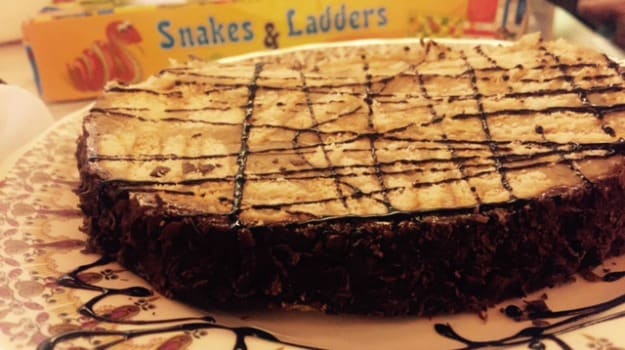 Casa Mia Bakery

If you walk through mall road there's no chance that you'll miss this cute and compact bakery. The croissants, muffins, pies and breads shine from the glass window and lure customers to its front. The prices are lower than most and the quality is better than most. We tried the fresh fruit cream and the Danish pastry, both of which were delicious. Chic Choc is also popular for its fruit cream but Casa Mia's was less sweet, more rich in fruits and a must-try. They've also got an excellent range of hot and crisp patties which in the winters would be ideal, but before you get to them you must grab some of its frozen drinks and desserts.

Address: The Mall Road, a few steps before Kalsang and after Cafe by the Way.

Char Dukan, Lal Tibba

As the name suggests, Char Dukan is a row of four shops at Lal Tibba which is few kilometres ahead of main Landour. It's nestled away from busy roads and swarming tourists. It is only a few minutes from the St.Paul church and has the most beautiful view of Mussoorie but it takes a really skilled driver to get you up there. A few things you should try at Char Dukan: omelettes, banana Nutella pancakes, cinnamon waffles, chocolate waffles, crisp French fries and cold coffee. They've also got pizzas and momos but those are just about average.

Address: Char Dukan, Landour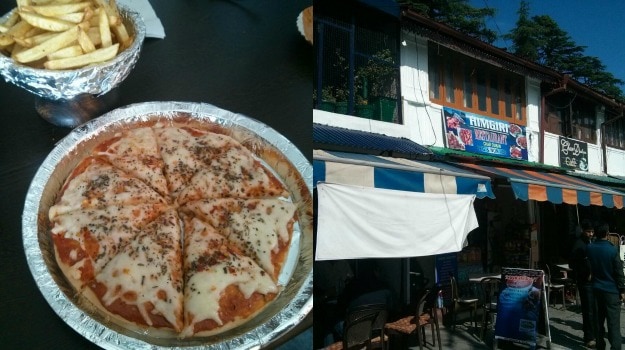 Emily's, Rokeby Manor

Emily's is part of the Rokeby Manor which is located in the beautiful side of Landour. It's brown bricked interiors, floral wallpapers and wooden furniture gives it a very countryside feel to it. Emily's has a wide range of Continental and Indian food to offer. Kerala Curry, Garlic Dal Tadka, Biryani, Mustard Chicken and Fish in Mustard Sauce are some of the other popular dishes at Emily's. If you're looking for a snack then try their baked potatoes. Emily's also has a lovely tea garden right next door so you could pick up a hot cuppa and take a casual stroll. It's also got two tables on the outside with a drop dead gorgeous view.

Emily's bakes their own bread which came as a real surprise to us and you can almost smell the fresh garlic bread rising in the oven and moving through the restaurant on a tray. A few other prized dishes which you can consider are Sticky Toffee Pudding, the Apple Crumble and the Date Cake.

Address: Rokeby Manor, Landour Cantt.

(Mystical Himachal: What to Eat in Mcleod Ganj)

Chic Chocolate, Mall Road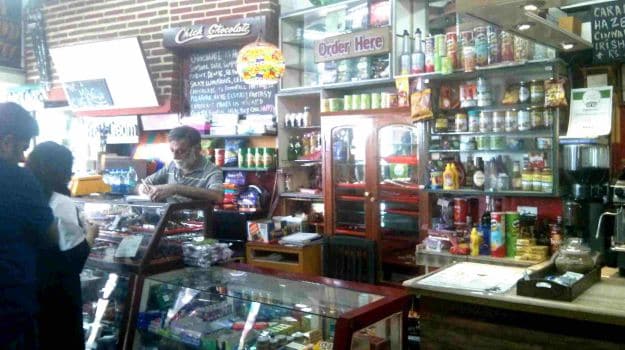 Mussoorie is known for a couple of things and one of them happens to be Chic Chocolate. It's a gorgeous restaurant cum cafe with a whole lot of wrought iron furniture, coloured tiles and food boards. They've got a whole section of home-made chocolates that are available to taste and to sell. What else could you try: Kit Kat shake, thin pizza, chocolate waffles, nachos, fruit cream, chocolate shakes, dar chocolate shot and more.

If you're looking for a good gift to take back home then pick up Sticky Jaw toffees that are brown, gooey, buttery and downright delicious or their in-house chocolates ranging from dark, milk or liqour ones.

Address: The Mall Road

Tavern

If you are a party animal and 'peace and quiet' is just not your thing even while holidaying in the hills, then this bar cum restaurant will come as a respite. Reminiscent of English pubs, it is tastefully done up and evokes a laid-back atmosphere. You can cosy up with your choice of poison, nibble on bar treats, and let time go by.

The pizzas are a must-try and so is the Red Wine Sizzler, which comes highly recommended. And here's some more good news! Most evenings they have live music performances to turn up the tempo. The same group has another bar called Imperial Square with signage of Tavern near the Library Chowk, which is quite misleading. But what we are referring to is the one right at the other end of Mall Road.

Address: Picture Palace,The Mall, Kulri, Mall Road

Lovely Omelette Centre

Don't go by the petite size of this eatery, because what it offers could probably be one of the most cherished treats you would ever eat in a hill station. Always thronged by tourists and locals alike, where they wait patiently for their plate of omelette, you can't miss this spot. More so because while you stroll down Mall Road on a chilly day, the aroma of freshly made eggs is bound to tempt you. The omelettes are available in various flavours – masala, cheese, chocolate and it is interesting to watch the two maestros skilfully dish out the never ending orders of omelettes on their prized pans. You could also ask for a takeaway and find a quiet spot overlooking the hills to enjoy your omelette.

(Holiday Guide to Goa: Best Restaurants, Hotels and Beaches)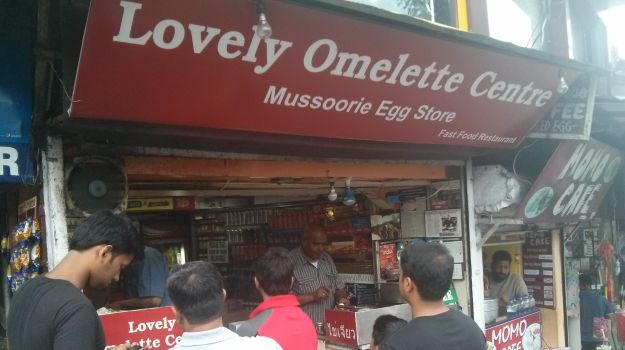 Nostradamus Writers Bar, Fortune The Savoy

A restro-bar with a sophisticated atmosphere, this place is any writers delight. The bar has an interesting collection of books to read that you can enjoy with your favourite drink. The walls also adorn the plaques of the world famous writers who visited this bar now over a century ago. Swirled in the mist of time it is located in 'Fortune The Savoy' which is an elegant and historic hotel built in the style of English Gothic architecture. With a regal history of more than a hundred years, the hotel has been delighting famous dignitaries and royalty from India and abroad. A perfect place for you to 'wine and dine'.

Address: Library Bazar, Gandhi Chowk, Fortune The Savoy

Little Llama Cafe

If you're looking for a quintessential hill station cafe then this place is for you. Its cosy atmosphere along with its assortment of quick bites and continental food options, it becomes a gastronomic paradise. It has a contemporary fast food inspired menu which includes a scrumptious mutton burgers, juicy pepperoni pizzas, delectable Berry shakes and many more foodie delights. It's serene rooftop with a picturesque view of the hills adds to its USP. The spicy fries we ordered here were criminally addictive. The pesto pizza with bacon turned out to be timid. The herb roasted chicken was flavourful with a crisp skin but we wish it was more juicy. The pasta was rich and creamy. From herb teas to hazelnut coffee and icy concoctions - we loved their drinks.

Address: London House, Near Union Church, Picture Palace, Kulri