Chef Sanjeev Kapoor needs no introduction. If there is a name that is common in most Indian households like our Bollywood celebrities, it is this culinary master whose television cooking shows have been a guide for many aspiring home cooks, teaching them to create delectable dishes for their family and friends. He has come a long way since then, from launching his own TV channel to catering meals for PM Modi. Yet he stays true to his country's varied regional cuisines, and believes that the coming new year will be much better and bigger for Indian food. We catch up with him for a quick chat...

1. Celebrity Chef, TV Chef, Author... how do you don so many hats?
...with a smile on the face! It's easy.
2. What do you have to say about the Indian food scene in the recent years?
It is growing phenomenally and our cuisine too is now very well accepted in most parts of the world - the years gone have brought about a massive awareness about it. Moreover, so many culinary masters are revolutionising Indian cuisine to give it a modern touch - in presentation, the use of ingredients, modern gadgets and cookware, and also in the naming of the dishes so that they are more identifiable. It is definitely an exciting time.
3. Regional Indian cuisines and local ingredients are getting more attention these days with various restaurants and chefs trying to revive them. Are we seeing a food trend here?
A big YES to this!
4. Any food trend you would like to predict for 2016?
As already answered, regional Indian cuisine has to be the next big thing!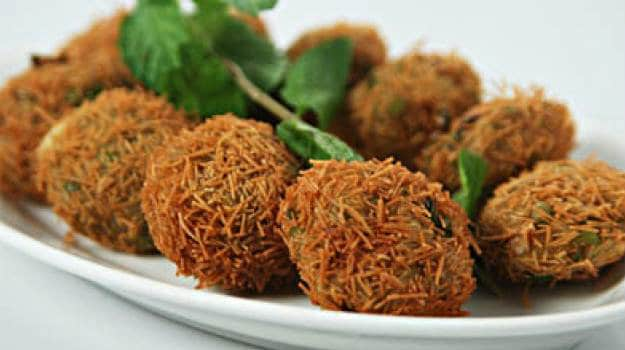 Kachche Kele Ki Tikki; Image credit: www.sanjeevkapoor.com
5. Tell us about your experience of putting together a meal for PM Modi? How did you go about the planning?
One of the greatest moments of my life was cooking for PM Narendra Modi. It was an honour as well as a valuable experience. And how did I go about the preps? I called up the chef at the Rashtrapati Bhavan to find out what the PM likes to eat on his visits. The chef told me that PM Modi likes home-style Gujarati food. So I went about creating a multi-course vegetarian menu which had methi fafdas, coconut khandvis, tandoor shaak, bajra roti and khichdi. Other than this, the exclusive dinner was also a perfect mélange of both Indian and the Middle Eastern cuisines. But, it so happened that all the guests ended up eating only the vegetarian dishes!
6. What do you think makes or breaks a perfect dish?
Your confidence!
7. What's in your mind when you have your Chef's hat on?
To cook and serve with love. What's next? Something has to be created all the time and I cannot mould something that has already been done by someone else.
8. How did your food journey start?
...as a kid, helping my mother and late father in the kitchen. Besides that, I didn't quite decide to make it a profession. Becoming a chef was not by choice. It happened accidently while I was gearing-up to become an architect!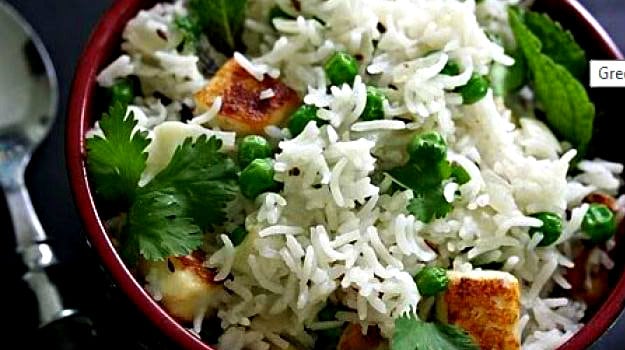 Peas pulao; Image credit: www.sanjeevkapoorrecipes.in
9. What made you launch a food channel?
Well, there are many food channels all over the world so why not here, in South East Asia? To come up with a food channel was in my mind since a long time. One should always grab an opportunity, and here it was not just an opportunity but also, I feel, my duty to come up with an exclusive channel on food. Thus, FoodFood, a 24X7 Food and Lifestyle channel was launched in January 2011.
10. Name one dish you are extremely proud of creating.
Shaam Savera
11. You are popularly known as a master of Indian cuisine, would you say that it is your favourite cuisine?
Undoubtedly yes! No matter what I am served, at the end I'm the happiest when I get to eat a home-made kadhi-chawal or rajma-chawal, especially made by my mother.
12. 3 ingredients that you cannot do without?
Salt, black pepper and water.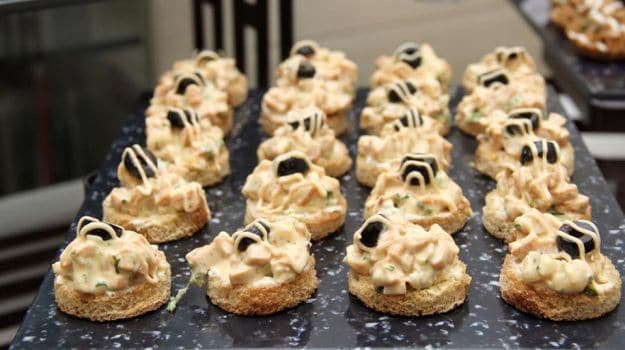 13. 3 Indian ingredients which you think are most underrated? What do you want to do with them to bring them to the spotlight?
Fresh turmeric, tulsi and millets like bajra and jowar. As for my part, the work has already begun and in years to come, you will definitely see the change.
14. Food to you is...
Life!
15. The one dish you love to dig into when no one's watching you?
Vada pav, right on the streets of aamchiMumbai!
16. An important cooking lesson you've learned in your career.
To be simple and let each ingredient in the dish speak for themselves.
17. What's next in your plan?
Lots! And I'd rather keep it as a surprise for you all!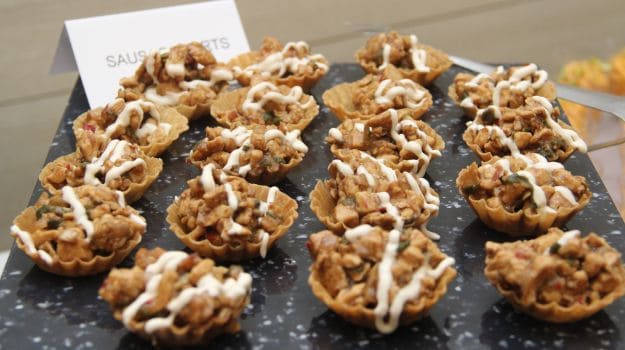 Sausage tarts
18. A celebrity you are extremely proud of serving a meal to?
Our very own Prime Minister, Shri Narendra Modi.
19. Your food philosophy.
Food should be kept simple so that it can reach out to the masses. For a nirvana like experience, you should combine the best of tradition with a touch of relevance using fresh local ingredients and back it up with the science of creating that art.