Chilli Chicken, Chowmein, Fried Rice with Manchurian, the list goes on… And as our mouth waters, we wonder: are these scrumptious creations Chinese or Indian? Truth be told, this newfangled cuisine coined as Indian Chinese actually exists. It's true, it's even featured on Wikipedia. But contrary to popular belief, it isn't all that trendy. Desi Chinese actually dates back to a few hundred years ago created by the small Chinese community from the Hakka region that settled in Kolkata in the late 19th century. And before you knew it, this version of "Chinese" food had tickled the taste buds of people all over India adopting it in their own way, from Chinese Bhel Puri to Chinese Idli, spring rolls in canteens to momos on the streets.So what really is Indian
Chinese
? Simply put, it is the Indian adaptation of Chinese cooking techniques and seasonings with a unique tadka. It's aimed at pleasing our desi palate, with a larger offering of vegetarian dishes of course. Yes,
Chinese food
is the most popular foreign cuisine in India surpassing Italian or Thai. This is why a majority of restaurants dedicate a section of their menu to Chinese food. And this is not just the case in India. People across the world, especially in Malaysia, Singapore and North America, surprisingly relish this cuisine to no end (and who can blame them?).
Indian Chinese vs Authentic Chinese
The fusion version of Chinese food bears little resemblance to the authentic cuisine of
China
. Similar to how Indian food varies from one region to the next, Chinese food is diversified as well. While Cantonese cuisine is sweet, Sichuan is spicy and Shangdong is crispy and tangy. The Chinese use ingredients like chow sum, bok choy, watercress, Sichuan pepper, ma po tofu and more in their food. Whereas
capsicum
,
cabbage
,
carrots
,
baby corn
, black pepper corn, vinegar and soya sauce are used in Indian Chinese food doused with sauces like Oyster, Szechwan, Black Bean, Hoisin, Sweet and Sour and the like. The most common culinary styles in Indian Chinese include Szechwan which is a fiery red sauce and Manchurian which is a sweet and salty brown sauce. And with its fiery flavours, Indian Chinese cuisine is now taking the world by storm.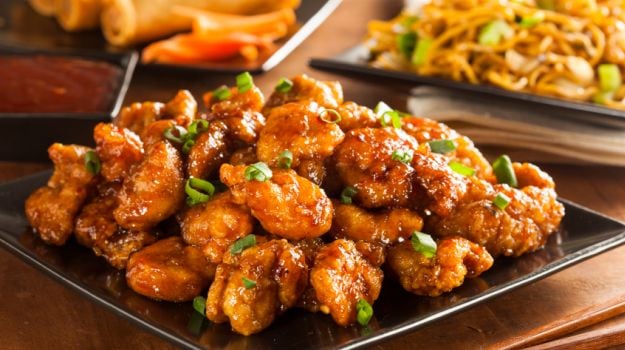 10 Chinese Dishes You Get in India, Which Even The Chinese Haven't Tasted
Packed with spices and fiery flavours, it just doesn't get better than Indian Chinese. We've listed 10 dishes synonymous with Chinese food, but invented in India; dishes that define the Indian Chinese culinary experience - spicy, deep fried and absolutely sinful.1.
Chilli Chicken
: With a soya sauce marinade adding the Chinese element, this signature dish is the best party starter there is. It is made with chicken coated in a paste of hot chili,
garlic
,
ginger
and spices, then sautéed with
onions
and green chilies. There's also a "dry" version that's deep-fried. Plenty of other proteins also get the chili treatment like paneer and seafood, and how could we forget -
honey chilli potatoes
? Yummm!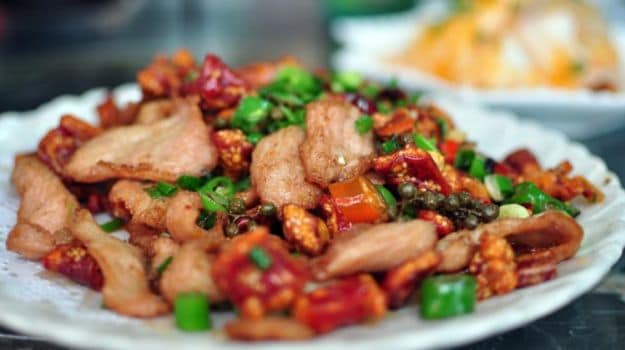 2.
Manchurian
: The creation of
Chicken Manchurian
is in fact credited to Nelson Wang of China Garden who introduced Manchurian to Mumbai in 1975. He started playing around with quintessential Indian ingredients like garlic, ginger, chilli and just added a splash of soya sauce instead of garam masala - and voila. Now there are many variations made with
paneer
,
gobi
, mutton and fish.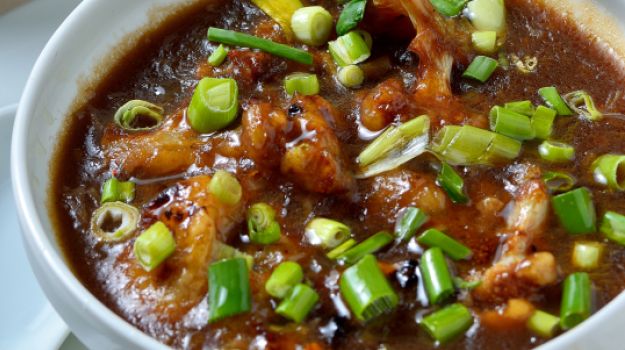 3.
Chowmein
: In China, chowmein is referred to as chāu-mèing and is basically a portion of boiled noodles topped with greens, scrambled eggs and
soya sauce
. But in India, it's pan fried, really spicy and a favourite in every household.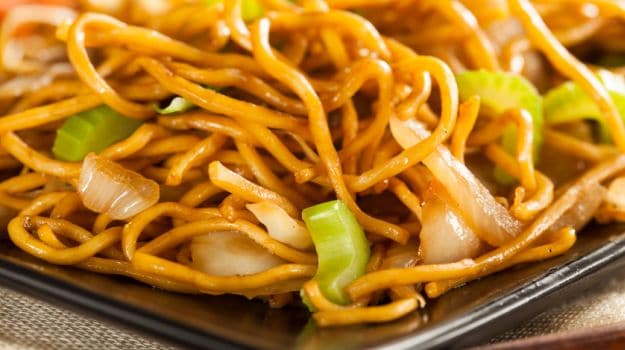 4.
Manchow Soup
: In the Indian version, Manchow Soup is a soy-based spicy soup flavoured with garlic and ginger, cooked with vegetables or meat, spruced up with scallions, carrots,
celery
and garnished with fried
noodles
. 5.
Spring Rolls
: The Chinese call it Chūn Juǎn and are actually Cantonese-style dumplings made for welcoming spring. But here in India, they are fried golden, loaded with vegetables juliennes and served often as party snacks.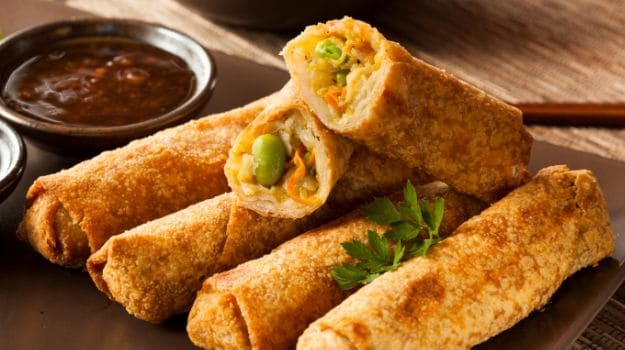 6.
Szechwan
: Flavour-packed, fiery red and ridiculously spicy - Indians have a love affair with
Szechwan
sauce and add it to just about anything, from fried rice to noodles, gravies to
bhel puris
. This magical sauce is made with dried
red chillies
,
shallots
and lots of
garlic
.7.
Darsaan
: Flattened egg noodles cut into strips, deep fried, coated with honey, sprinkled with sesame seeds and served with ice cream. Yes, this Chinese dessert isn't all that Chinese after all.8.
American Chop Suey
: An all time favourite, these noodles are a really popular side dish, tossed with greens like cabbage and
capsicum
, chicken or shrimp and sweetish chilli garlic sauce. Top it off with some crispy
noodles
and you're good to go!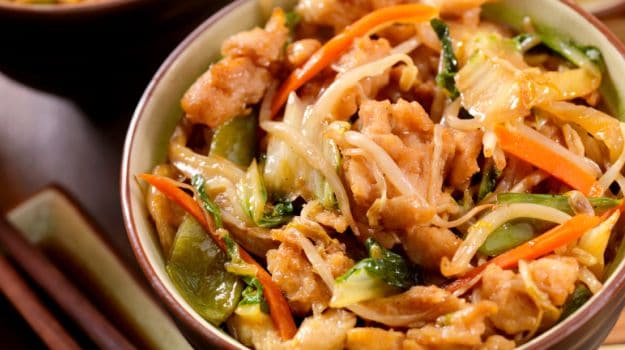 9.
Date Pancakes
: Only in India does a Chinese meal end with fried layers of dough stuffed with dates and topped with a scoop of vanilla ice cream. 10.
Fried Rice
: Fry everything and it's a winner of a dish in the Indian subcontinent. Originally steamed in China, our version is greasy and spiced with red chilli powder, garam masala and green chillies.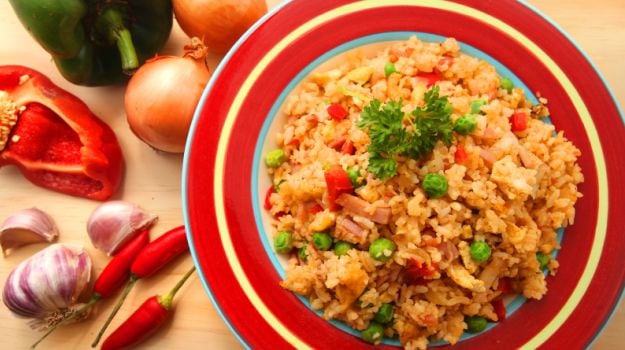 When it comes to Indian food, we all have our favourites from Punjabi to Bengali, Kashmiri to Marathi, but Chinese food - well it's our national obsession (no argument there).