I still remember the night I discovered one of Europe's oldest cult vegetarian restaurants by sheer accident. It was past dinner time in Zurich and Hiltl was the only restaurant that was still open with a concept that many restaurants in India tried and ditched – a buffet by weight. A lot of the food on the multi-cuisine menu was
South Indian
– the ubiquitous Butter chicken on Indian menus abroad was thankfully not in the mix. I was the only Indian in the restaurant and I found quite a few diners staring at my plate, looking for cues.Twenty years ago that might have been the scene in a South Indian restaurant in most parts of India. That's changed and how. Evolved diners have gone beyond
idli
,
dosa
(yes, it sounds terribly clichéd to say that in 2016) with a little bit of help from stellar standalone restaurants and ready to eat products. Many of these diners have hit level 2 of their South Indian cuisine discovery– looking to decode South Indian cuisine for healthy options at
breakfast
or lunch or even at a restaurant. We add to that discovery.
Breakfast
Your South Indian friends might have already boasted about how the
idli
was recently handpicked by the WHO as one of the
healthiest breakfast options
in the world. It's a no-brainer; rice and urad dal come together in a steamed dish that's usually eaten with a healthy
sambar
(usually cooked with nutritious vegetables like drumstick or okra). You can add an extra touch of goodness by grinding your
idli
batter with whole black urad dal (with the skin) in the same 4:1 rice-
urad dal
proportion. You could experiment by tossing a small quantity of ragi flour to your idli mix; it doesn't just make your idli healthier but also adds a great texture. The dosa can get a healthy tweak too – add a few
drumstick
leaves to your
dosa
batter.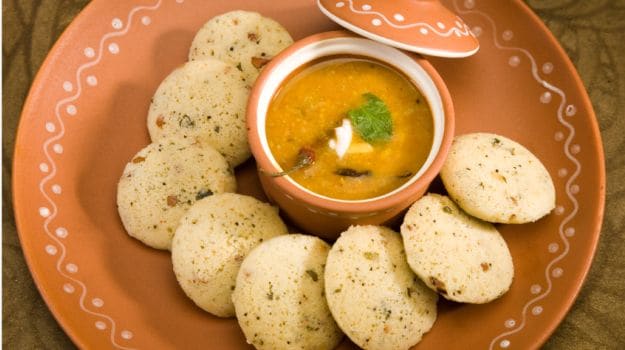 I may be biased, but South India's sheer range of healthy breakfast options are quite tough to match and yes, there's more than just idli and
dosa
. My favourite
Kerala
breakfast is
Puttu
and Kadala (Black channa) curry. The puttu flour is available at many supermarkets across India. Its wholesome and will keep you going till lunch (its always been the 'go to' breakfast for farmers in Kerala). The
Idiappam
is another simple, steamed preparation that works well with an assortment of curries or just chutney. You can make the idiappam more nutritious by choosing hand-pounded
(brown) rice
over polished rice.
Meals
If you've navigated a 'full meals' at a
South Indian restaurant
you will know that it's actually possible to eat a sumptuous meal that isn't floating in oil. The
sambars, rasams
and stir-fried vegetables don't need oodles of oil. One of the calorie bombs are deep fried rice crispies (Vathal in Tamil, Kondattam in Malayalam or Sandige in Kannada). They taste incredibly delicious with Rasam and rice. You don't have to deep fry these at home though. Try dabbing small quantities of oil with a small cooking brush (the same that you might use to
apply a marinade
on a meat dish) and then cooking them in a micro-wave. They may not taste as sinful but the minor compromise is well worth it. Cooking oil is a deeply personal yet critical decision. Cooking fads that probably began with the 'Palm oil' wave in the 1980s almost saw traditional cooking oils fade away. Thankfully we've done the full circle and
coconut oil
is no longer bad news. It truly elevates curries and simple stir-fried vegetable dishes (Poriyals in Tamil Nadu or Thoran in Kerala) and hand-pressed virgin coconut oil is not hard to come by.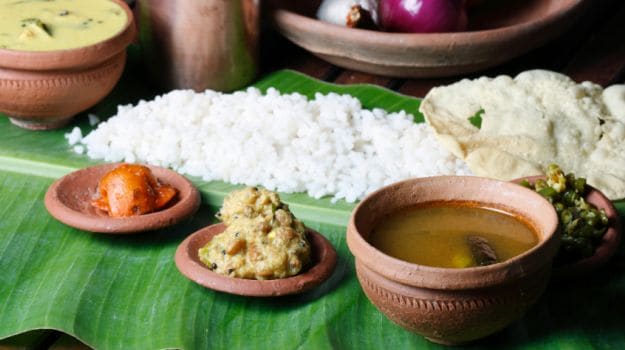 It's no coincidence that
Sesame (Gingelly) oil
is called
Nalla Ennai
(Good oil) in Tamil Nadu. Cold pressed sesame oil has traditionally been an integral part of home-style cooking particularly in Tamil Nadu and Andhra Pradesh. If you don't mind the strong nutty taste try this oil with the
idli
chilly powder – an accompaniment for idli and dosa. Look for the hand-pressed version. It's also a healthier and some might say tastier option for sambars and
kuzhambus
. The oil isn't just high on
Vitamin K
but also used for its 'cooling' properties especially in the summer months. It's tough to end any Indian meal without a dessert that's sinful. Kerala's (it's also found in a few parts of
Tamil Nadu
) unique Ela Ada (a rice parcel with sweet fillings wrapped with rice flour dough) is one of the few exceptions. It's not easy to find at most restaurants though.
At a South Indian restaurant
I certainly don't count calories and yet believe that ordering sensibly at restaurants by making the right choices ensures that you don't take the 'happiness quotient' out of your meal. It's tough to resist a flaky
Malabar parotta
but after you've polished off one of these you can switch to healthier staples like
Appams
(Hoppers) or Idiappams. Quite a few restaurants can do dosa versions with little or no oil. Try the thick (Kal dosa in Tamil Nadu or Set dosa in Karnataka) dosa which requires very little oil. Some restaurants in Chennai can fix a
rava dosa
with almost no oil. If you're on a road trip and prone to the occasional stomach disorder, choose
sambar
over chutneys (Most chutneys are not cooked) as an accompaniment.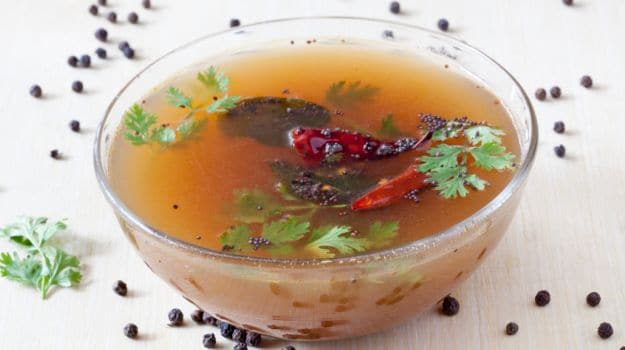 You can steer clear of deep-fried options and still have a delicious meal. If you're a seafood fan look for the Royalla Veppudu, Andhra style stir-fried prawns that uses a minimal quantity of oil or Kerala's legendary
Meen Moilee
– hopefully your favourite restaurant doesn't use farmed Bassa instead of fresh catch of the day. Dishes like the Kerala Stew (perfect for Appams and Idiappams) use a large quantity of coconut milk. Although coconut milk has a high level of
saturated fats
these fats are short and medium chain fatty acids that are not stored by the body and also provide instant energy to the body aside from being high in anti-oxidants. Rasams are usually a great palette cleanser; quite a few military hotels and smaller restaurants in
Chennai
and
Bangalore
with meat-heavy menus usually offer a rasam to keep things in the balance. Of course, just like any other cuisine you don't just discover newer tastes and flavours when you are bold enough to experiment; you also find healthier ways to supplement your diet.
About the Author: Ashwin Rajagopalan is a Chennai-based writer who writes on topics related to food, gadgets, trends and travel experiences. He enjoys communicating across cultures and borders in his weekday work avatar as a content and editorial consultant for a global major and one of India's only cross cultural trainers.Disclaimer:The opinions expressed within this article are the personal opinions of the author. NDTV is not responsible for the accuracy, completeness, suitability, or validity of any information on this article. All information is provided on an as-is basis. The information, facts or opinions appearing in the article do not reflect the views of NDTV and NDTV does not assume any responsibility or liability for the same.