Pav BhajiI live in Mumbai but I had my first taste of Pav Bhaji in Kolkata's (now shut) Globe Theatre gulley in the early 1990s. I have seen Pav Bhaji being sold in tiny shops in the heart of old Delhi. A Mumbai based friend of mine excitedly told me about eating pav bhaji in a restaurant in Coimbatore during a recent trip there. I did a quick poll with my colleagues who have come to Mumbai from all over India and they told me that they get Pav Bhaji in their home towns which include cities from all across India such as Jodhpur, Bangalore, Bhubaneswar, Panjim (which has a Portuguese influenced beans based version called fajita) and Chennai.
This made me wonder whether Pav Bhaji is Mumbai's biggest contribution to the Indian eating out scene?
You would get the odd Mumbai vada pao in a few places across the country but Pav Bhaji is arguably more ubiquitous. There's lot going for the popularity of pav bhaji. It is easy to put together. Mash potatoes, veggies (if you are conscientious), add the now nationally available Pav Bhaji masala, add butter (don't scrimp on this one), and you are done. A one dish complete meal. Starchy and carby (so as to speak), the way we Indians like our food.
Hot. Filling. Vegetarian.
And, dare I say, comes with the glamour associated with the 'city of dreams'. Pav Bhaji carts in Kolkata make it very clear that it is the 'Bombay pav bhaji'. Ticks all the boxes doesn't it. Interestingly, Pav Bhaji is a pretty modern introduction to Mumbai too. Archaeologist, food historian, caterer, proud Bombay boy and my favourite culinary raconteur, Dr Kurush Dalal, tells me that the story of Pav Bhaji being a creation of a street vendor getting the idea to cook leftovers together for traders waiting for the cotton stock exchange to open is apocryphal and possibly an urban legend. He attributes the dish to Gujarati housewives in the Bombay of the 1970s who thought of putting together the leftover vegetables at home and adding butter to it and serving it with pav. The pav, soft buns, were made popular by then by bakeries which had adopted Portuguese baking techniques.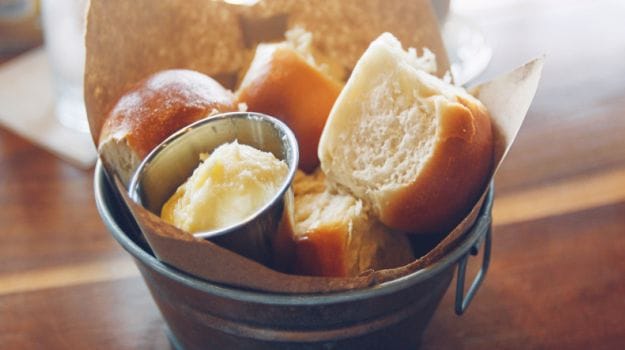 Pav, the soft buns
Kurush tells me that the out-of-home Pav Bhaji movement started in Mumbai in the 1980s with stalls springing up across the lanes of Mumbai to sell Pav Bhaji, and for some reason, vegetable pulav. Interestingly these stalls came up at night and were located near train stations for people to have a bite before returning from work. Or for people like Kurush and his friends to fill their stomachs after an evening of drinking.
Some also say that Pav Bhaji worked as a quick and economical meal for the mill workers of Mumbai. Even the now famous Sardar Pav Bhaji, of the near 100 g of butter per plate of Pav Bhaji fame, was just a small stall then with a queue of people lining up outside at night. Now it's a big Pav Bhaji restaurant and possibly the most iconic Pav Bhaji place in Mumbai.
So is the Pav Bhaji a Guajarati or a Maharashtrian dish?
I posed this question to blogger, baker and now a consultant to restaurants entering the Maharashtrian food area, Saee Koranne-Khandekar who is a Maharashtrian from Mumbai. Saee's answer is exactly the same as what Kurush gave me when I put the question across to him. Pav Bhaji is not a Maharashtrian dish says Saee. It is a 'Bombay dish'. A dish that found quick acceptability across communities in the city. "It has butter, potatoes and is colourful. No wonder even kids love it," says Saee. As Kurush points out, the pav as well as the potato and tomato of Pav Bhaji are all Portuguese imports to India in any case. Which makes it hard for any Indian community to lay its claim to the dish as being part of its food heritage.
The way I see it, this young dish, the Pav Bhaji, is very much a part of the 'modern Indian' food movement. It's not always just about foam and spherification after all.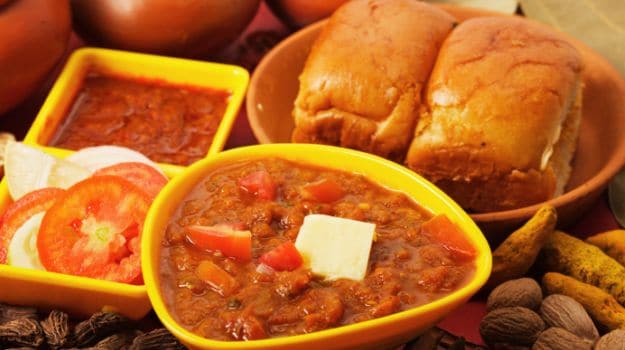 A popular Indian street food
Saee laughs when I ask her if she will share her recipe for Pav Bhaji with me. "I just mash vegetables and add store bought Pav Bhaji masala to it. There's nothing to it. Ask me about a Sukha Mutton (goat meat) recipe and then we are talking" says Saee who has recently been working with a client to document 5 different mutton curries from different parts of Maharashtra. Saee says that the only reason why Maharashtrians make Pav Bhaji at home is to offer a more 'healthy' (hygienic, more veggies and less potato, butter and colour), easy to put together and yet exciting dish for their kids. Her eyes light up as she tells me that the best Pav Bhajis are to be found outside of home and not inside.
You get Pav Bhajis in malls, vegetarian restaurants and the popular Udupi restaurants of Mumbai and the Chowpatties (beach-sides) apart from in the street side stalls now. My preferred place to go to for Pav Bhaji is to the roadside stalls where the office crowd goes to at lunch time or the ones near the railway stations at night. My all-time favourite stall is the one run by Ashok at the Homji St. Khao Gulley in the lane parallel to Strand Book Stall in Mumbai's Fort area. The city's former central business district.
Ashok makes the Pav Bhaji fresh on the flat tava at lunch time and serves it piping hot. It is so hot that when you add in the finely chopped raw onion served on the side, it semi cooks in the heat. The heart of the dish is the butter that they add but the amount is not as excessive as it is in Sardar. The beauty of Ashok's Pav Bhaji is that he uses very little food colouring. So his bhaji looks a natural brown and not a lurid red. I have eaten this many times and would choose this any day over a restaurant Pav Bhaji.
Ashok's Pav Bhaji brings back memories of the Pav Bhaji stall at Nariman Point where I used to go to for lunch every day from work when I was new to the city. Memories seasoned with food are the most delicious ones after all.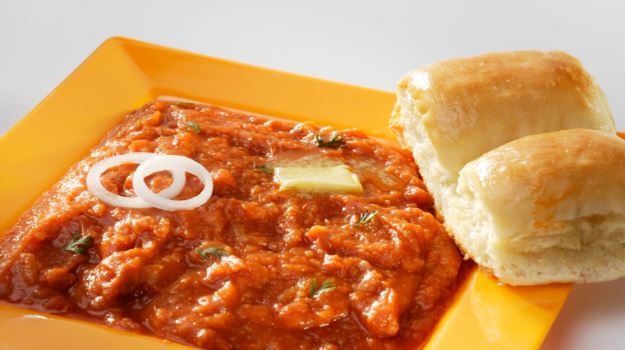 Pav Bhaji
Kalyan loves to eat and he loves to talk about all that he eats. His wife urged him to start writing about it, otherwise she would have to hear it all. He blogs as 'finelychopped' and is the editor at large for the India Food Network.
Disclaimer:
The opinions expressed within this article are the personal opinions of the author. NDTV is not responsible for the accuracy, completeness, suitability, or validity of any information on this article. All information is provided on an as-is basis. The information, facts or opinions appearing in the article do not reflect the views of NDTV and NDTV does not assume any responsibility or liability for the same.