Mumbai is not a city for those who seek quiescence. It is a mega-city buzzing with inertia and energy that, at times, can get unnerving. While the sea-side gets you dreaming of love, life and things shrouded in all things calm and peaceful, you better wish yourself good luck while traversing your way from the interiors to the much loved Marine Drive or Bandstand. Mumbai can get maddening, people who have been living here for years vouch of the fact that the city never sleeps.On a day when
Mumbai
is at its craziest, traffic is peaking and the crowds are milling, what would you do to please your tummy and welcome the New Year into the madness that is your life? The overwhelming answer to this question by
Mumbai's food
bloggers seems to be: a quiet night in.
Kalyan Karmarkar
says this is the one time he would choose to stay in because of crowded restaurants and overpriced 'special menus' that most places seem to offer.And yet, if you had to draw up a list of the best places to eat in Mumbai on a day that many consider the ideal day to step out, loosen their wallet, let down their hair and shake a leg, it stands to reason that one would ask a group of people who know the city food scene better than most others - Mumbai's Food Bloggers.
So we rounded up a group of over 15 seasoned foodies and bloggers and had them pick their
favourite places
for a meal to welcome the New Year. This group is clearly more inclined to a quiet night of fantastic food instead of painting the town red. They have clear favourites when it comes to a special meal and mind you, restaurants that have their stamp of approval for quality food, service and consistency are ones that you can happily bet on. So before you decide which place to choose for the
perfect meal
over which you can bid farewell to the old and bring in the new, check out our top ten, blessed by this hallowed lot.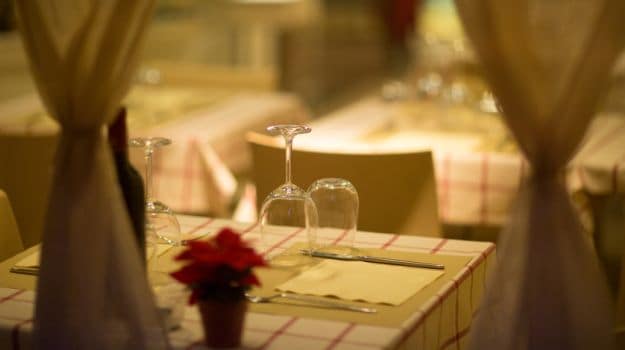 1. Indigo Delicatessen, various locations
Clearly a biggie among bloggers, Indigo's name came up most often as the long standing favourite. It's perfect for an occasion where you don't want to take any chances. Loved for its bankable new-age American style food, relaxed atmosphere and easy vibe even on a crazy new year's night, their menu has something to offer for every palate.
Rhea Dalal spoke glowingly of their superb quiche with ham or the sticky glazed baby back ribs followed by the hazelnut ice-cream while Rutvika vouches for any of their wafer thin pizzas, saying you can't really go wrong here. But the real biggie at Indigo is the saucy-spicy-luscious BBQ pulled pork burger and the crisp yet creamy corn crusted jalapeno and feta burger for the vegetarians. Like Amrita Kaur Ramsinghani attested, if good food is how you'd like to bring the New Year in, Indigo is the way to go. (Mumbai's largest food portions)
2. Ling's Pavilion, Colaba
Another favourite with many, this abiding legend of a Chinese restaurant is one of the few that that blogger and entrepreneur Rushina Munshaw Ghildiyal says she would be willing to trek all the way to South Mumbai for. Known as much for the proprietor (fondly called 'Baba Ling') as much as for being the harbinger of Chinese food in India, this is a restaurant that offers great food served up with a hefty slice of old world charm. Roxanne Bamboat recommends that you order the pan fried noodles custom made with beef, mushroom, baby corn, water chestnut and the chili garlic prawns as a starter.
If you're lucky you maybe be able to coax Baba Ling into making you one of his gorgeous steamed pork balls coated with sticky rice but come what may, you absolutely must have their Pork Dim Sum and the special sliced roast pork that's served with a beautiful sauce and steamed bread on the side. It will all leave you salivating for more. For vegetarians, know that their produce is absolutely fresh and handpicked and their stir-frys' and pot rice variations are known to be deliciously studded with homemade melting soft tofu. What's more, is that this is the only restaurant in the city that doesn't fry their date or coconut pancakes (dessert) to a crisp. But to truly get Ling's experience, you'd be best off letting Baba Ling tell you what to order, he's a fantastic and gracious host and truly knows his menu best.

3. Sofitel, BKC
The relatively new-on-the-food scene Sofitel is home to many discerning restaurants. Anaggh Desai explains, New Year's could potentially see him listening to blues at the bar with a glass of something from the fantastic drinks menu at the Artisan before he heads over to Jayran for the Indian non-vegetarian options and hopefully a great chef special. Chef Michael Swamy, a seasoned chef in his own right, on the other hand vouches for the Vietnamese counter and fresh fish options at the Pondicherry cafe. Meanwhile food writer and Indian food enthusiast Madhulika Dash vouches for the Marwari flavoured Tuskers as a regional favourite - perfect if your idea of celebration is an authentic Indian meal and a live Gazhal performance.


4. The Table, Colaba
The new, seasonal five course truffle menu at the Table seems to have wowed many food enthusiasts including Vir Sanghvi. The steep prices notwithstanding, this is another restaurant that many would return to just for the sheer quality of food that is offered. The vibe is welcoming, the interiors are warm and sophisticated and the music tasteful. The small plates style section of their regular menu (that they pioneered before it took off in other places in the city) allows you to sample as much of the delicious food as you would actually like to. If you are up for some fantastic continental food peppered with decadent ingredients this New Year's, this would be you bet.
5. Made in Punjab, Malad West
As food writer Madhulika Dash puts it, this is the one place where tradition and nostalgia rules over the contemporary trend of fusion and reinterpretation. Started by the Kalra family, the menu may display a similarity with the older Punjab grill but the food here is more rustic in its cooking techniques with a distinct emphasis on dishes from North East Punjab. The skilled use of the tandoor results in a magical melding of smoky flavours noticeable in the bhatti kebab and the salmon tikka but the beetroot tikki comes highly recommended as well. Those who nostalgically remember the train ka khan back in time will appreciate the railway mutton curry and I for one have a sudden craving for what sounds like the perfect sarson ka sag complete with home-style white butter and gur. Add gajrela halwa and angoori or jalebi and rabri to the mix and you will probably agree with me that sometimes nostalgia is the best mood to bring in the future.
6. Salt Water Cafe, Bandra/Churchgate
A regular on the lists for best European restaurants in the city, Salt water cafe is another abiding favourites with food bloggers and writers. Especially famous for their John Dory with sunflower seed risotto, all day omelets and delicious drinks, this one comes highly endorsed on blogs by Anaggh Desai and Kalyan Karmarkar and was voted by Suprio Bose of Indian Food Freaks as the restaurant to go to if you want to fill up on both good food and hard fuel to uplift your spirits.


7. The White Owl, Lower Parel
The one thing that comes up equivocally when you talk of White Owl to most food bloggers is praise for the uber talented chef Kshama. Known to toss together seemingly disagreeable ingredients into an absolutely astonishing but rapturous result, clearly her talent translates into a great menu and some fantastic house brewed beers. The bar atmosphere gets an endorsement from Perzen Patel and as per Food Anthropologist and caterer Kurush Dalal and his blogger wife Rhea, the beer is worth visiting the place for. Kurush advices that you may want to give to the ubiquitous sliders and burgers a miss but every other dish on the menu is a sure shot pay off. Specially recommended are the steak, the cranberry and chevre salad, and the chocolate desserts.
8. Imbiss, Bandra/Colaba
This unassuming European restaurant (with an emphasis on German) is known as the love-spot for the meat lovers in the group. That they are very serious about their meat is apparent from the rather eclectic meat focused menu. From the kassler with slaw and mash to the Chorizo rice, baby back ribs to the slim jims that they serve with drinks, this is hard-core stuff. In Rhea Dalal's words, a great choice for a budget friendly, yet epic meal.
9. Macchiato Pizzeria Grill & Bar, CBD
Belapur. This may not be the location where you expect a serious gourmet restaurant to be located at but this new entrant in Mumbai's food scene is a potential star in the landscape of Navi Mumbai. As per Suprio Bose, the food is uncompromising authentic Italian fare and the drinks especially brilliant. Moreover, the ambience is warm and comfortable and the service competent. That the menu is limited to traditional Italian appetizers, pizzas and desserts is probably an indication of how confident and serious these guys are about the food. Excellent pizzas, great attention to detail, really good vegetarian fare should have you considering this seriously as a new year eve dinner contender. What's more, the promise of crowds receding into the background could prove to be a major plus!
10. Naaz Hotel, Kurla
Talking of deviating from the trodden path, blogger Pratishtha Khan says that come New Years and she might prefer to ditch the fancy restaurants and go for a good old Mughlai meal at Naaz, an old favourite at Kurla. Not many may talk of this hidden gem but a bit of investigation will have you realise that this one is brilliant food and absolute value for money. The menu is a mix of kebabs, biryanis and decadent Indian desserts - familiar comfort food that hits the spot each time. This unassuming restaurant gets very crowded on a regular day, so new year may see it exploding at the seems but like Pratishtha says, it will be well worth the wait. And hopefully, we will say the same about 2015 in a few months time.

Sources:
Amrita Kaur Ramsinghani - Lifekirecipe.com
Anaggh Desai - Anaggh.com
Jyoti Purwar - Followmyrecipe.me
Kalyan Karmarkar - Finelychopped.net
Kurush Dalal - Katyskitchen.in
Madhulika Dash
Michael Swamy - Michaelswamy.com
Payal Bhuptani - Dontgiveafork.com
Perzen Patel Darukhanawalla - Bawibride.com
Pratishtha Khan - Breakfastprojekt.com
Rhea Mitra-Dalal - Euphorhea.blogspot.in
Roxanne Bamboat - Thetinytaster.com
Rushina Munshaw Ghildiyal - Rushinamunshawghildiyal.com & aperfectbite.in
Rutvika Charegaonkar - Sizzleanddrizzle.com
Suprio Bose - Indianfoodfreak.com
Aneesh Bhasin - Hipcask.com