It's a crime to compare dosas across South India; each city brings its uniqueness to the plate, customised specifically to the taste buds of its residents. Served with sambar and chutney most of the time, from crisp thin dosas, to the slightly soft and thicker ones - the choices are plenty, and so are the places to find them. And when it comes to the filling - the dosa has long moved on from the standard potato filling. However, we couldn't resist rounding up some of our favourites. They are in no particular order, and belong to different cities.
For some of us, dosas can be breakfast, lunch, and dinner. In fact, we can even fit it in between meals. And in this city, we can find at least one outstanding dosa joint across the city. From Janatha Hotel in Malleswaram, whose masala dosas probably have their own fan club, to the legendary Janardhana Hotel on Race Course Road, to the bustling Vidyarthi Bhavan in Gandhi Bazaar for its benne masala dosa - some of the best ones are available in the oldest haunts in the city. On Residency Road, Konarak Hotel continues to manage queues, as people line up to eat their dosas followed by filter coffee. Shri Sagar (the erstwhile CTR) near Malleswaram is famous for their bene masala dosa, as is Hotel Dwarka in NR Colony for their khali dosa.
In Indiranagar, MTR is known for their set dosas, but our vote goes to the neer dosa and chicken ghee roast available at Anupam's Coast II Coast on MG Road. Then there's Sri Krishna Café in Koramangala whose roast masala dosa has people talking for weeks. Sidappa Hotel in Sampangiram Nagar makes delicious ghee dosa, which is served on a banana leaf. And then there's the Mysore Mylari Hotel in Gandhi Bazaar, whose sagu masala dosa is a legend. For a taste of yet another flavour, the benne masala dosa at Davangere Benne Masala at Basaveshwarnagar is a must-try. And on Cambridge Layout, Skanda Dosa Camp dishes out some of the most delicious dosas - their plaindosa is the best.
(How to Make Restaurant-Style Neer Dosa)
In Chennai our search for a good dosa took us to Mami's Mess/Kadai near Mylapore tank. It's on Pitchupillai Street, next to the Kapalleshwarar Temple. You get plain dosa, masala dosa, podi dosa, and ghee dosa here, and if you can eat a horse, you can eat one of each. The dosas are crisp and are made with generous dollops of batter.
Karpagambal Mess on East Mada Street underwent a makeover a few years ago, and with that lost a lot of its old world charm. However, theventhaiya dosa, made with fenugreek, is a must-try if you're in the area. The service seems to have slowed down considerably too, so don't go there if you're in a hurry.
ID, with its three outlets (Royapettah, Velachery, and Vadalpalani) has some fairly good dosas as well. The ghee masala dosa, roasted garlicdosa and the Mysore masala dosa come recommended. Of all three, the one at Royapettah seems to be the most favoured.
Ratna Cafe is Triplicane is famous for its generous pour of sambar, so all you need with it is a crispy masala dosa, which is probably one of the only varieties of dosas here that you will enjoy.
Mathsya at Egmore serves a whole host of dosas; apart from the usualmasala dosa, and cheese dosa, try the Udupi special kara uppu puli dosa.
Murugan Idli Shop with more than a dozen outlets in the city is a place for delicious chutneys and dosas. They make about nine varieties ofdosas and the ghee masala dosa is one of our favourites for sure. We reckon there's magic in the batter. Some of the other places you can check out in Chennai are any one of the 31 outposts of Adyar Ananda Bhavan, and Woodlands too. And these two brands need little introduction.
(Indian Fast Food - Top 10 Dosa Recipes)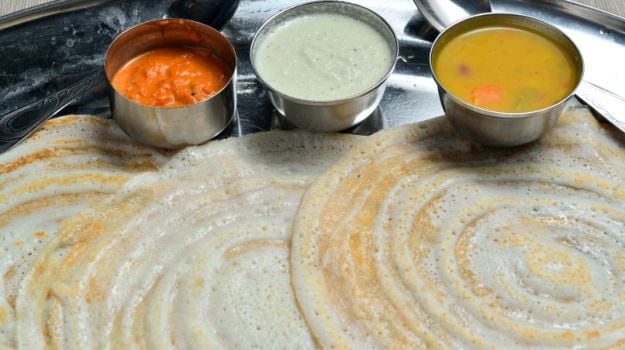 Hyderabad
Our time in Hyderabad was short, but we needed to try out some of the dosas there as well. And while this list is not as exhaustive as we would have liked it to be, we did get to taste some great flavours. We were directed to Ram Ki Bandi in Mozamjahi Market at Nampally and weren't disappointed at all. The place opens at 3am, so the earlier you go the better. And the butter cheese dosa is the best - despite the calories.
Govind's Bandi at Ghansi Bazaar is yet another place for good dosas - try the cheese dosa or the good ol' masala dosa. And never mind the setting. Pragati Tiffin Centre in Koti serves delicious butter masala dosa, and even butter paneer dosa (if you like paneer that is). These two are bit hits at this place. And as long as you don't mind standing and eating at this joint, you won't regret checking it out. For mouthwatering ghee plain dosa and masala dosa, drop by Purna Tiffins in Yousufguda, and for curiously named dosas, check out Scoops in Siddiamber Bazaar. Dhanu's in Begum Bazar serves yummy butterbajaj dosa, as does Laxman ki Bandi in Gyan Bagh Colony.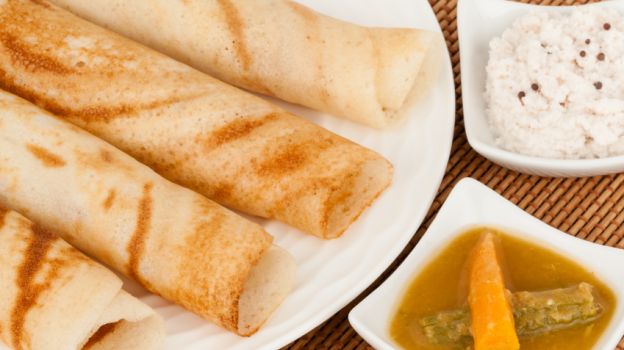 Kochi
Think of Kochi/Ernakulum and one of the best places to find a gooddosa that comes to mind is Pai Brothers. Located on MG Road, it's also one of the most popular joints. Try the cheese masala dosa, egg dosa,or the paneer dosa - they have more than 30 kinds of dosas here, so picking one takes time.
Aavi in Panampily Nagar is known for its kutti dosas (small dosas), and you can try them out with a whole host of curries available here. You can also check the dosas at Sri Krishna Inn on Warriam Road in Pallimukku. They make paper dosas (plain and masala), rava dosas, and onion rava masala dosa. The legendary Dwarka Hotel, also in Pallimukku, is known for its ghee roast, and masala dosa. And for a hint of decadence, try their cheese masala dosa. The paper masala seemed to be popular among tourists too. And of course there are the two outlets of Sree Saravana Bhavan (Tripunithura and Kakkanad) for safe play.
(India, Crisped on a Griddle: Classic Masala Dosa)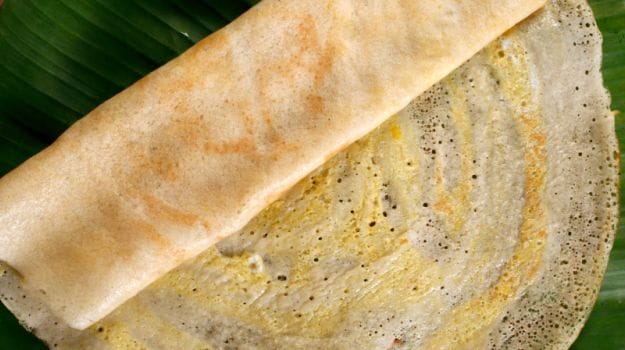 Disclaimer:
The opinions expressed within this article are the personal opinions of the author. NDTV is not responsible for the accuracy, completeness, suitability, or validity of any information on this article. All information is provided on an as-is basis. The information, facts or opinions appearing in the article do not reflect the views of NDTV and NDTV does not assume any responsibility or liability for the same.