Story Progress
Back to home
Coffee Marinated Mutton Chops Recipe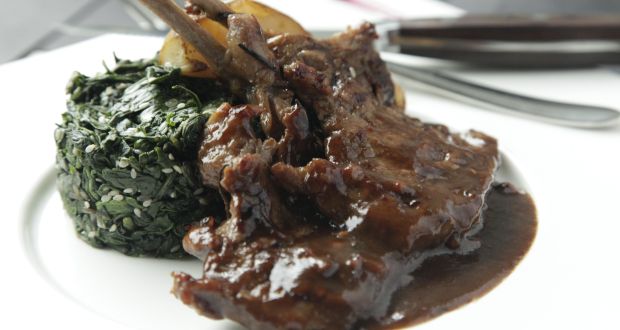 How to make Coffee Marinated Mutton Chops With Balsamic Reduction
About Coffee Marinated Mutton Chops: Juicy mutton chops with a twist! The meat is marinated in mix of coffee, honey and balsamic reduction. A great starter recipe for your next dinner party!
Total Cook Time

1 hr 25 mins

Ingredients of Coffee Marinated Mutton Chops
200 Gram mutton chops
For the marinade:
1 shot espresso
10 ml honey
10 ml balsamic Vinegar
5 gram rosemary
10 gram pink peppercorns (crushed)
olive oil
to taste salt
1.
Let the marinade stay in the fridge for 4-6 hours.
2.
On medium heat, drizzle some oil on a nonstick pan.
3.
Dust the lamb chops with some flour.
4.
Sear the lamb chops on the pan.
5.
Transfer into a preheated oven at 180 degrees for 5 minutes.
6.
Once the lamb chops are cooked put them in the same pan and add 100 ml of lamb.
7.
Stock and let it reduce to a sauce consistency.
9.
Garnish with some fresh parsley sprigs and serve with a side of sauteed spinach and sweet potato mash and it is ready to serve.