I am all for experimentation. Especially when it comes to food. Go on, play around with flavour combinations, textures, mix and match dishes to create something that hasn't been done before. Sometimes you may succeed and sometimes you will not. But that's ok. As my favourite movie dialogue goes (from the Julia Roberts film - My Best Friend's Wedding), "How will you know unless you try".
Where I do draw the line though, is on basics. Let me explain. The only time I ever send my drink back to the bar, and off late I find myself doing that fairly often, is when it is served to me in what doesn't remotely resemble a glass. Call me a traditionalist in that sense, but each beverage has a certain type of glass that goes with it. Champagne doesn't taste the same if it is not served in a flute and there is a scientific reason why red wine goblets are wider and taller than their counterparts used for white wine.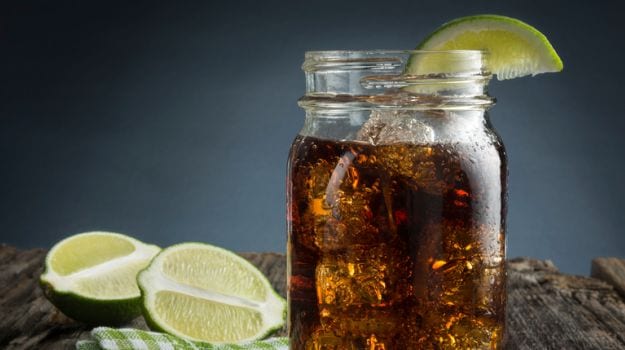 The problem presented itself to me when I ordered myself an Old Monk and coke in a popular restobar recently. Rum and coke is essentially a hardy drink, no frills, no drama. Martinis come with twirling umbrellas and Mojitos may have sugarcane stirrers, but rum and coke? No sire, it's as no-nonsense as it can get. So, imagine my surprise when it comes to my table and is presented to me in what should ideally be a pickle jar.
Don't get me wrong. Mason jars are quite the rage and I get why. They are great for packing a salad lunch for work, for an overnight oats breakfast, even for a dessert if you have a sweet tooth. But what's good for one thing needn't be good for all. Cocktails or hard drinks served in mason jars seem to try just a bit too hard. Let classics remain. A nice wide glass is all you need, why try hard unnecessarily? I feel the same for those mile-tall glasses that are used to serve Long Island Iced Tea these days. How does one drink from that? The straw's too long so you're almost breathless by the time the beverage reaches up and you either have to stand and drink or hold the glass almost to the floor. As one might deem, unnecessary.
So, while I am happy to try sushi with mango and avocado (which taste fantastic together, by the way), or a khandvi sphere amuse bouche (another ingenious idea), I honestly wish I could close my eyes and magically wish away the trend of serving alcoholic drinks in jam or pickle jars. Some classic concepts should remain as they are, and the very basic one is the glass you choose to serve a drink in. I, for my part, continue to send back the jars and politely request for what can pass as recognisable glassware. Quirky for the sake of quirk, is well quite pointless.