Story Progress
Back to home
Cabbage Kofta Recipe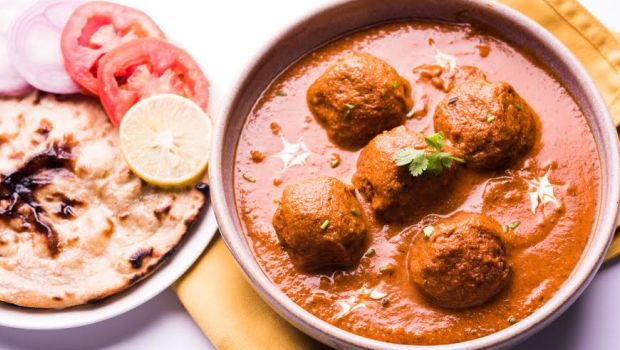 How to make Cabbage Kofta
Cabbage Kofta:Cabbage shredded, mixed with spices, shaped into balls and deep fried. Dipped in a rich gravy of dry fruits, tomatoes, curd and masalas before serving.

Ingredients of Cabbage Kofta
200 Gram Cabbage, shredded
1 Onions, finely chopped
1/2 Coconut
to taste Salt
1/2 tsp Garam masala
1/2 tsp Coriander powder
1 tsp Red chilli powder
1 tsp Turmeric powder
1 tsp Zeera powder
2 tbsp Refined oil
2 tbsp Chickpea flour
Water
1/2 tbsp Cloves
1/2 tbsp Poppy seeds
1/2 tbsp Coriander seeds
4 Green cardamom
3 Casia
1 Onion, chopped
5 Garlic cloves
1 piece small Ginger
4 Green chillies
Sea salt
Fresh coriander leaves
3 Tbsp refined oil
1 1/2 onion, chopped
2 tomatoes, chopped
Sugar, little bit
Salt for taste
50 gms cashew nuts
50 gms raisins
5 Tbsp whisked curd
1/2 lime
1.
In a bowl mix finely shredded cabbage, finely chopped onion, salt, garam masala, coriander powder, red chilli powder, turmeric powder, zeera powder, refined oil, chick pea flour and water.
2.
Keep it in the fringe for 20 minutes. Remove them from the fridge. Deep fry them in refined oil.
3.
In a pan, dry roast cloves, poppy seeds, coriander seeds, green cardamom, cassia, chopped onion, whole garlic, whole ginger and whole green chilies.
4.
Pound them in mortar and pestle with sea salt and fresh coriander leaves.
5.
In a pan add refined oil and julienne onion. Saute them together. Add the tomatoes. Saute.
6.
Add the pounded mix into the pan. Add little water and de glaze the pan with little water.
7.
Mix them well together and add little sugar, salt and little water. Cover them and simmer it for some time
8.
In a pan add refined oil and fry the fritters.
9.
Add cashew nut, raisins, whisked curd and a squeeze of lime to the mixture.
10.
Mix them well. Serve hot.