Story Progress
Back to home
Chicken Pie Recipe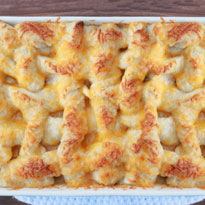 How to make Chicken Pie
Creamy chicken filling stuffed in dough and baked in a pie dish.
Total Cook Time

1 hr 10 mins

Ingredients of Chicken Pie
Oven temp: 325 F/160 C
1/2 Kg Chicken (boneless, cooked and diced)
2 Cups Refined flour
3/4 Cup Butter
1 tsp Vinegar (in an egg or 1/4 cup cold milk)
1/4 tsp Salt
1 tsp Baking powder
1 Tbsp Egg (slightly beaten) or milk (to glaze the pie)
2 Cups Milk
2 Tbsp Refined flour
1 Tbsp Butter
1 tsp Salt
1/4 tsp Pissi kali mirch
1.
Mix the butter, refined flour, vinegar, egg, salt and baking powder and knead lightly into soft dough and keep aside.
2.
Melt butter, add refined flour, saute a little and add the milk very gradually, stirring vigorously all the time.
3.
Bring to a boil, lower the heat and simmer for 1-2 minutes, add the salt, pepper and chicken.
4.
Roll out a little more than half the dough about 1/4 cm (1/8") thick and cover the base and the sides of the pie dish.
5.
Dust base with flour and fill it with the chicken mixture.
6.
Roll out the other portion of the dough, wet the edges, and cover the pie, pressing the edges together, to seal.
7.
Prick with a fork, glaze the surface with the beaten egg, or milk and bake in a pre-heated oven for about 45-60 minutes or until golden.