Story Progress
Back to home
Daab Chingri Recipe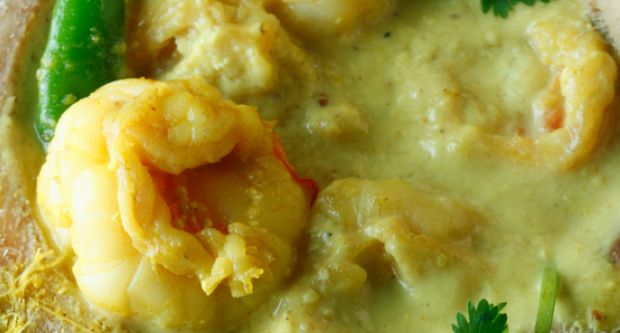 How to make Daab Chingri
Relish the exquisite taste of authentic Bengali seafood. Sensational shrimps are mixed with heart-warming masalas and cooked wrapped in tender coconut. This aromatic delicacy will get you hooked forever.
Total Cook Time

1 hr 20 mins

Ingredients of Daab Chingri
Shrimps, deshelled and deveined
1 large daab (tender coconut)
1 small onion
2 cloves of garlic
1/2 tsp green chilli paste
2 Tbsp mustard paste
1/4 tsp panch phoron
3 Tbsp mustard oil
Salt
Turmeric powder
Wheat dough/aluminium foil (to seal the coconut)
1.
Scrape coconut flesh properly and make a smooth paste using the coconut-water.
2.
Cut coconut-bottom and make it flat so that it can stand inside an oven or a pressure cooker.
3.
Cut its head in a slightly bigger round shape, it will help while stuffing.
7.
Add panch phoron masala and let it crackle.
8.
Now add onion and garlic, fry.
9.
Add cooked spices and oil in a large mixing bowl.
10.
Add mustard paste, chilli paste, turmeric, salt, coconut paste and coconut water.
11.
Mix well, now add shrimps to this paste and mix well.
12.
Stuff the shrimp mixture inside coconut and seal its lid with dough.
13.
Preheat the oven to 220 degree and cook for about 45minutes.
Alternate method:
1.
Stuff the shrimp mixture inside coconut, seal the lid with dough.
2.
Put the coconut inside pressure cooker
3.
Add some water to the pressure cooker.
4.
Close the lid and cook over medium heat, let the cooker whistle thrice.
5.
Let the vapour get released completely.