Story Progress
Back to home
Dahi ke Aloo Recipe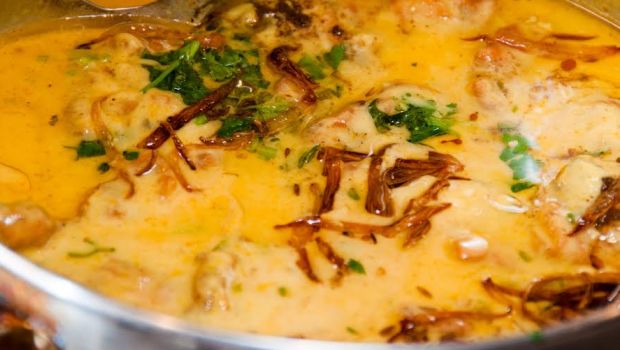 How to make Dahi ke Aloo
An easy, light and refreshing potato curry with a yogurt base.

Ingredients of Dahi ke Aloo
500 gm potatoes-boiled and peeled
1/4 cup clarified butter
1/8 tsp asafoetida or heeng
1 tsp cumin seeds
1 Tbsp finely shredded ginger
1/2 cup tomatoes-grated
1/2 tsp garam masala
2 tsp coriander powder
Salt to taste (substitute with rock salt if fasting)
1/2 tsp chilli powder
1/2 tsp turmeric
1/2 cup yoghurt
3-4 coarsely chopped green chillies
1 Tbsp chopped coriander leaves
1.
Break the potatoes, by holding each in the palm of your hands and closing the fist.
2.
Set these unevenly broken potatoes aside, till required.
3.
Heat the clarified butter and add the cumin seeds and asafoetida.
4.
When the cumin seeds begin to splutter, add the ginger and saute till lightly fried; then add the tomatoes and stir-fry till the fat separates.
5.
Add the garam masala, coriander powder, salt, turmeric and chilli powder.
6.
Stir a few times till well mixed, and then add the potatoes and the green chillies.
7.
Turn around over high heat, till they look slightly fried.
8.
Add about 2 cups of water and bring the mixture to a boil.
9.
Reduce flame and simmer uncovered for about 15 minutes.
10.
Beat the yoghurt till smooth and add to the potatoes.
11.
Serve hot, garnished with the chopped coriander leaves.