Story Progress
Back to home
Ghanta (Orriya Vegetable Curry) Recipe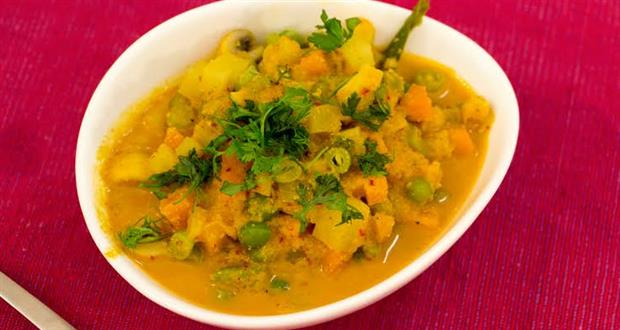 How to make Ghanta (Orriya Vegetable Curry)
A traditional Oriya vegetable curry infused with hot spices and aromatic add-ons of rai, methi and kalonji.

Ingredients of Ghanta (Orriya Vegetable Curry)
For the tadka:
Fennel seeds, rai, methi, kalonji, cumin seeds- all in equal proportions
For the paste:
1 tsp cumin
1 tsp ginger-garlic paste
1 tsp khus khus
1 tsp coriander seeds
2-3 whole red chillies
For the main preparation:
2 tsp ghee
1 tsp tadka
2 whole red chillies
1 onions- chopped
mixed vegetables- chopped
1/2 tsp salt
1/4 tsp turmeric powder
3 tsp of the paste
For the tadka:
For the paste:
1.
Grind together cumin, ginger-garlic paste, khus khus, coriander seeds, whole red chillies with a little water.
For the main dish:
2.
To this add the tadka, red chillies and the chopped onions.
3.
Add mixed vegetables, salt and turmeric powder.
4.
Cover and cook for 20 minutes on low flame.
5.
Now add the paste and mix well.
6.
Cover the pan and cook for another 10 minutes on low flame.