Story Progress
Back to home
Green Papaya Salad Recipe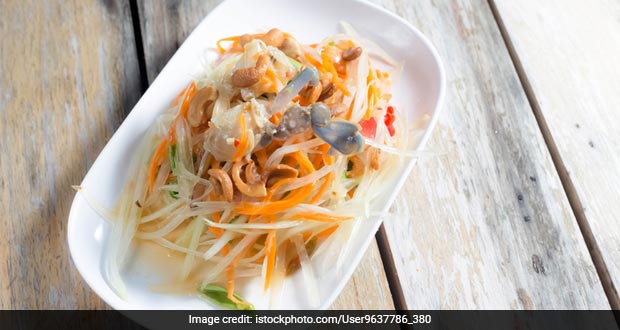 How to make Green Papaya Salad
Papaya strands tossed in with sweet and sour tastes, topped with the crunch of peanuts.

Ingredients of Green Papaya Salad
1/2 Green papaya (Julienne), soaked
4 Garlic Cloves
3 small Red or Green Chillies
6 tbsp Jaggery
4-5 tbsp Lemon Juice
3 tbsp Light Soy Sauce
1 medium Tomato (quartered)
3-4 Long Beans, chopped
2 tbsp Peanuts (roasted), unsalted
1.
In a mortar, lightly pound the garlic, add the chillies and lightly pound again.
2.
Add the jaggery, lemon juice and soy sauce, pound to a paste.
3.
Add the roasted peanuts and lightly pound while occasionally stirring with a spoon to prevent the paste from thickening.
4.
Now add the tomato, stir, then add the long beans and slightly bruise them.
5.
Add the shredded papaya, lightly pound and stir until all the ingredients have blended together.
6.
Arrange on a serving dish and garnish with crushed peanuts.
Recipe Notes
You may add more water and jaggery as per the need.