Story Progress
Back to home
Grilled Aubergine Parcels Recipe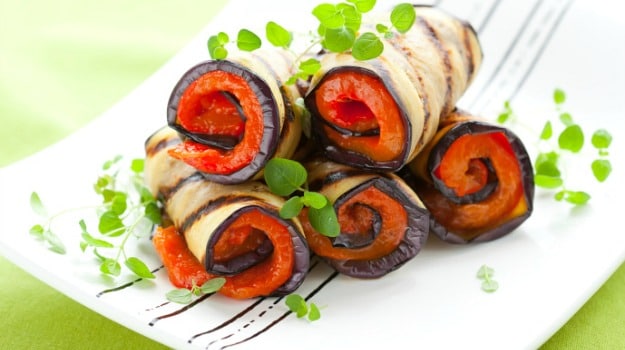 How to make Grilled Aubergine Parcels
About Grilled Aubergine Parcels Recipe: Rolled up slices of perfectly grilled aubergine stuffed with a divine mix of tomatoes, cheddar cheese and basil. A light dressing of balsamic vinegar, lime juice, tomato paste and oil. Topped with pine nuts and fresh basil leaves.

Ingredients of Grilled Aubergine Parcels
2 large, long aubergines, cut lengthwise into thin even slices 5 mm thick - discard outer slices
200 g cheddar cheese, cut into 8 slices
4 tomatoes, each cut into 8 slices
16-20 basil leaves
2 Tbsp olive oil
For the Dressing:
4 Tbsp olive oil
1 tsp balsamic vinegar
1 Tbsp tomato paste
1 Tbsp lemon juice
For the Garnish:
2 Tbsp toasted pine nuts (optional)
Some basil leaves, torn
1.
Cook the slices of aubergine in boiling salted water for 2 minutes. Drain and dry on kitchen paper.
2.
Take 2 aubergine slices and place on a flame proof tray in a cross pattern. Place a tomato slice in the center, season, add a slice of cheese, another basil leaf, another tomato slice and more seasoning.
3.
Fold the ends of the aubergine slices up around the filling to make a parcel and turn upside down.
4.
Repeat with the rest of the ingredients to make 8 parcels. Chill the parcels for 20 minutes.
5.
To make the dressing, whisk together all the ingredients and season to taste.
7.
Brush the parcels with a little oil and cook for 5 minutes on each side.
8.
Serve hot with the dressing, sprinkled with pine nuts, if using, and basil leaves.