Story Progress
Back to home
Gujarati Uundhyu Recipe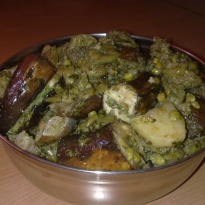 How to make Gujarati Uundhyu
Here's for you the traditional Gujarati recipe of Uundhyu. It is a type of vegetable curry made with winter veggies like brinjals, surti papdi, bananas, methi etc. A healthy and nutritious dish that goes best with rice.

Ingredients of Gujarati Uundhyu
250 gm surti papdi
3 surti baigan small size
400 gm kanda (onions, purple from inside)
2 potatoes,chopped
2 bananas, yellow/green
3 cups methi leaves
Make 10 pieces of muthia (gujarati term)
200 gm semolina (rava)
50 gm green chilli paste
75 gm chives
2 cups coriander, finely chopped
1 cup grated coconut
Salt to taste
2 cups oil
1/2 tsp turmeric
1 1/2 tsp jeera powder
1 1/2 tsp dhaniya powder
1 tsp sugar
1/4 tsp cooking soda
50 gm red chilli powder
Procedure for Muthia:
1.
In a bowl add semolina,salt, pinch of soda,oil, turmeric powder, dhaniya (3/4 tsp) and jeera powder (3/4 tsp), red chilli powder( 1 1/2 tsp), garlic (25 gm) and chopped methi.
2.
Mix them well and add water to this mixture and knead well. Shape this mixture in the form of kebabs and deep fry them.
Procedure for Masala:
1.
In a plate add chopped garlic, grated coconut, coriander, salt, sugar, green chilli paste, pinch of soda, oil, turmeric and the remaining dhaniya jeera powder and mix them well.
2.
Stuff this masala in the banana and baigan and keep the banana aside (since it cooks quickly).
3.
To this mixture of masala add the remaining vegetables along with the baigan.
Procedure for Cooking:
1.
In a vessel add oil and add all the vegetables except banana and muthia and keep stirring slowly. Cover it for 15-20 minutes.
2.
Then add the muthia. Stir well and cook for another 15 minutes.
3.
Now add the stuffed banana and cook for around 5 minutes.