Story Progress
Back to home
Indian Style Chutney Chicken Recipe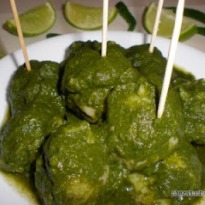 How to make Indian Style Chutney Chicken
Dry roast your spices, marinate this chicken and you have a winner on your plate!

Ingredients of Indian Style Chutney Chicken
450 gm boneless chicken cut into 1 inch cubes
2 tsp cumin seeds
2 tsp coriander seeds
5 black peppercorns
2-3 cloves
4 Tbsp fresh coriander leaves
2 Tbsp mint leaves
1 inch piece ginger
8 cloves garlic
2-3 green chillies
1 cup hung yogurt
Salt to taste
1 tsp garam masala powder
1 lemon cut into wedges
1.
Dry roast cumin, coriander seeds, peppercorns and cloves.
2.
Grind along with coriander,mint leaves, ginger, garlic and green chillies to a fine paste.
3.
In a bowl mix yogurt salt and garam masala. Wait for 20 minutes.
4.
After which add the green paste and chicken to it.
5.
Let it marinate 1 hour minimum in a refrigerator.
6.
After an hour, heat a non stick pan, add marinated chicken, cover and cook, stirring now and then, till the chicken is tender and cooked and the gravy has thickened.
7.
You can adjust your salt and add chillies if required.
8.
Serve hot with lemon wedges and toothpicks if necessary or enjoy with roti/ bread.