Story Progress
Back to home
Kale Channe Rasedaar Recipe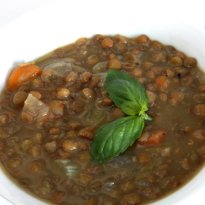 Lentils cooked in a tomato gravy goes best with hot puris or steamed rice. A simple and scrumptious meal.

Ingredients of Kale Channe Rasedaar
2 cups kale channe
2 cups grated onions
2 tsp ginger and garlic paste
2 tsp garam masala
1 bay leaf
1 Tbsp cumin seeds
2 cups grated tomatoes
1 Tbsp salt
1/2 tsp turmeric
2 Tbsp coriander seeds - powdered
1 tsp red chilli powder
2-3 green chillies
1/2 cup oil
2 Tbsp chopped coriander leaves - for garnish
1.
Cook channas till tender but bite like.
2.
Strain and keep the liquid and the channa separate.
3.
Heat oil and add cumin and bayleaves.
4.
When the cumin splutters, add onions, garlic and ginger.
5.
Stir-fry till onions are well fried and fat separates.
6.
Add tomatoes and stir fry till fat separates once again.
7.
Add salt, turmeric, coriander and chilli powder and turn around a till well mixed.
8.
Add the channas and green chillies and turn around a few times over high heat.
9.
Measure the liquid, make it upto four cups with water and add to the beans and bring to a boil and then simmer, till the gravy is well blended, and not watery.