Story Progress
Back to home
Lobster Malay Curry Recipe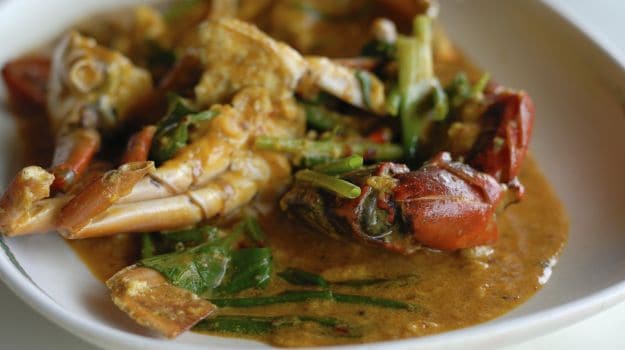 How to make Lobster Malay Curry
Deshelling the lobster takes a little effort but the resulting dish, simmered in coconut milk, is totally worth it
Total Cook Time

2 hrs 20 mins

Ingredients of Lobster Malay Curry
For the marination:
500 gms lobster
3 tbsp coconut milk
A pinch of salt
A pinch of sugar
1/2 tsp ginger paste
For the curry:
1 1/2 tbsp mustard oil
3 tsp onion paste
1/2 tsp ginger paste
1/2 tsp garlic paste
3/4 tsp green chilli paste
3 tsp tomato puree
1-2 cardamom
1-2 cinnamon sticks
1-2 cloves
11-12 tbsp coconut milk
1 ladle full of lobster stock
to taste salt
1.
De-shell the lobster and put only the shell into a pot of boiling water to make stock, let it simmer for at least an hour.
2.
Now devein the lobster meat and dice it into bite size pieces.
3.
Put the diced pieces in a bowl and marinate it with the coconut milk, salt, sugar and ginger.
4.
Mix well and put it in the fridge for half an hour.
6.
Add the onion paste, saute, then add the ginger paste, garlic paste and green chilli paste.
7.
Cook till it becomes brown in colour.
8.
Add the tomato puree, mix well.
9.
Then add the cardamom, cinnamon and cloves.
10.
Stir well. Reduce the flame and stir in the coconut milk gradually, so that it doesnt curdle.
11.
Let this simmer for 6-7 minutes then add salt.
12.
Now add the marinated lobster, stir gently.
13.
Finally, add the stock and let the lobster cook for about 6-8 minutes ir till the gravy becomes thick.
14.
Serve hot with steamed rice.