Story Progress
Back to home
Murgh Do Pyaaza Recipe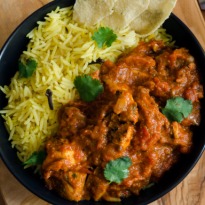 So spicy, so easy! Chicken loaded with masalas & absolutely mouth-watering. Serve with a tandoori roti topped with butter, and go straight to heaven.
Total Cook Time

1 hr 10 mins

Ingredients of Murgh Do Pyaaza
1 kg chicken-skinned and cut into 8 pieces
1/4 cup ghee
1 Tbsp cumin seeds
1 bay leaf
4 whole peppercorns
4 cloves
1/2 tsp fenugreek seeds-roasted and powdered
1 tsp fennel seeds- roasted and powdered
1 tsp ginger paste
1 tsp garlic paste
1 cup grated onions
1 1/2 cup onions - sliced a little thick
1/2 cup yoghurt
1 tsp garam masala
Salt to taste
1/2 tsp turmeric
1 Tbsp coriander powder
1 tsp chilli powder
2-3 green chillies-slit
2 Tbsp chopped coriander leaves-to garnish
1.
Heat the ghee in a heavy-based saucepan, and add the cumin seeds, bay leaf, peppercorns, cloves, powdered fenugreek and fennel seeds.
2.
When the seeds begin to splutter, add the garlic and ginger paste and the grated onions.
3.
Saute over high heat till brown.
4.
Add the yoghurt, stir-frying vigorously so that it blends well and does not curdle.
6.
Add the garam masala, salt, turmeric, coriander and chilli powder.
7.
Keeping the heat high, add the chicken pieces and stir till they look a little opaque and are coated with the masala.
8.
Lower the heat, uncover and simmer for about 10 minutes.
9.
Add the green chillies and sliced onions.
10.
Continue cooking over low heat, till the chicken is cooked through and fat separates.
11.
Takes 10-15 minutes. The onions should be crunchy.
12.
Serve hot, garnished with chopped coriander leaves.