Story Progress
Back to home
Sali Boti (Parsi Meat Dish) Recipe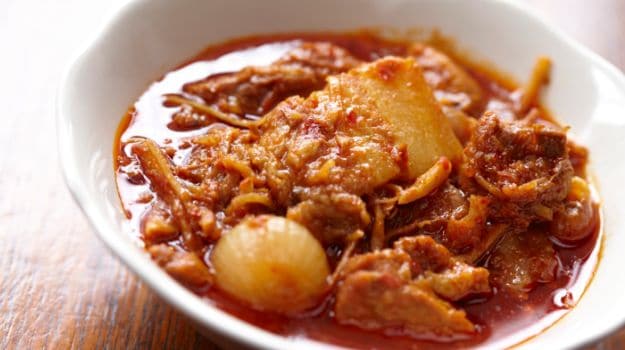 How to make Sali Boti (Parsi Meat Dish)
About Sali Boti Recipe: A Parsi mutton curry with prominent flavours of tomatoes, onions, jaggery and vinegar. It is finished with crispy fried potato sticks. Sali Boti is a great option to cook for a dinner party and relish with friends and family.
Total Cook Time

1 hr 30 mins

Ingredients of Sali Boti (Parsi Meat Dish)
For boti:
1 kg Mutton (wash and cut into very small cubes)
2-3 tbsp Ghee or oil
4 Tomatoes, chopped
4-5 Onions, finely chopped
3-4 Green chillies, chopped
Coriander leaves
1/2 tsp Chilli powder
1/2 tsp Turmeric powder
1 tsp Ginger-garlic paste
2 cups Water
1 1/2 tbsp Vinegar
1 1/2 tbsp Jaggery
to taste Salt
For sali:
6-7 Potatoes
For frying Oil
1.
Fry the chopped onions in hot ghee or oil till golden. Add the masala powders, ginger-garlic paste and stir for a minute.
2.
Then add the mutton cubes and cook till the meat gets a slight brown colour. Add chopped green chillies and tomatoes, water and salt (as per your requirement).
3.
Stir and mix well and bring it to a boil. Let it cook further for 30-40 minutes on low flame.
4.
Add the jaggery and vinegar and cook for a further 5-6 minutes.
5.
Remove from fire and garnish with fresh finely chopped coriander leaves.
6.
Serve hot with Sali and chapatti or bread.
7.
To make Sali, cut potatoes into very thin straws.
8.
Soak them in cold salt water for a few minutes.
9.
Drain of water and dry the straws. Deep fry the straws in very hot (boiling) ghee or oil, till golden brown and crisp.
10.
Remove excess oil from potato straws and serve hot with the Boti.