Story Progress
Back to home
Steamed Chinese Cabbage Parcels Recipe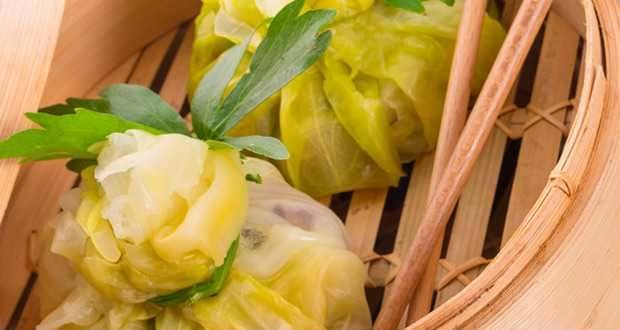 How to make Steamed Chinese Cabbage Parcels
The flour wrappers have been displaced by blanched cabbage wrappers. The feeling of eating dim sums remains but the calories don't pile on. Stuffed with a yummy chicken mince filling, these steamed parcels are a delight to eat.

Ingredients of Steamed Chinese Cabbage Parcels
250 gm chicken mince
1 egg white
2 Tbsp spring onion, chopped
2 Tbsp carrots, chopped
2 Tbsp mushrooms, chopped
1/2 tsp chilli garlic paste
1 Tbsp soya sauce
1/2 chicken stock cube crumbled
Black pepper and salt, to taste
1 Tbsp sesame oil
1 Tbsp ginger, chopped
1 tsp castor sugar
2 Tbsp ginger juice
1 big Chinese cabbage leaves removed and blanched in hot water (molding consistency)
Serve with:
Soy and vinegar with ginger slivers and green chillies
Sriracha sauce
1.
Mix the chicken mince with all ingredients (apart from the cabbage leaves). Marinate for at least 4 hours or overnight.
2.
Now, take cabbage leaves and put a tablespoon of mince in the center of leaf and tie up with spring onion green stem. Chop the extra stem.
3.
Steam well (20 minutes approx.) in a steamer. Serve in a bamboo basket with your favorite sauces.