Story Progress
Back to home
Stuffed Bati Recipe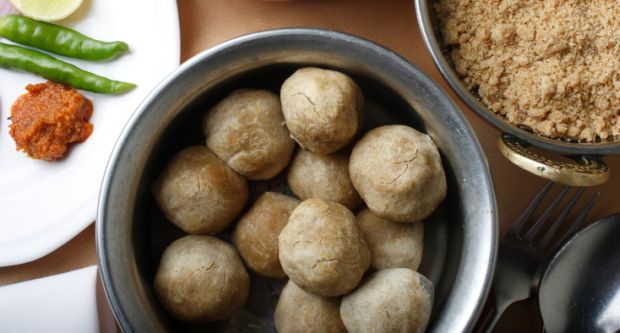 Baati is a popular Rajasthani bread snack. In this recipe a paneer and spice stuffing is used. Traditionally you mash the baati then pour a generous amount of ghee, chutney and dal over it.
Total Cook Time

1 hr 20 mins

Ingredients of Stuffed Bati
For the baatis:
2 cups wheat flour
1/2 tsp baking soda
2 tsp salt
1/2 cup ghee
1/2 cup ghee (for rolling the stuffed baatis in ghee at the end; this stuff can be left out.)
For the stuffing:
200 gms paneer
2 onions, medium
2 tomatoes, medium
2 tsp grated ginger
2 tsp chopped green chillies
1/2 tsp red chilli powder
1 tsp coriander powder
1 tsp jeera powder
1 tsp amchoor powder
1/2 tsp turmeric powder
Salt to taste
Oil for cooking
For the Baati Dough:
1.
In a big bowl, add the wheat flour. Add the salt, baking powder, and ghee. Mix everything together with clean hands.
2.
Now sprinkle water and make a stiff dough. Allow the Batis Dough to rest for half an hour
For the Stuffing:
1.
In a kadai, add oil and heat. Now, add the grated ginger and saute.
2.
Then, add the chopped onions and stir-fry till translucent.
3.
Now, add the turmeric powder, coriander powder, jeera powder, red chilli powder and amchoor powder and stir-fry quickly.
4.
Just add a few teaspoons of water to the above powder so that everything is de-glazed.
5.
Now, add the chopped tomatoes and cook everything together. Add crumbled paneer and toss and mix everything well. Add salt.
6.
Now, your stuffing for the baatis is ready.
How to Prepare:
1.
Make balls from the wheat flour dough. Take each ball and pat with your hands to make a puri.
2.
Stuff 2 tsp of the paneer filling into the puri.
3.
Pull up the edges and shape the puri back into a stuffed ball or stuffed baati.
4.
Do the same with all the wheat flour dough balls.
5.
Now, microwave for 4 or 5 minutes in high. Allow standing time of 2 minutes.
6.
Drown each Stuffed Batis in a bowl of ghee and see the golden Batis shine with the ghee bath. (You can skip this step and be guilt-free).
7.
Serve with dal or with any chutney of your choice.