Story Progress
Back to home
Tapioca Dumplings Recipe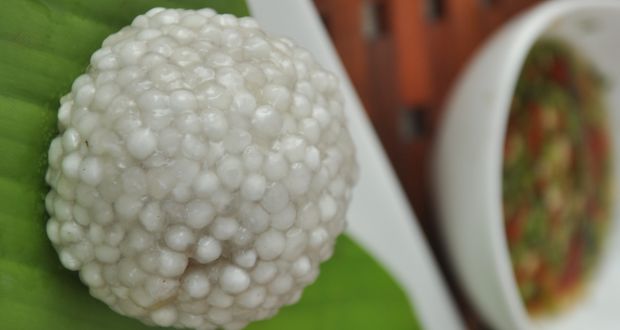 How to make Tapioca Dumplings
About Tapioca Dumplings Recipe: Packed with a chunky chicken mix, wrapped in a dough of tapioca pearls and flour, these dumplings make for a perfect entree. Also gluten free snack.
Total Cook Time

55 mins 15 seconds

Prep Time

10 mins 15 seconds

Ingredients of Tapioca Dumplings
Paste for chicken:
1/2 tsp peppercorns
3-4 Garlic cloves
1 tbsp fresh coriander
1/2 tsp salt
1 tbsp oil
1/2 cup minced shallots
250 gms minced chicken
1/2 cup peanuts, roasted
1/4 cup brown sugar
1 tbsp fish sauce
Tapioca casing:
1 cup tapioca pearls (sabudana)
1/2 cup tapioca flour
75 ml boiling water
Spinach casing:
Spinach leaves
Garnish:
Black sesame seeds
Garlic oil
Prepare the filling:
1.
In a mortar and pestle, grind the peppercorns, coriander, garlic and salt and form a paste.
2.
In a pan, heat oil, fry the paste for about a minute.
3.
Then on high heat, add the onions and the chicken, and stir-fry till it's all crumbly.
4.
Add the peanuts, brown sugar. Give it a quick stir so that the sugar caramelizes.
5.
Add the fish sauce and mix well.
6.
Stir for a few minutes more and take off the heat.
Prepare the wrapping:
1.
For the tapioca shell, mix the tapioca pearls and tapioca flour in boiling water, while stirring constantly. Knead the dough a bit but very gently, do not mash the pearls. It will be sticky and allow it to cool.
2.
Dip your fingers in a bowl of cold water. Take a pinch of the tapioca dough, roll into a ball.
3.
Then flatten it and fill it with the chicken filling.
5.
Optional - you can drizzle a bit of garlic oil on top or black sesame seeds. Also instead of the tapioca covering you can use spinach leaves to wrap the filling.