Story Progress
Back to home
Vanilla Ice Cream with Gelatine Recipe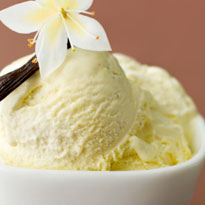 How to make Vanilla Ice Cream with Gelatine
The all time classic, made from scratch.
Total Cook Time

3 hrs 15 mins

Ingredients of Vanilla Ice Cream with Gelatine
2 cups milk
3 cups cream
1 Tbsp gelatin
1 Tbsp vanilla
360 gm sugar
1.
Sprinkle gelatine on 1/4 cup of the milk (at room temperature) and keep aside.
2.
Heat the rest of the milk and sugar together. Let the sugar dissolve and mixture come to a boil.
3.
When it boils, add the gelatine mixture and bring to a boil again, simmer for half a minute.
4.
Switch off the heat and cool to room temperature. Transfer on to a container with a tight lid.
5.
Freeze till almost set, take out and whip up with a hand beater and place back into the freezer. The lid should always be tightly shut, as this avoids crystals from forming.
6.
Whip once more when almost set and place back in the freezer. Alternatively, freeze in an ice cream machine according to instructions. Adding salt, enhances the flavor.