Dunking a crisp, feather light biscuit in a hot cup of tea is one of the simplest pleasures life has to offer. With all the health talk doing rounds, a new breed of digestive devotees has popped up and we're proud to be a part of it. This was reason enough to get our hands on different varieties of digestive biscuits available in the market and put them to test.
What are actually digestive biscuits?
This British staple originated in United Kingdom but has created fans across the globe. It is believed that they were first baked by two Scottish doctors in the 19th century to help promote digestion. A typical digestive biscuit contains basic ingredients whole wheat flour, wheat bran, sugar, some salt and a raising agent. Early recipes used baking soda which is known to aid digestion. Needless to say, this makes them healthier than butter or cream-filled cookies. These biscuits can be a great source of whole grains and fiber. They are usually promoted as a prebiotic snack. Prebiotics are carbohydrates or ingredients that improve the functions of the gut bacteria which maintains a healthy digestive system.
(How to cook the perfect digestive biscuit)
The Contenders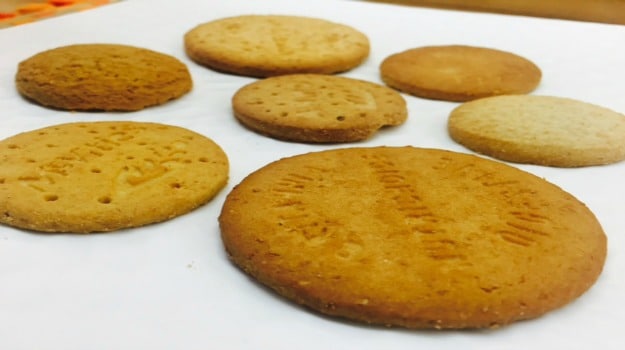 Britannia Nutri Choice
McVities
Parle
Tiffany's
Anmol
GAIA
Sugarless Bliss
Selection Procedure
We tasted our way through seven leading brands that make digestive biscuits. These brands are easily available in departmental stores and supermarkets. All of them were within the best before date. They were mostle 200-250 gm packs. Most of them were priced between Rs. 40 to Rs. 50, besides an imported brand and a sugarless variety that were a bit steep.
(How to Eat: Biscuits)
The Criteria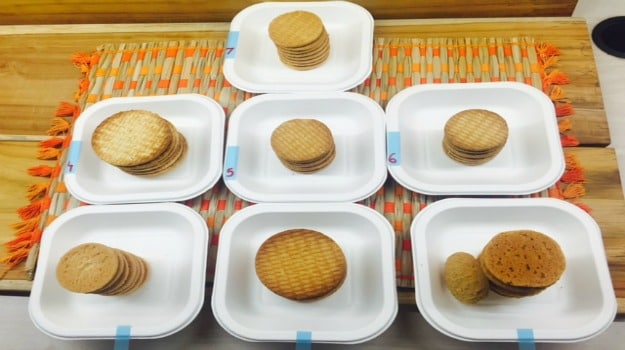 All brands were blind tasted (not knowing the brands) without discussion and in random order. We used water as a palate cleanser. We compiled all the score to give an impartial representation of results. Tasters marked them individually on the following parameters -
Taste:
Digestive biscuits are semi-sweet with a hint of salt. They can toasty, nutty, buttery and wheaty with a somewhat caramelized flavour. Those that were bland, dull or too sweet were largely dismissed.
Texture:
Look and listen. The biscuit should snap and should also be crisp. They should not be too grainy or dry but should have slight crumble. You do not want them to be cardboard-like, chewy, sandy or plasticky, not at all!After the taste test, we read the back labels on the biscuits packages to factor in the fibre content, calories and sugar. Almost all packs mentioned zero trans-fat and cholesterol.
(Nankhatai - The Dying Indian 'Biskoot')
The Crisp Truth
1. GAIA
Score: 4/10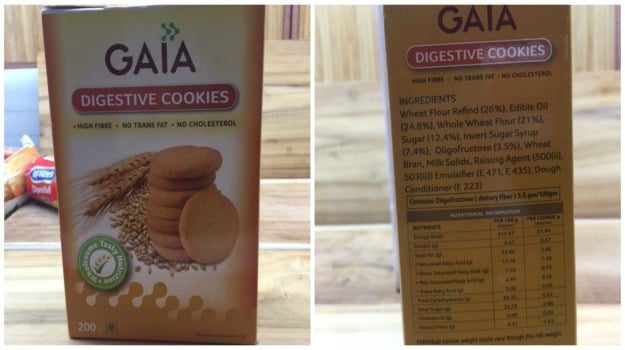 After taking the first bite, we weren't sure why this was one of the contenders. It tasted nothing like a digestive biscuit but more like a buttery coconut cookie. It was sweet, dense and chewy. These things were more like bakery biscuits.
(How to Make Perfect Ginger Nut Biscuits)

On the label (per 100g) - Fibre: 6.31gm, Sugar: 29.78 and Calories: 519.47kcal
It contained the highest sugar and maximum calories amongst others. We didn't find this surprising since it barely tasted like a digestive biscuit.
2. Britannia Nutri Choice
Score: 8/10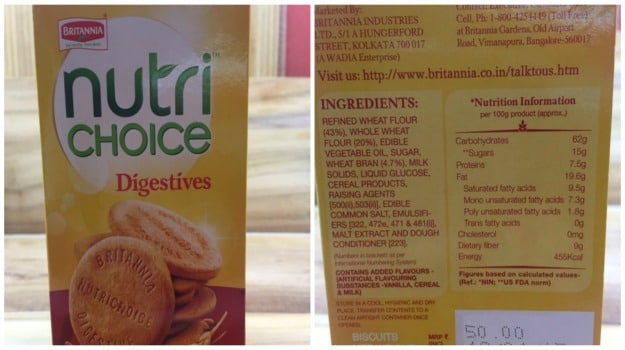 Meet the clear winner, the one with the perfect crunch. It was crisp and crumbly, just how it should be. It was not too sweet with a faint salty aftertaste. Every bite was a delight, toasty and fibery.On the label (per 100g) - Fibre: 9gm, Sugar: 15gm and Calories: 455Kcal
3. Sugarless Bliss
Score: 3/10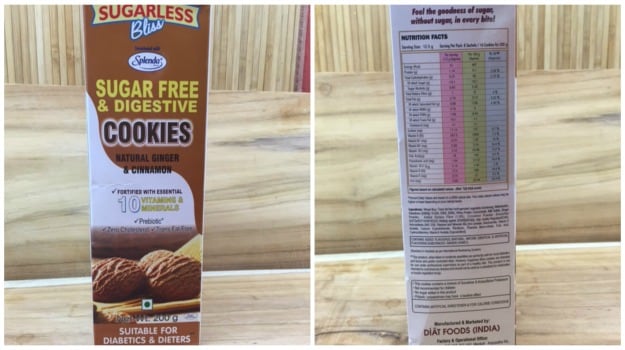 These use a sugar substitute which was evident as they were not as sweet as the others. The pungent aroma and flavour of ginger is quite obvious but it leaves a strange taste in the mouth. It had a bitter aftertaste and somewhat oily. Some found it to be woody and grainy.On the label (per 100gm) - Fibre: 8gm and Calories: 487Kcal
4. Tiffany's
Score: 3/10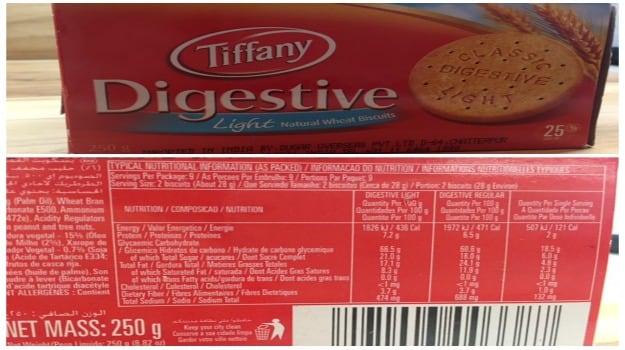 This is where we drew the line. They tasted stale and soggy and somewhat sour. Given that they are imported and were priced much higher than others, it was quite a disappointment. Most tasters didn't even reach for a second bite. Sigh!On the label (per 100gm) – Fiber: 3.7g, Sugar: 21gm and Calories: 436KCal
While all the other hung around 6-9grams, Tiffany's contained the least fibre. It was almost half of what others had.
5. Parle
Score: 7/10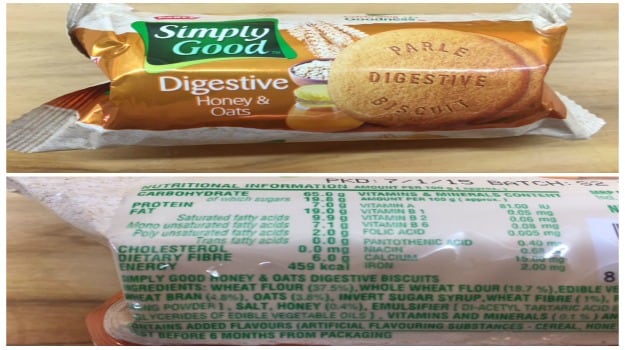 With the enticing aroma of cinnamon and the sweetness of honey, these beautiful biscuits won over many of us. They scored a tad less than Britannia as they lacked the salty kick and we wished they were crunchier.On the label (per 100gm) – Fiber: 6gm, Sugar: 19. 8gm and Calories: 459Kcal

6. Anmol
Score: 4/10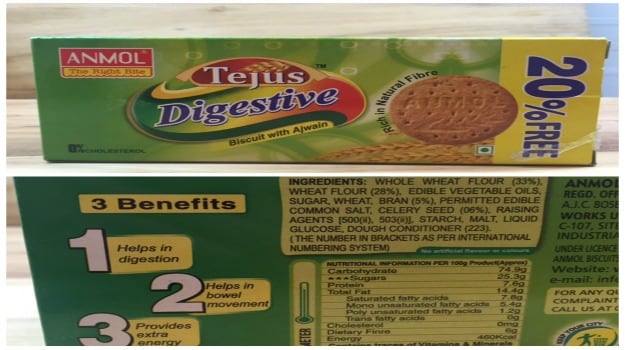 Again, these tasted more like Indian bakery biscuits. All of us wondered, what were cumin seeds doing here? They were just too overpowering. Also, it was too salty for a digestive biscuit.On the label (per 100gm): Fibre: 6gm, Sugar: 25.3gm and Calories: 460Kcal
7. McVities
Score: 6/10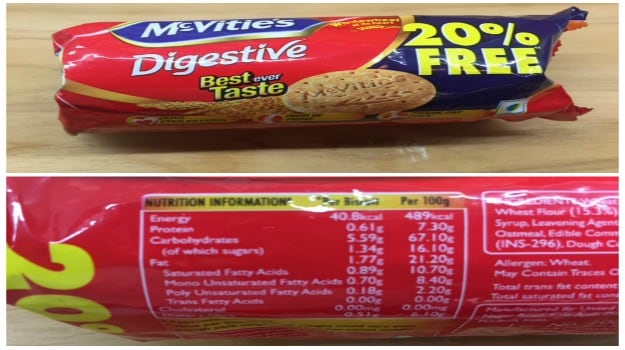 It starts of being toasty and caramelized but then the flavour disappears. It was a bit flaky. McVities lost out largely for being too dry on the palate.On the label (per 100gm): Fibre: 6.1gm, Sugar: 16.10gm and Calories: 489Kcal
Conclusion
Britannia was our winner by a landslide. The taste and texture is just perfect to charm your morning tea. What's more? On reading the label, we found that it contained the lowest sugar, lowest calories and highest fibre amongst all the others. Now, that deserves a bow.
Disclaimer
This taste test was in no way sponsored by any brand(s). All expenses were borne by NDTV. All reviews are strictly personal opinion of the authors. The same should not be construed as the opinion or policy of NDTV. Always do your own research on products and companies before using a product you choose. NDTV, its affiliates and its management does not claim responsibility for any of the products/ or companies discussed on this site.